Senior Member
Join Date: Dec 2001
Location: Houston,TX
Posts: 378
1967 Shelby GT500 Clone for Sale
I have decided to sell my baby. I personally restored this car. I spent over 6 years and countless amounts of money restoring it to its current state. This restoration was down to bare metal. Everything on this car has been gone over. It runs great and is a real head turner. It has won multiple shows. Here is the info about it. I am located in Houston,TX. If you have any questions or would like more pictures please email me.
Asking price is $65,000
If interested please email me at
msolnik@hlug.org
QUICK BREAKDOWN:
1967 Shelby GT500 Clone
Full Shelby Body
Viper Blue with White Stripes
Black Interior With Brushed Aluminum Dash
Fold Down Rear Seats
Cold Factory A/C
Automatic Transmission
Rebuilt 351 Windsor
Power Steering
Front Disk Brakes
FULL BREAKDOWN:
Exterior:
Completely taken down to bare metal. Absolutely no bondo!
Full Shelby Body - Hood, Nose, Trunk, Upper and Lower Side scoops. (All high quality fiberglass from Branda)
Show quality paint job - Viper Blue with Write Stripes
17in Edelbrock Wheels with Kumho Escta Tires
Always garaged!
Interior:
Completely Redone Black Interior
Brushed Aluminum Dash
Factory Air Conditioning - Blows VERY cold
Fold Down Back Seat (with trap door)
69 Fullback Deluxe Seats (very comfortable)
New carpet
Shelby Style Wooden Steering Wheel
Pioneer CD/MP3 Head Unit - Custom Sound System (front kick panels and next to backseats)
Engine: LESS THEN 100 MILES on REBUILD!
Rebuilt 351 Windsor - .30 overbore
Forged pistons
Rebuilt heads
Edelbrock Performer RPM Intake
Edelbrock 750cfm Carb
Custom Aluminum Radiator
Hooker Full Length Headers
Petronix Ignition Coil
Steel Wrapped Shock Towers (stronger then the original shelby!)
Custom Exhaust all the way back to Dynomax mufflers
Transmission, Brakes, Rear End:
Performance Automatic Super Streeter C4 - Built to hold upto 500HP
Rebuilt front Disc Brakes
Rebuilt rear drum brakes
9in Rear End
TCP Subframe Connectors
Upgraded sway bars
Sweet car dude good luck with the sale.regards javed
---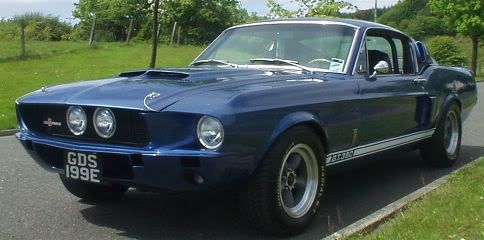 Senior Member
Join Date: Jul 2003
Location: Willard, MO
Posts: 644
It's a beautiful car, very nice resto. But it's a GT 350 clone, not a 500.
---
67 S Code Fastback
69 Mach 1
65 Coupe (Wife's car)

TMontg69@sbcglobal.net

Senior Member
Join Date: Jul 2000
Location: New Jersey
Posts: 2,597
Beautiful car, looks like my real GT350! My tinted acapulco blue looks very similar but a little lighter/ other than inboards and the 454's it was deja vu.
Thanks for the flash back since mine has not been out of the garage in 2 months.
NICE
Good luck with the sale.
Junior Member
Join Date: Aug 2007
Location: on the moon
Posts: 6
plz call me at 256-652-2843or e-mail me at
cjg588@aol.com
. i'm a college student looking for a ford mustang fastback around 1 to 8000 dollars "" i'm not rich, plz help""
holy spam lonerider. He's asking almost 60k, not 8....
Senior Member
Join Date: Sep 2006
Posts: 151
Sorry lonerider I've already offered $8001.00
Posting Rules

You may not post new threads

You may post replies

You may not post attachments

You may not edit your posts

---

HTML code is Off

---