Senior Member
Join Date: Dec 2002
Location: Denver, CO
Posts: 104
Listing for a friend 71 429SCJ drag pack1-1971
F-Built at Dearborn
05- Mach 1 Sportsroof
J- 429-4v CJ Ram Air
15,6xxst vehicle scheduled for production at Dearborn.
09-70 built september '70
63R- Mustang Mach 1 Sporsroof
V-Light Pewter metalic paint
5F- Ginger Clarion Knit Vinyl bucket seats
V- 3.91 Traction Lock axle
U- C-6 Auto trans
51 Denver Ordering District
ordered with the folling options
C-6 Select Shift Cruise-O-Matic
429 SCJ Engine / Drag Pack
F70x14 wide oval white letter tires ( currently has 15x7 magnums orig wheels and NOS hubcaps come with car)
power steering
Sport deck rear seat
Power front disc brakes
AM radio (AM-FM must have been dealer installed. correct with door speakers)
Console
Tinted glass complete
Actual production Sept 22, 1970- one day ahead of schedule.
49,600 orig miles with one repaint about 14 years ago everything else is orig no rebuilds interior is good carpet is a little worn NOS ford carpet kit comes with. did not come with spoilers but owner has NOS ford front and rear spoilers to come with car. currently has 15x7 magnums and polyglass tires orig 14" wheels and NOS ford hubcaps included. 2nd owner, orig purchased by local sports celebrity. $35,000
Lots of history email me directly for additional information and pictures. Thanks, Carl
carlgt500man@aol.com
located in the Denver Co area
Member
Join Date: May 2003
Location: So Cal
Posts: 70
Were drag pack cars available with automatic?
---
71 429cj 4 speed Mach One
71 351 M code 4 speed Mach One
71 351 H Code Auto Mach One
72 351 Q code Auto Mach One
72 Convertible to restomod

Senior Member
Join Date: Feb 2003
Location: Terrell,Texas
Posts: 1,901
Yes.The C6 was an option.
---
[b][color:"red"]FastE
'73 Mach 1[/color]351C"Q",C6'3L25 White deluxe,folddown,gauges,added factory ram air and magnum 500s.Bought Sep.3'1973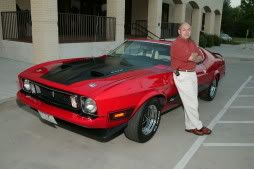 Senior Member
Join Date: Aug 2002
Location: Chicago
Posts: 374
Yes, 429 SCJ's did come with an option of a C6 or 4speed. To be sure you are buying an SCJ, you need to check out the carb. If its a Rochestor QuadraJet, then its a CJ. If its a Holley D1ZF-9510-XA then its a C6 SCJ.
You can also Check for evidence of an emission system installation -- either there is an A.I.R. pump or there is remnants of bracketry bolted on top of the alternator then its probably a Drag Pak car.
Next, look at the fuel pump and the incoming fuel lines. Are there two or three fittings on the fuel pump? Three fuel lines (two for 3/8" line and one for 3/16") indicate it was originally equipped with a Quadra Jet and is not a Drag Pak car. Drag pack cars had fuel pumps without a provision for the 3/16" fuel line. Also look at the inner fender through which the fuel line(s) run. One fuel line or hole = maybe a Drag Pak, two lines or holes probably not.
There are even more ways to tell if you are getting a true Drag Pack car and the best source is
http://429mustangcougarinfo.50megs.com/decoding.htm
Good Luck
Posting Rules

You may not post new threads

You may post replies

You may not post attachments

You may not edit your posts

---

HTML code is Off

---