Senior Member
Join Date: Aug 2016
Location: St Louis
Posts: 232
Excellent! Glad I could help.

This whole endeavor took me about 4 hours to finish. I figure another couple hours to get it perfect with the filler.

If i get time this week I plan to:
- clean the engine bay (it's dusty)
- clean up some previous owner welded garbage that made no sense
- seal a few extraneous holes
- go over the car one last time for any other exterior metal changes
- strip the dash and pillars
- start DA 80 grit sanding in preparation for Epoxy

If I happen to get a call from the engine guy I'll take a break from all that nonsense to build an engine!
Well no call from the engine dude so it was a body work weekend. Got the back half of the car and the roof DA sanded. Sealed up the emblem mount holes (the 3 finger emblem thing). I also cleaned and finished up some welds.

I had my heater going in the garage as an experiment to see if i could keep the temperature up. Metal temp and air temp both stayed well above 70 so I decided...what the hell...lets spray some epoxy (plus it was starting to flash rust).
I use the DevilBiss 'DeKups' system so I got it all setup. Mixed a container of epoxy...1:1 according to the instructions. Let it 'induce' 30 minutes. During that time I got my air feed setup and checked my tips. 1.3 and 1.8 were still in the drawer so I knew 1.5 was on the gun. Put the hopper on and got ready to spray...

This is where things started to go off the rails...

After a crap ton of fiddling with the fan, flow, air pressure, EVERYTHING...i just couldnt get the gun to spray like it should. I set the flow low and the fan tight just to get something consistent. Even then...it would splatter every so often and letting the trigger out it would dribble. I continued to spray since...it's just primer and will get sanded down anyway.

As i started taking the gun apart to clean it I noticed the air nozzle wasnt seated all the way. Then it dawned on me...i let a friend use this gun a few months ago. It looks like he put it back together with the flow seated all the way down which prevented the air nozzle from seating. I got it put together the way it should be...i really hate seeing splatters!!
Hopefully that solves it and the gun will go back to spraying like it should.
Engine build is hung up waiting on the AFR 205's. Since I had to go with the upgraded springs it's taking them a little longer to ship. No big deal since there's still PLENTY to do on the car.
This weekend was all about epoxy!! Scuffed up the e-coated new parts...well...most of them. Also ran the DA with 80 grit over all the other metal. Mixed up the SPI epoxy. While it was inducing I cleaned all the soon to be coated panels with Eastwood prep cleaner and got to it!!
Sprayed 2-3 wet coats and ran the heater overnight to cure it. Sadly...I couldnt get the whole thing done due to space limitations. I still have the edges of the doors, headlight doors, headlight inserts, underside of the hood and some other piddly things. I'll look to doing that stuff next weekend provided I dont have an engine to contend with. I dont like having so many irons in the fire at one time but such is life.
Here's a photo of the epoxied stuff. I had already closed the doors to start getting the temp back up so the pic kinda sucks...
Couple other things...my painter has bailed on me so I'll have to sort that out eventually. I think I'm going to finish the body work and then go about 'building' the car (more or less). Should take me until the end of the summer and then figure out what to do.
I've also been going back and forth on what transmission to run. I was initially thinking a T56...that later changed to a TKO600 so I wouldnt have to modify the tunnel. Now I'm back to the T56 since I've done so much metal work I figure...whats a little more.
Anyway...decisions to be made later i suppose
I think I have the painter stuff sorted out. I have another guy I used long ago on some other builds in my hometown that I'll hit up when the time comes. That's still a long way off. Since I'd have to cart it 200 miles and it has a fiberglass front end, I'd rather not use the winch to pull it up on the trailer. That means we're full steam ahead on getting this thing running and driving!! It also gives me 6 months or so to decide on a color.
Now for progress...I picked up the long block on Friday.
Saturday I touched up the paint in the engine bay. I had sat the hood on the roof several months back and it slid off and marred up the bay like 3 days after I sprayed it. So I scuffed it and sprayed a light coat to blend and seal all the messed up areas.
I then spend some time installing the intake manifold studs and oil pan studs in preparation for building.
Sunday I set to work finishing the engine. Everything went together mostly without a hitch. I did have to run to the hardware store to pick up some stainless bolts for the timing cover and water pump.
Lower end with the pickup. I used a Canton pickup tube:
Finished product!
The day was pretty young so I decided...what the hell...lets drop it in! I'm using Ron Morris mounts which made it crazy easy to put in...like border line cheating. I think the whole install took like 15 minutes.
Side profile:
I did notice that I got the wrong water pump for my application. I need one with the outlet on the drivers side to avoid having some really stupid water hose routing. So the pump will be coming off in the near future and swapped out. Which means if anyone's looking for an Edelbrock Victor High Flow pump (8841) I'll be looking to sell one in the near future.
I think the next steps are going to be:
- front brake line routing and plumbing
- finish installing the serpentine system and alternator (i'll have to call March and either swap crank pulleys or see if they have spacers to get everything to line up proper)
- EPAS installation
Then its back to body panel alignment so I can let my funds build back up.
Well I got a Flow Kooler, drivers side inlet pump only to discover that it doesnt fit the timing cover...which i kind of expected. So the cover has also been added to the sale bin. I also ordered the wrong bloody alternator. I apparently got one designed for a truck and the mount points were all sorts of wrong. So that one is on it's way back to Summit and the right one should be here tomorrow. I've ordered a 1 wire, 150amp unit.

Why so much amperage? I figured i'd probably need the help since this thing is going to have 2 12" electric fans, MSD 6al system, Sniper EFI w/ electric fuel pump, electric steering, and probably around 1000 watts of sound...or more.

Pulled the engine back out on Sunday to make it easier to swap the pump, cover, etc. I also figured this would be a good time to bend, flare, and install brake lines. I bought a coil of 3/16 stainless brake tubing and got everything bent and flared. I didnt heat the ends before flaring but it doesnt look like they cracked or anything like that. I was doing a bubble flare and the lines are seated good and tight.

In the process of fitting the brake master cylinder and proportioning valve from Wilwood, I realized that I couldn't use the bracket that Wilwood supplies to mount their proportioning valve on the master cylinder since I plan on using a hydraulic clutch. The bracket would have covered the clutch master whole. So I've relocated it to the drivers apron. I mounted it a little lower than the lines would have liked so I'm going to make up a couple spacers to get it off the wall a little. That way the lines wont be jammed up against the lower part of the apron.
Senior Member
Join Date: Jan 2016
Location: Chapel Hill, NC
Posts: 789
Which hydraulic clutch setup are you using? I have the Wilwood master with a modern driveline hydraulic clutch and was able to use the bracket wilwood sent with the master.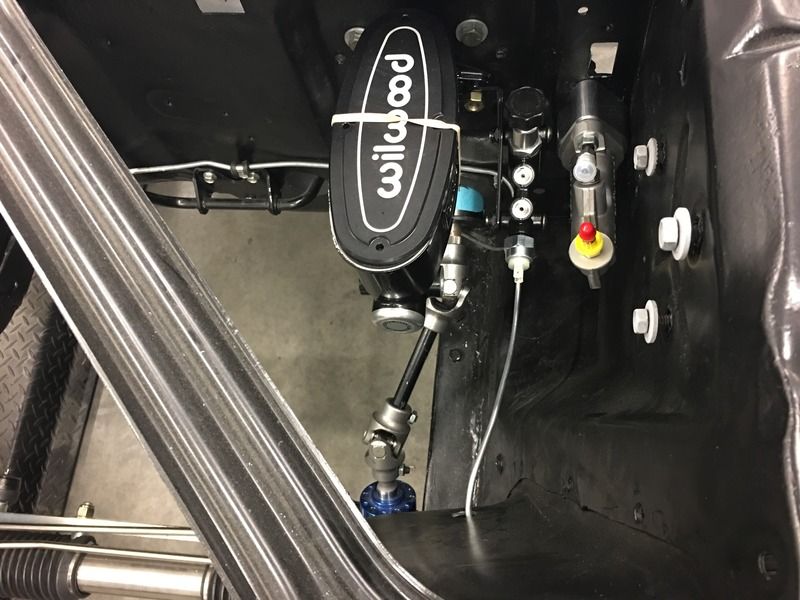 Modern Driveline doesn't use the original clutch rod hole on the 65/66 setup.
---
Dan
Chapel Hill, NC
***PM me if you're close by and can lend a hand with my 65 Fastback project***
That's interesting. I was planning on using the MDL hydraulic clutch. Might have to do some rework on that when I get it.
Lots going on over the last 3 weeks but it's the slow, tedious kind of lots.
I called my painter because I know some painters wont take a project in that's already had work done to it. Do to family and work constraints (he paints stuff on the side), he's not going to be able to take my car UNLESS the body work was all done. Which is actually fine by me since I kind of wanted to do the work. I've never done it before and want to learn.
I also checked in with another guy I had used on my GTO like...15 years ago. That conversation was not so good since he did the whole "throw a scare away price out there" to make me go away. Dude quoted me 27k so...not using him.
Thus...I've been finishing some metal work, putting down filler in areas, re-epoxying when i cut through, and trying to set gaps. Both the doors and front fenders are repro parts. As such, they are not fitting that great. They fit okay...but not great. I got the doors about as good as I think I'm going to get. The tops line up with the contour of the quarter. The bottoms have a consistent gap. However, the styling doesnt "exactly" jive. I have the upper part of the styling matched but the bottom part (on both) not so much. It looks like the styling on the doors are off about 1/8" or less. I'll probably post a thread about that in the General channel for some quick consultation.
To add insult to injury, the gap on the drivers door to quarter panel is...weird. I'll post a pic of that later today. It's...wavy...fixable...but wavy. I have conceded that I'm going to have to put in some rod on the gap edges to tighten them up. Not a big deal.
Now...confession time. Awhile back I tin canned the drivers side of the cowl. The top hat had some rusted out areas and, instead of doing it the "right way", I slapped some fiberglass on the bad stuff and moved about my business. I knew it was the wrong way to do that and it hasnt been sitting well with me.
Since it sounds like I really have no timeline on getting this thing to a painter and the thought of a half asses repair was giving me agita, I set out to do it the right way yesterday.
This really wasnt as bad as what everyone seems to make it out to be. I think it took around 2 hours to have the top cowl pulled off. It has some rusted out areas that will need to be fixed but I think it's easily reusable. I'm glad I did the extra effort to get to the lower cowl. The rust was a little worse than I had expected and now, I can appropriately patch it.
Since the rust is fairly well isolated to the hat sections and a couple smaller areas at the lips, I've elected to not replace it as an entire section and patch. That way I can easily line up holes from the spot welds and make sure it goes back the way it should. I'll have the order into NPD today or early tomorrow and, with any luck, have it buttoned up next weekend.
If you look at the drivers hat you can see where I slathered dynaglass...i'm not proud...