Member
Join Date: Mar 2016
Location: California
Posts: 76
Air Conditioning Hoses
---
The remaining parts arrived to finish fitting the AC system. I purchased a Mastercool Hose Crimper kit (71550).
Mastercool Crimper Instructions
https://www.mastercool.com/wp-conten...50-inst_LR.pdf
I mounted the Drier and installed the trinary switch required for an electric fan.
The Vintage Air AC system runs the suction #10 and liquid line #6 through the stock location of the heater fan motor on the firewall. Both service ports #10 and #8 will remain on the fittings threaded to the compressor.
I experimented with the Heatshield "Hot Rod Sleeve" to spice up the AC hoses. I like the look. Something different.
Great build. I've been toying with doing the exact same type of car. I'm anxious to see the finished product!
Member
Join Date: Mar 2016
Location: California
Posts: 76
Thanks!
---
Quote:
Great build. I've been toying with doing the exact same type of car. I'm anxious to see the finished product!
Thanks for your kind words. I have a long way to go, but I love the challenge and am acquiring new skills!
Member
Join Date: Mar 2016
Location: California
Posts: 76
EFI Bypass Fuel Regulator
---
I drilled and bolted my Aeromotive #13129 fuel regulator to my passenger side shock tower filler panel. The regulator has one 1/8" NPT gauge port, which I used for a pressure gauge, Aeromotive #15633. -6 AN left is the inflow (from tank), bottom -6 AN is the return (to tank), and -6 AN is out to the fuel rail. -6 AN fuel hose attaches to the stock 3/8" fuel rail via a fuel rail fitting adapter Russell Performance #640853. Top right is a 1/16" NPT to -4 AN hose end for vacuum boost. Vacuum boost is pulled from the front right inlet on the throttle body.
Aeromotive 13129 Installation Instructions
https://aeromotiveinc.com/wp-content...2906-0revA.pdf
Russell Performance Fuel Injected Adapter Fittings
Fuel Injected - Adapter Fittings - Russell Performance Products
Aeromotive diagram (assumes you are using a return style fuel rail with their Stealth 340 pump, but a good overview of what is involved in a complete fuel system).
Member
Join Date: Mar 2016
Location: California
Posts: 76
Hydroboost First Fitting
---
My Hydroboost barely clears the engine. Due to the exceptional width of the Coyote, Hydrotech engineered a cantilever, which raised the Hydroboost 2.5." I have a stock firewall using a stock pedal box. Pictured is the Wilwood Tandem master cylinder #260-13190. I'm confident revisions will be ongoing.
Pictured is a late model GM style "Street Preparation" Hydroboost. It's my understanding that Wilwood master cylinders are only available in the GM bolt pattern. Because of the cantilever, Hydroboost recommended going with a 1" bore master cylinder as opposed to a 1 1/8" bore.
I will most likely need to need to chop the driver side engine coil cover (not installed). I may need to create a support bracket to reinforce the lengthy rig and possibly swap to a different tandem master cylinder as I figure out a workable dipstick solution.
Distance from interior firewall to brake pedal rod is currently set to 5 ˝" to match the clutch resting pedal height.
Wilwood Proportioning valve.
I am using Banjo -6 AN fittings. High-pressure hoses are Aeroquip Teflon and low pressure, Aeroquip starlight hose.
Routed power steering lines and joined the two low-pressure returns under the radiator. The radiator has a power steering cooler which then returns to the power steering reservoir.
Hydroboost power steering line routing diagram.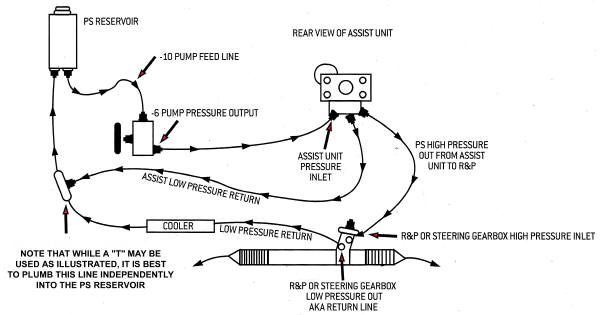 This is the engine bay in its current form. I still need to finish the mass air, CMCV vacuum, and make a few other refinements. Amazing to think I couldn't tell the difference between AN and NPT fittings when I started on this endeavor. Oh, now that I have a better idea of how much space that I have, its time to install the clutch!
---
Last edited by image98; 06-06-2017 at

02:33 PM

.
Member
Join Date: Mar 2016
Location: California
Posts: 76
Hydraulic Clutch
---
Because of the hydroboost power brake setup, I wasn't going to be able to mount the clutch master cylinder in its stock location onto the firewall. After some research, I discovered that Modern Driveline offered exactly what I was looking for. I purchased and installed their 1964.5-66 Mustang, LF Series Hydraulic Clutch Master Kit, which utilizes the stock pedal box and clutch pedal ratio. Their included clutch pedal linkage moves the master cylinder down and outward to clear brake boosters. I opted for a Type 3 master cylinder, which has a .75" bore as opposed to the Type 2 master cylinder with a .625" bore. This increased volume will give me a shorter pedal throw and allow me to lower the pedals resting height. I have always felt that the stock Mustang pedals rested a bit high in comparison to modern vehicles.
Mocking up the components. The install was very straightforward following the detailed instructions. If I had any suggestions, I wish they would include a firewall template with a reference marking indicating a vertical alignment for the bracket that will eventually bolt up to the interior of the firewall. I've seen other installs where users slotted the interior bracket for this very reason.
Bottom, is the included Wilwood Master cylinder #260-15091. I opted to switch to a #260-10372 so that I could run a particular remote reservoir.
I still need to finalize my remote reservoir.
1964.5-66 Mustang, LF Series Hyd Clutch Master Kit
Looks nice.
---
Wife,........."You drove how far for that thing?"
Daughter,..."Theres no inside and it stinks."
Friend,......."Dude, thats a rusted pile."
Son,.........."This old car is cool."
USMC Security Forces, Kamiseya Japan, 0311
Build Thread:
http://forums.vintage-mustang.com/vi...sted-pile.html
Member
Join Date: Mar 2016
Location: California
Posts: 76
Clutch Pedal Roller Bearing Repair Kit
---
Attached is a photograph and instructions for the Scott drake repair kit, which I installed in a previous post.
#C5ZZ-2478-RBMK Installation Instructions
http://www.joshuareis.com/VMF_Conv/6...aringInstr.pdf
Member
Join Date: Mar 2016
Location: California
Posts: 76
Convertible Top Frame
---
I decided to switch gears and focus on restoring the convertible top frame as I wait for engine parts. I have an original manual frame that looked to be in decent mechanical shape. It was only missing one nut, which could be easily swapped. I figured it was best to test fit prior to complete disassembly and media blasting.
Member
Join Date: Mar 2016
Location: California
Posts: 76
Convertible Top Frame, Disassembly
---
I took probably a hundred photographs documenting disassembly working from the header bar (front) towards bars; 2, 3, and 4 (the back). I labeled and bagged all of the bushings and clevis pins. This is going to be a very tedious puzzle.
I will be upgrading to a power top. Reproduction power hydraulic cylinder on the left and the original manual spring cylinder on the right.
Assortment of new replacement "just in case parts." This is just about everything in regards to reproduction parts that are available on the market other than ordering a complete and new Dynocorn convertible top frame. My 66 top apparently has the 67 style front hooks, which are on backorder.