Junior Member
Join Date: Oct 2010
Posts: 29
1965 Hurst Fastback Mustang
---
The Hurst Mustang performance package was offered for a short period through Ford dealerships. Inspired by the sporty handling of his own Mustang convertible, George Hurst conceived a dealer fit package consisting of a Hurst shifter, suspension, wheels, badging, vinyl stripes and performance engine components. The package was shipped to dealers who could order a 289 four speed Mustang along with some additional replacement parts from Shelby American to assemble the 335hp Hurst Mustang.

Unfortunately due to extensive labor involved installing the package, which included a special camshaft very few examples were assembled. By the time the first Hurst Mustangs were built the 1966 model year cars had hit the showroom floor so the Hurst engines were painted in the new Ford corporate blue in order to appear current to buyers.

This particular example is the only known surviving 1965 Hurst Mustang and features both heater and radio delete options, making it exceptionally rare. This is entirely fictional but we really didn't want to build yet another GT350 clone.
---
Last edited by Maryland66; 05-16-2017 at

02:42 PM

.
Cool. I like a good "what if?" car.
---
68' Fastback 302 GT, 350hp,T5z, some mod's
Near total rebuild began 12/08 AND NOT DONE YET
Archer, S5 E7: "Don't you have a tractor pull to go headline?"
Senior Member
Join Date: Jan 2016
Location: Chapel Hill, NC
Posts: 833
Very cool...where did you get the hurst logo products for the car?
Got any more pictures of the build online?
---
Dan
Chapel Hill, NC
***PM me if you're close by and can lend a hand with my 65 Fastback project***
Junior Member
Join Date: Oct 2010
Posts: 29
Thanks!
The gas cap is made from a Scott Drake reproduction and a Hurst wheel center cap. The glove box and valve cover badges are made from hurst olds badges and ford hat pins
I have some more pictures coming. The car is almost done and I'm trying to take it on Power Tour.
Car was originally a 2bbl fastback, so I don't feel bad at all making it into a "What if" car.
Here are some specs;
- Original 289 engine, heads and a comp Nostalgia+ solid lifter cam
- Holley 600 and Pertronix ignitor III ignition
- T5 trans, blow proof bell housing. All painted satin black for a stealth look
- Hydraulic clutch and Mustang Steve power brakes (many forum posts said it could not be done but it's in there!)
- SN95 Brakes
- Heater and radio delete, with the passenger cowl vent ducted directly to the driver demist vent
- GT350R roll bar and package tray with a hurst spare on display
- Mustangs Plus suspension
- I'm still waiting on some custom GT40 style seats, so will run the stock ones for a while
- Lecarra steering wheel
- 3" seat belts
- Hurst shifter of course
- Sub frame connectors
- 9 inch 3.7 ratio eaton tru-track
- HiPo air cleaner (That little one is just on so I can check for leaks and make adjustments on first fire up)
- Various small improvements like the 67 style battery tray, upgraded stock look radiator etc.
I have tried to make this look like a quality restoration of a car the could have existed with the mods mostly hidden in plain sight. Using correct hose clamps etc. helps with that too. The restraint has been very difficult, but I believe it is those details that separate good cars form inspirational builds. I almost went crazy with EFI, tilt column, modern suspension etc. but feel that that would break the theme too much. I did compromise the design with the brakes, but even went to the trouble of using an early style master cylinder and covering the hydraulic clutch lines with some NOS vintage heat shield.
---
Last edited by Maryland66; 05-16-2017 at

04:23 PM

.
Senior Member
Join Date: Oct 2014
Posts: 418
I like the work that you've done but I have an issue with it. An authentic Hurst modified car for 1965 would have the period correct "early" Hurst Magnesium Wheels (like the set I have for my car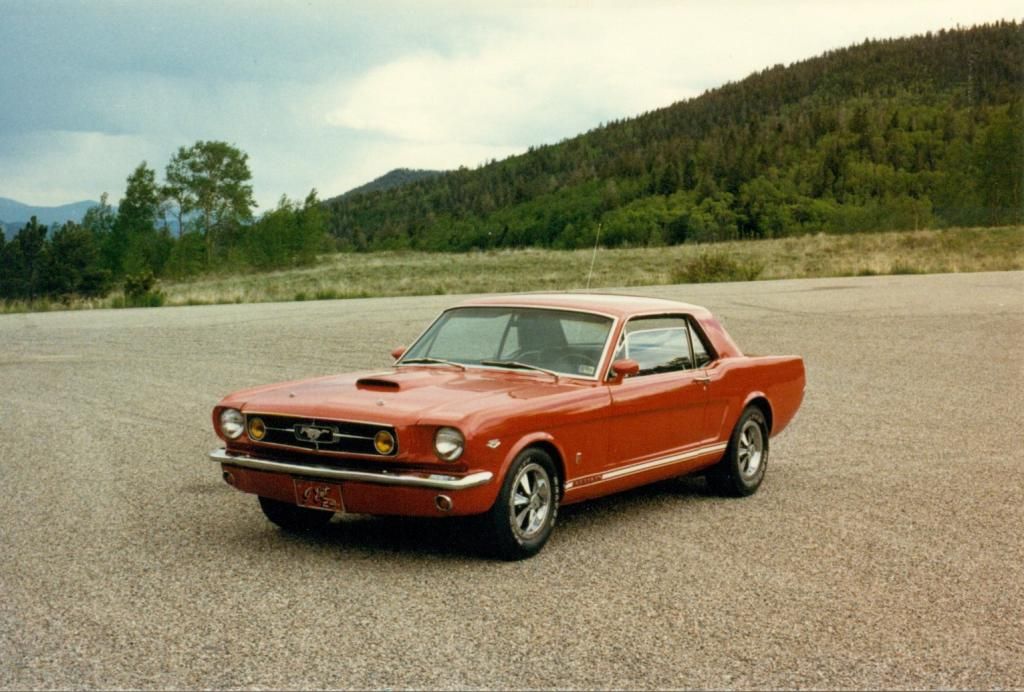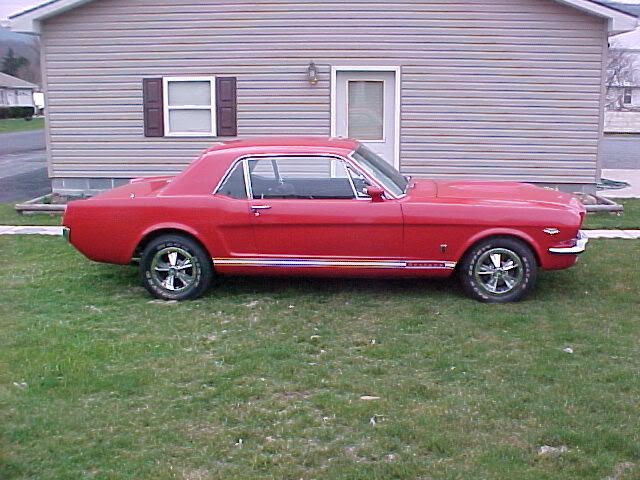 PS: I'd let mine go for the right price . . . .
---
Dennis
65' Stang Street/Strip:
Dart 434W NA, G101A 4 Spd, 4:56 rear, 93 octane pump gas pushing 3550lbs.
9.82@138.00
---
Last edited by dennis111; 05-16-2017 at

05:31 PM

.
Reminds me of the Tasca 505. You need to get a set of those Hurst 5 spoke wheels.....
Tasca 505 Mustang
---
As the drill sergeant said, "I taught you everything you know. I didn't teach you everything I know."

"Human beings, who are almost unique in having the ability to learn from the experience of others, are also remarkable for their apparent disinclination to do so."
- Douglas Adams
Junior Member
Join Date: Oct 2010
Posts: 29
Glad to hear GT289, that article was actually one of the inspirations for this build!
Quote:
An authentic Hurst modified car for 1965 would have the period correct "early" Hurst Magnesium Wheels
I agree dennis111, I have been looking for a set for a while. If I can find a set for a reasonable price I would use the modern version with radials for long hauls, and I'd like a set of the originals and put bias ply tires on them for shows.
I'm at the end of my budget for this build, but may be interested if you are selling. That said you should really keep them, they look great on your car!
My only concern is they may not fit over the SN95 brakes.
---
Last edited by Maryland66; 05-16-2017 at

05:48 PM

.
Junior Member
Join Date: Oct 2010
Posts: 29
Making progress, the interior is mostly done. The list is getting shorter, door glass and fit out in the next few days. Hopefully will get to breaking in the engine in the next week so I can put a few miles on her before power tour.