68 fuel gauge
---
Hi everyone,
On my 68, when the tank is full, the gauge only reads half full.

I have a new sending unit at the tank. I don't see any new fuel/ampere combo gauges available for purchase with the usual suppliers.

Any suggestions?

Thanks

Mike In Vegas
Senior Member
Join Date: Aug 2006
Location: frankfort ky
Posts: 1,526
remove the wire at the sending unit and ground it. if the guage reads full the sender is at fault. the arm on the float or the limiting tabs can be adjusted to correct the error.
---
aka carlite65
Thanks!

I'll let you know how it goes.

MIV
Don't leave it grounded very long
!You can do some damage to those gauges by directly grounding that circuit. If I remember correctly, 22 ohms should put it @ full, and 72 ohms @ empty. I have had the gypo sending units read all over the place.My '69 reads backwards
Find a buddy with an ohmeter and check the sending unit at both full and empty. Good luck.
---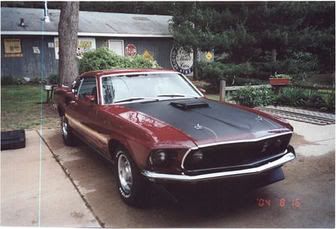 Check out my distributor restoration site!
http://428cobrajetcars.com
[color:red][/color] Ask about forum member discount!
Posting Rules

You may post new threads

You may post replies

You may not post attachments

You may not edit your posts

---

HTML code is Off

---