Senior Member
Join Date: Oct 2009
Location: far east north corner of Texas
Posts: 4,330
.023 versus .030 mig wire?
---
When to use and particularly if I am welding floor pan metal to the subframe. My mig directions say to run the .030 on the thicker stuff because the wire will take the extra current better and put the heat into the metal I'm welding. With .023, it over heats and either melts back the wire or burns holes in the sheet metal or I'm doing it wrong. If I back the heat down for the sheet metal, it doesn't respond to the thicker metal well.

Well, I think I need something that I have not seen which is a double wand mig with a spool of .023 on one side and .030 on the other side. Buying another welder would work but a bit costly. That would fix my problem because it gets a bit tedious swapping out the wire particularly when I am using a .030 on the frame rail side and then a .023 on the sheet metal side of the same weld.

OR, what about this. Can I just run the .030 for all of this and if I do that, how should I set up the .030 to weld the sheet metal? What are y'all doing when you need to weld thicker stuff to sheet metal?
---
331 solid flat cam, rings and bearings break in run up.
https://www.youtube.com/watch?v=3MNjb-AiWec
331 break in complete and is waiting on me to finish the body work
https://www.youtube.com/watch?v=YhnOk5FCBkE
---
Last edited by macstang; 04-19-2017 at

05:12 PM

.
I use .023" all the time. The trick to welding thin to thick is you spend more time on the thick and less on the thin. It just takes practice.
---
-Mark-

1966 Mustang 2+2

""Money can't buy happiness, but it can buy a race car. And I've never been sad in a race car!""
If I am welding a lot of sheet metal to sheet, especially the China stuff, I will change over to .023. However most of the time I am doing a small job and have learned to do just about everything with .030.. Welding thick to thin, start the arch and puddle on the thick and using a small circular motion lap it over to the thin. If that blows holes then stitch weld using the same technique, but after lapping to the thin stop and repeat. Welding at more of an angle helps sometimes too.
I did my floors with .030 ,as said above start on the thick side . For the most part you will not be running a bead just 1/4" spots.
When a did external sheet metal I used .023 with tight gaps and the same small spot welds. The .023 made some very nice small flat welds with less heat radiating out.

I usually run the recommended heat(current) and only adjust the wire feed speed,if your blowing holes or burning the wire back into your tip give it more wire speed.

You can run .023 for both but the wire feed will need to be cranked up as you go to thicker material.

Make sure your gas flow and polarity are correct.
---
67 coupe with 5.0 and C4 (Viper GTS Blue, paint code PBE, since everybody asks)
69 Mach 1 428 SCJ drag pack
Senior Member
Join Date: Sep 2011
Location: Central Kentucky
Posts: 1,249
I also just run .023, adjusting my settings and technique for the metal thickness.
---
66 Emberglow Coupe first car,71 Torino GT, 82 Fastback slooooow 6 banger, 71 Boss 351, 85 GT all long gone
65 GT Fastback on the rotisserie with F150 SCREW Ecoboost as my daily
Senior Member
Join Date: Mar 2012
Location: Eastern Iowa
Posts: 3,052
I run the .023 as well, but for a slightly different reason... My Dad is a garage sale nut- he'd probably swing into a sale on his way to church!! A few years ago he rolled up to my shop and asked if I could use these- and handed me a box. He actually managed to buy about a doz rolls of .023 welding wire at a garage sale.... for $5!! Needless to say I got very handy with the stuff!
---
Buckle up- I wanna try something!!
As was stated, try upping the speed of the wire when you are running hot like that. more wire caries more cool into the weld, also stop for a second here and there and let the red cool out.
Senior Member
Join Date: Oct 2009
Location: far east north corner of Texas
Posts: 4,330
I switched to .030 and have been giving it a try. I am finding it easier for what I am doing. I think about the only thing I might switch back to .023 for is when I put my new right rear quarter panel on. I have used the mig just about enough now that I've figured out my wire speed and power dials. I have one pair of settings for thin metal and another pair of settings for thicker structural metal. This welder has variable controls and not discrete clicks or detents which makes it nice for fine tuning. I also use the higher setting when I'm sticking structural metal to sheet metal and do what y'all said which is to start the weld on the thicker piece of metal.

My most difficult problem is patience. I tend to not want to allow for the cooling off time which the metal apparently needs or maybe the welder needs it or both.
---
331 solid flat cam, rings and bearings break in run up.
https://www.youtube.com/watch?v=3MNjb-AiWec
331 break in complete and is waiting on me to finish the body work
https://www.youtube.com/watch?v=YhnOk5FCBkE
---
Last edited by macstang; 04-21-2017 at

01:12 AM

.
I use .023 for just about everything
---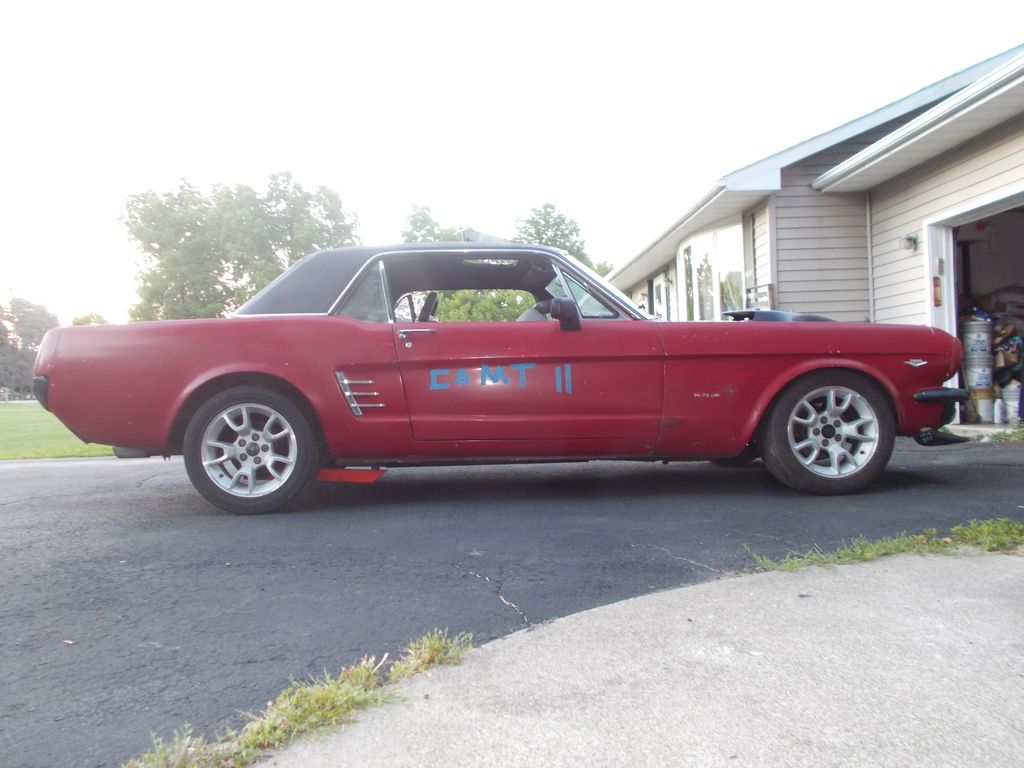 Posting Rules

You may post new threads

You may post replies

You may not post attachments

You may not edit your posts

---

HTML code is Off

---