How far back to carfax reports go....
---
Is it beneficial or worthwhile to think that a collector car might have a carfax history?

I made an offer on a 1969 Chevelle convertible (mostly original, but in need of freshening up) today that I think I can flip and make a few dollars. I have no intentions on keeping this car for myself, so I am not building a show car, but building a nice driver. The seller has owned this car for less than 2 years and either is unwilling or not able to supply any info on the history of the car prior to his purchase in 2007.

Would an attempt to get a carfax help in determining previous owners or where (geographically) this car might have come from?
---
1965 Fastback/Twilight Turquoise
A Code/3 Speed
San Jose/Jan 8th, 1965
How far back to carfax reports go....
---
Don't believe that Carfax can help on new cars, never acquiring any service record. Particularly flood cars. What's to prevent a new car dealer from having a "swimmer" laundered, well prepared and being sold as new or as a demo? Do distributors, like Southeast Toyota, as an example, have available records? Doubt it! Let the buyer beware....new or used. Those new on the lot, flood cars have to go somewhere! Was reminded of it, last nite, watching news as new cars on storage lots get MORE than wet in recent heavy rains! So, if not ever being titled, they could go back to the distributor, new window tag installed, paper work manipulated, car perfumed and sent to another area.....or back to the same dealer! Am willing to bet, that a person buying a new brand x car that was flooded, would be denied a written, on bill of sale, statement certifying that car was never flooded! One way to be sure!
Senior Member
Join Date: Jun 2007
Location: new england
Posts: 164
is there any way of checking history or previous owners of a classic car
Quote:
Originally Posted by festang
is there any way of checking history or previous owners of a classic car
These days the easiest thing to do is start at the person you bought it from and find out who, when and where they bought the car, basically work backwards.
You could try a title search for the states that do issue titles unless the car was in a non-title state at one point or the DMV has purged the records after so many years*.
*that is what happened when I tried a title search in NJ for my father's 73 Grande that I have in my sig.
---
Jason
The project vehicles:
'68 Mustang coupe, Acapulco Blue, 289, C-4, power steering
'87 Caprice Classic wagon, gold/blonde, 307, power everything (retired everyday driver)
Hopefully a '69 convert or Sportsroof (non Mach or Boss) for next Mustang project.
MCA# 66352
Trying to find my father's 1973 Mustang Grande he bought brand new. 3F04F126773 last known registration and title was in New Jersey, 1982.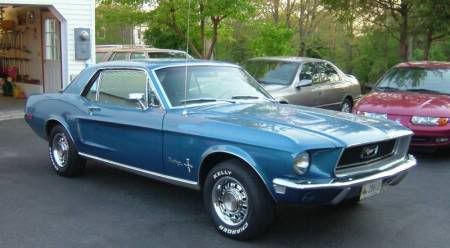 How far back to carfax reports go....
---
IMHO carfax isn't worth a dime , i got in a bad wreck a few years ago 17k damage to my car . yes they fixed it . about year after getting my car back i had a carfax done on the car . nothing showed on the report !!
daily driver is a 2005 dodge magnum rt
---
1966 convert
Banned
Join Date: Dec 2006
Location: Central Texas
Posts: 1,297
"CARFAX Vehicle History Reports™ are available on all used cars and light trucks model year 1981 or later."


Posting Rules

You may post new threads

You may post replies

You may not post attachments

You may not edit your posts

---

HTML code is Off

---