Senior Member
Join Date: Nov 2012
Location: Philadelphia, PA
Posts: 108
Starting a new project
---
Starting a fastback build from the ground up. I have a rusty rolling shell. If there is anyone local to the Philadelphia area that is really good with metal work and has done a build like this before, I'd definitely listen to some advice.

Mike
Focus on one section at a time. Do the worst areas first. A little progress here and there will keep you motivated. I had never welded anything until I started my project. Good luck.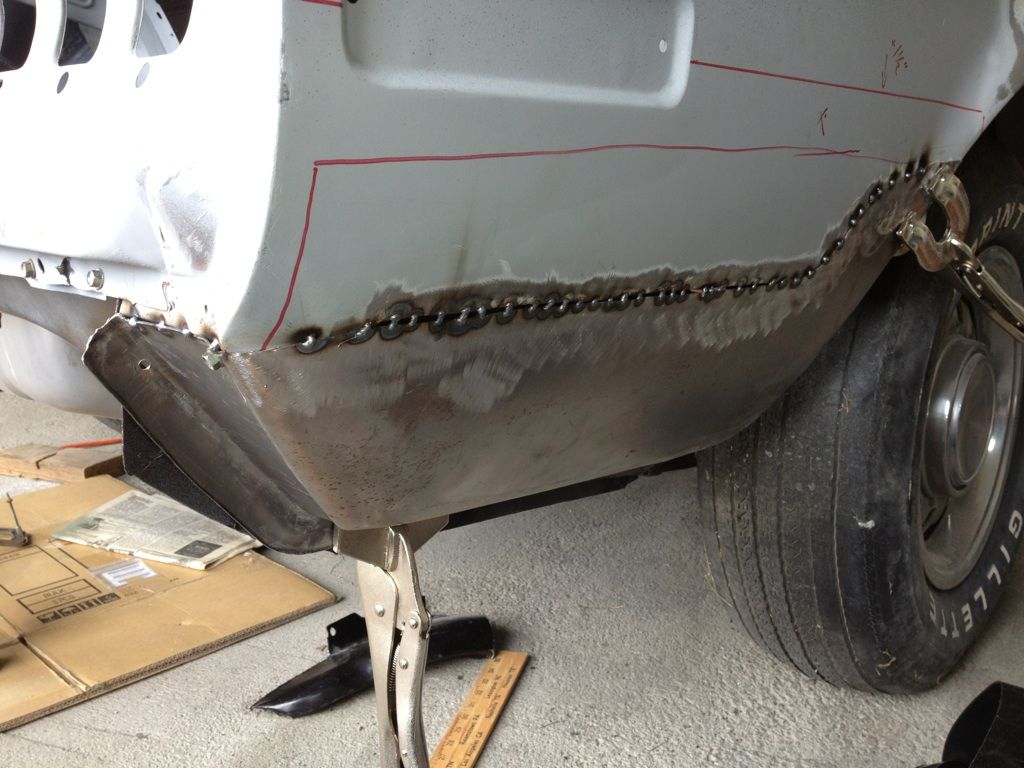 ---
68 Fastback.
351Windsor, 4sp, 8" 3.40 TracLok
http://forums.vintage-mustang.com/bu...ld-thread.html
Senior Member
Join Date: Nov 2012
Location: Philadelphia, PA
Posts: 108
Wow looks good, thanks for the pictures!

Would you do toe boards before the floor pan? My floor supports look pretty good for the most part. Or is it easier to do what you did (second picture down)
Senior Member
Join Date: Mar 2013
Location: Chesapeake, VA.
Posts: 117
Hey Mike,
as someone who just recently completed a coupe project similar to yours here's a few things I recommend:
1. before cutting or taking anything structural off the car, jack it up on jackstands as high as you can in a place you can leave it AND work on it, then mark the floor where the stands are sitting. using some type of shims (paint stir sticks work well) get the stands to where the car is putting an equal load on them. this is going to be your reference for a straight car while your working. most of the metal you'll be cutting off is structural and the frame/body will shift out of place when it's cut out. this way you'll always know when the car is "straight" by how it's sitting on the stands.
2. get some good spray can weld through primer. you'll need it when you start putting things back together, the new metal will have some coating on it but it's not all the same, before welding, prime both the new and the old metal with the primer, it will help keep things from rusting in the seams.
3. I bought all my metal from NPD, they are pretty close to me and I had good luck with panel fitment, still took a bunch of work to make them right but they are close. try to buy all the metal at one time if you can, it will save shipping costs. if you're going to be buying a lot of stuff in short time frames, you could go through CJPony parts, they have a buyers club and you earn points on purchases you can use against other stuff, it saved me a fair amount of money during my project, but be warned, the points do expire after a while so you'll need to figure that part out.
4. I should have listed this first but ----DON'T THROW ANYTHING AWAY TILL THE CAR IS DONE
I can't stress this enough, you will need to reference the old parts for things like measurements, hole placement ( for emblems), and God knows what else. this applies to interior parts as well, there will always be that one little part that you can't find anywhere that will hold you up, even if you know you're going to be replacing it, keep the old stuff till you're COMPLETELY done with the car.
5. add this site to your favorites and refer to it often, there is a TON of good information from people who have gone before you, don't be embarrassed to ask a question, if you have any doubt at all, ask first, it will save you a ton of work later on.
6. take lots of good quality pictures every step of the way, they will be good references when you can't remember how things were positioned before you started, they are also nice to look at when done.
7. GOOD LUCK
!! and try to have some fun while working on it, if you get frustrated, STOP, and take a breath, maybe even a day or two off to clear you mind and attitude.
Like many others here, I never welded until I bought my 68 vert. I've done extensive metal replacement in the 'passenger' area, being inner rockers, full floors, torque boxes and toe boards (along with much more). Do one side at a time, and be sure to brace things properly. Since you have a roof, things won't shift as much as they do with a vert, but measure, measure, measure. Write it down, take pics, and measure some more. I've gotten to a point where I'm stalled out...and somewhat burnt out too. I had someone come in to give me a quote on finishing the metal work (not really that much left) and paint. I found out that some of the work I had already done (drivers qtr skin) needs to be ripped out and redone with a full qtr due to an accident that happened well before I got it. The guy never called me back with a quote...which simply means that he has no interest in finishing the car. This can be a frustrating hobby. As mentioned, do some small things, make progress, even if it is something small...progress will keep you moving forward. Take your time and ask questions...people will be happy to answer...some good, some not as good, you'll need to figure out which is which.
Senior Member
Join Date: Nov 2012
Location: Philadelphia, PA
Posts: 108
What is the best product for rust inhibitor/protection on areas that wont really be seen? like inside frame rails, wheel wells, etc.?
I use Picklex on all metal that I work on. You don't need to paint it until you're ready and it will protect it from flash rust for a long time, unless it gets wet. In the end, the best protection is Epoxy primer prior to paint. I'm no where near that stage yet....I do use Zero Rust for things like floor pans and frame rails. So far, anything that has been covered with it has remained 'rust free'. I've been working on the car for 13 years +
, but at least the rust hasn't returned.
[QUOTE=68CVert;7980993I found out that some of the work I had already done (drivers qtr skin) needs to be ripped out and redone with a full qtr due to an accident that happened well before I got it. The guy never called me back with a quote...[/QUOTE]


Ugh
---
Nick
1965 Fastback 410c AOD - DT
1967 Fastback 347 T5- Cruiser
1968 Fastback 408w T5 - Brute
1991 GT Hatch - Fauxbra
1996 Dodge Viper GTS

https://www.youtube.com/watch?v=0LUK2D0GjdY
Senior Member
Join Date: Nov 2012
Location: Philadelphia, PA
Posts: 108
One more question and thanks for the help thus far, its about the full front apron/shock tower assemblies. The car is pretty straight so would the easiest way cut out and line up one side at a time with the existing apron and rad support? or should they be done both at the same time?

Anybody have experience with those complete assemblies versus just patching or fixing the spots that need to be repaired?

And should this all be done before front torque boxes or can it be done after?
I've not done that, but I would think you would need to take lot's of measurements and probably bracing. Best to post this question in one of the main forums.
Junior Member
Join Date: Sep 2015
Posts: 3
I haven't don't that work before, but if you need help, check out Glazier Nolan Mustang Barn in Souderton PA. They have helped me quite a bit on my 66..
Posting Rules

You may post new threads

You may post replies

You may not post attachments

You may not edit your posts

---

HTML code is Off

---