I have 15 x7 in front and 16 x 8 in back. on both my 65 and 67
---
certified mustang nut.
65 mustang. aka 65 myway.
67 coupe
89 lx 5.0 convertible
Member
Join Date: Jan 2012
Location: California/Bavaria
Posts: 40
They are 225-60-r15s on a 7 inch rim in the front and a 245 60 r 15 on an 8 inch rim on the back. If I were to do it again, I would go with 7 inch rims and 225's all the way around so I can rotate the tires like on a 'normal' car.
15's for me. Tires are 225/60/R15's. I can't remember the width or the offset.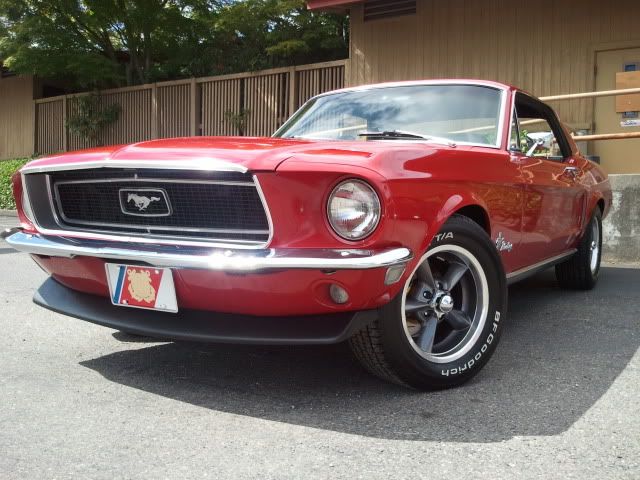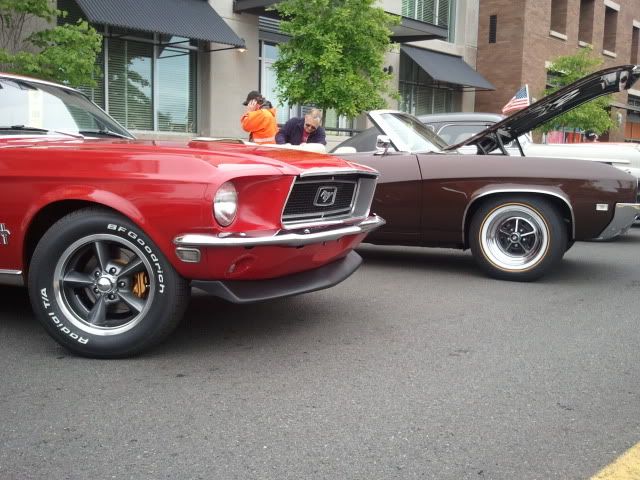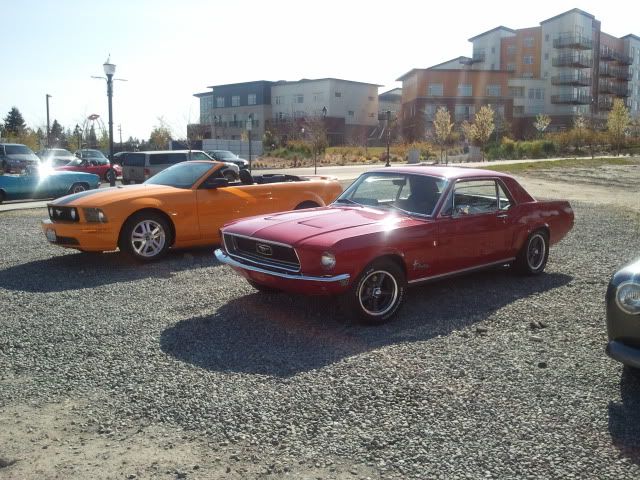 ---
68' Coupe. Toyota 2JZ. Build thread
HERE
215/60/15 fronts and 245/60/15 rears on 15 x 7 x 3 1/2 back spacing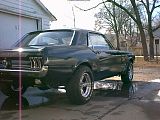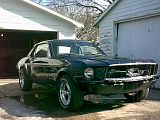 ---
Last edited by kiwimustang67; 04-13-2012 at

10:59 PM

.
Senior Member
Join Date: Mar 2001
Location: Barrie, Ontario
Posts: 1,888
I believe you've seen mine before..
15 X 7 TTD 3.75 BS
I like the look of the 15's on the classic's but your right rubber choice is short
on the coupe I have the G-Force sports and love them, on the fastback I wanted RWL
I am running 15X3s on the front and 15X8s on the rear...I do swap back and forth with a set of original 14X6 stock GT rims but they are pretty skinny looking..I am debating getting an aftermarket version of the GT rims in 15X6 and 15X8..
---
68 J code sprint, 408W
11.47@123.35mph in street trim.
Here's my old 15x7 and 15x8 set up.
---
68 convertible
DD, mild 331, T5, torque arm
Senior Member
Join Date: Jul 2000
Location: SF Bay Area
Posts: 7,227
As others have already posted, the performance tire market has been moving to 17" and above with the 16" and below gradually being left by the side of the road. I first heard this about 8 years ago when my son worked in the tire industry. I took his advice and had him set me up with 17" that looked vintage. I don't regret my decision.
On the age appropriate question, I'm practically old enough to be your father and I have no problem with not acting my age
---
*67 Vintage Burgundy 390GTA has moved on to its next caretaker*
---
Last edited by JeffTepper; 04-15-2012 at

01:29 PM

.
I like 14s and 15s on these classic cars. I haven't had any problems finding what I wanted in the way of tires over the past few years. The larger rims with the narrow tires is the modern look these days but just don't fit the older car look. Now keep in mind that's just my opinion and as they say everyone has one.
---
No 16?
---
Odd, seems all the replies are either 15, or 17.
No 16's?

What we really need to do is poplulate Dodgestangs picts.
Thing with the V2 version of Dodgestangs is, I can look at the picts, but do not see what the sizes are.
Am I missing something?
Posting Rules

You may post new threads

You may post replies

You may not post attachments

You may not edit your posts

---

HTML code is Off

---