Junior Member
Join Date: Jul 2009
Location: Tempe, Arizona
Posts: 13
Autolite 4100 question
---
I may have posted this in the wrong area, thanks in advance for responses....

I may have been "taken" on this one: bought a Autolite 4100 1.08v with the intention of putting it on my 1967 289 C4 equipped Coupe. Seller said he'd taken it off a SBF. Got the package, and learned it was a C6SF-A...obviously, NOT the 1.08 4V I was looking for to install on my 289 mill. Can this thing be configured to be compatible with the small block(it was going to be rebuilt anyway, before installation), or, do I have a new door stop?

Thanks again.

Karl in Phoenix
Well, it is a 1.08" venturi carb, which means it is a 480cfm model and it is for an automatic so it has the appropriate kick-down lever. It may need to be rejetted and tuned, but that's true of any carb you buy.

I'm sure the seller did take it off a SBF (these carbs bounce around a lot) and it should be no problem to configure it for your motor.

JACK
4100's are great carbs either in the 1.08 or 1.12 configuration. There are places online to purchase jets for the 4100 so you can fine tune it to your application.
---
"A good friend will help you move. A great friend will help you move a dead body"
1965 A-Code Fastback
Built, September 14, 1964 (San Jose)
Viper red, White/red interior
TCP R&P, G Bar rear 4 link/w shockwaves
Global West Upper/Lower/Strut Rods
Ride-Tech Air ride
4 wheel Cobra disc brakes/Hydroboost
363 Stroker/Paxton Supercharger
Mass-Flo EFI
Owned since 1983
Junior Member
Join Date: Jul 2009
Location: Tempe, Arizona
Posts: 13
Quote:
Originally Posted by
Le Singe Psycho
View Post
Well, it is a 1.08" venturi carb, which means it is a 480cfm model and it is for an automatic so it has the appropriate kick-down lever. It may need to be rejetted and tuned, but that's true of any carb you buy.

I'm sure the seller did take it off a SBF (these carbs bounce around a lot) and it should be no problem to configure it for your motor.

JACK
I'm feeling better about the purchase...so, if I were to attempt a rebuild myself, I would just get a corresponding SBF rebuild kit? What about the boosters? Are those easy to find, if this unit doesn't have them? I read that the boosters were different on these Big Block 1.08's. Is there a way to tell if those were swapped when this unit was installed on the seller's engine(to the right SBF boosters--if there is such a thing)?
Thanks.
Senior Member
Join Date: Jun 2012
Location: Aurora Colorado
Posts: 366
You can get parts and info from Mike's carburetor parts. Just google that name and he has everything you might need.
---
65 coupe restomod 5.0/t5z/4whl disc/pwr windows/ps
62 galaxie 500xl convertible
65 austin h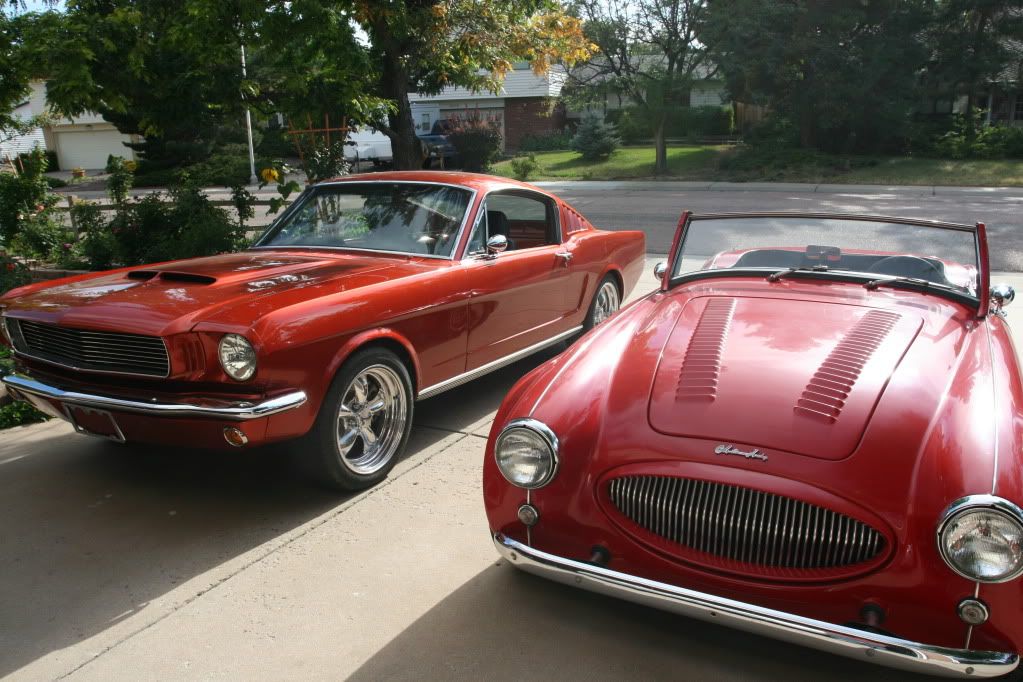 ealey replica 302/4spd
There's only one kit for all 4100's. You may or may not need to re-jet it. I would not go swapping booster assemblies. They are specific to the carbs original config and are also specific to primary and secondary circuits within the carb. That's a T-bird carb. It was actually an enriched mixture variety so they could use it on a big block and have it act like an emission carb. On a big block it would run lean. You may find that it is just the thing in stock form if you have *any* improvements to your motor at all.
---
Formerly of the Permanently Addicted...
Let it be known that I do not street race or condone that sort of thing
- unless the 'b@stard deserves it.
Someone takes his pants off and the rafters knock
Rock is dead they say
Long Live Rock!
67 conv. 289 4spd(mine), 67 coupe 289 Export(swmbo's)


Posting Rules

You may post new threads

You may post replies

You may not post attachments

You may not edit your posts

---

HTML code is Off

---