SpeedHut Gauges
---
Anyone using them?
Quality? Installation? Happy wit them?
Dan
Junior Member
Join Date: Aug 2012
Posts: 13
i just ordered mine for my 65 mustang with a 03 supercharged cobra motor. i have heard good things about them and they are having 15% off right now
Senior Member
Join Date: Apr 2012
Location: McKinney, TX
Posts: 1,128
Senior Member
Join Date: Jan 2005
Location: Lathrop, Ca.
Posts: 462
I installed a set a few months ago and I like them. I will try to post some pics when I get back from my trip next week. I like that you can customize them. I did black background with white numbers and red through gauge back lights. The 270* sweep is pretty cool although it feels like you burn through gas faster since the needle has a longer sweep.
My only minor (very minor) complaint is that when it is real quiet you can hear the servo's clicking inside the gauges but it is hardly an issue because when is you car ever quiet?
Overall- a big thumbs up for price and customizability.
I put a set in my ford GT and they were awesome and worked wth me
To add logo and personal touches. Highly recommend
---
"Saving Mustangs from extinction one car at a time!" John's Garage
I just installed them in my car my car last spring, and love them. They use a wiring harness/loom to wire the gauges together, made for a very clean install. And the quality is very good. I even got the GPS option on my speedometer so their was no cable worry about or speedo gear. I think Its pretty cool how you can customize the gauges.
Here some pics of my set up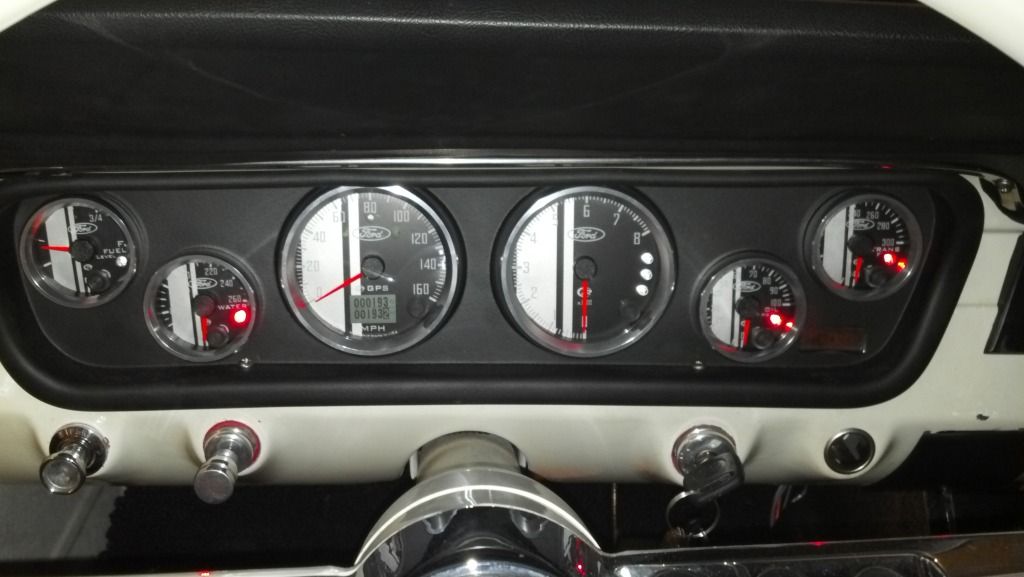 Awsome Gauges
I will send it to my buddy
Just what he is looking for
anyone have a link? they look great!
Senior Member
Join Date: Apr 2012
Location: McKinney, TX
Posts: 1,128
Quote:
anyone have a link? they look great!
Yea, speedhut.com Boom!
Quote:
Anyone using them?
Quality? Installation? Happy wit them?
Dan
ordered a set for my boost, fuel pressure and wide band (Innovate) so they would match... Love them! Easy install and work like a champ
yeah those are very nice ! they are used frequently on the SVTPerformance forums for the SVT guys that want the SVT logo on their boost gauges etc... to match the OEM gauges.
---
Ford True Blue paint, 17X8 Edelbrock 454 wheels, waiting to install AOD/2,800 rpm stall / 8.8 rear with 373 gears / 4 wheel disc brakes. / Xpipe, Dynomax Ultraflows . More pictures here-->
http://forums.vintage-mustang.com/vi...-few-pics.html
2013 SHO Performance Package tuned by Livernois Motorsports
Those are cool and not too pricey.
Posting Rules

You may post new threads

You may post replies

You may not post attachments

You may not edit your posts

---

HTML code is Off

---