Autocross people, has it changed?
---
It's been years for me, and truth be told I have no intention of returning to it. Here's the question though (of you experts); Bigger wheels, check. Wider and lower profile tires, check. Totally revamped suspension and brakes, check. But what sort of tire pressures do you run front and back these days?
Just curious.
---
68' Fastback 302 GT, 350hp,T5z, some mod's
Near total rebuild began 12/08 AND NOT DONE YET
Archer, S5 E7: "Don't you have a tractor pull to go headline?"
I've run a few CAM T events I usually start with 40psi and see how it goes
---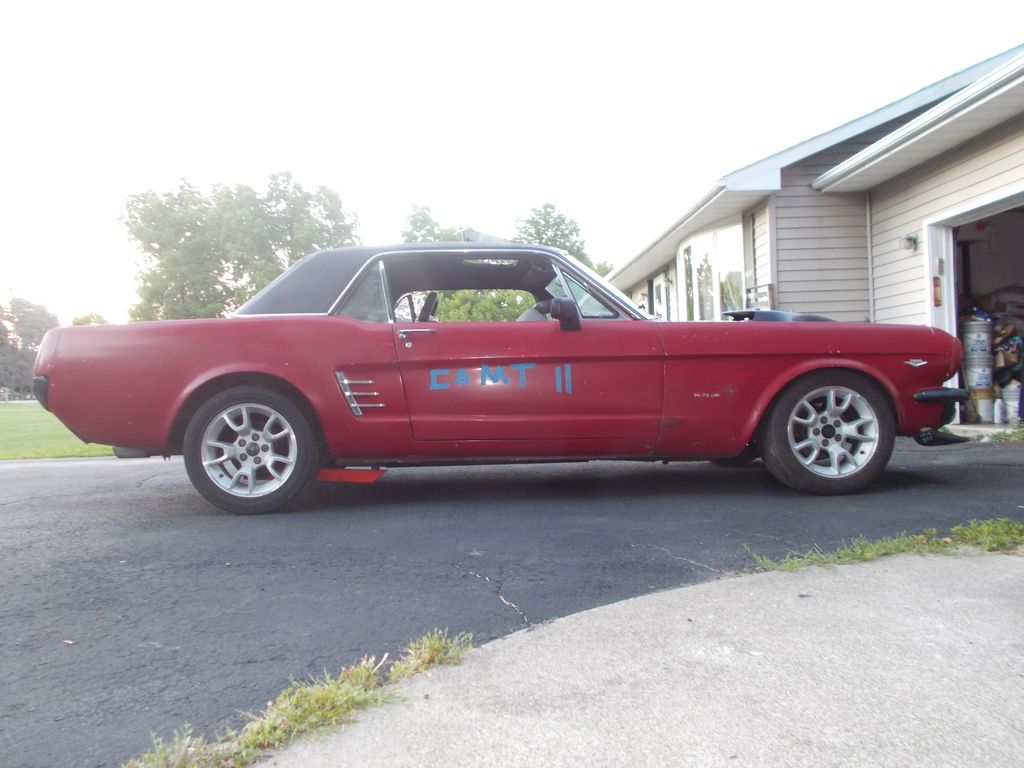 I tend to end up around 40 in front and 26 in back but it always changes due to who knows what. There are a set of indicators on your tires, small arrows or triangles around the perimeter of the tire (have to look really closely) that is the manufacturer telling just where the scrub line should touch. Take some chalk and mark the side of your tire from the flat patch that touches the road around the corner and down about an inch down the side of the tire. Not go lay into a few corners right and left. The line in the chalk should just touch the tip of the arrow and you have the perfect tire pressure. If the line doesn't touch the arrow, too much air pressure, If it scrubs past the arrow which can erase the arrows over time, not enough. I find that my car balances beautifully if I get all four tires just touching the arrows. I bring an air canister and spend most of my day at autocrosses working to get the scrub line right You can usually see the line without chalk but it makes it easier. You can also use an infrared temp gun ($30 at sears or Harbor Freight), right after a good run, jump out of the car or get a friend with a clip board to measure and document outer, center and inner temps of each tire. This tells the story of air pressure and alignment, outer two compared to center is air pressure, compare the two outers gives alignment. The goal is to get all the temps constant across each tire, some like to have the inners or outers hotter, I forget but I'm not that serious.

More than you probably wanted to know but I'm on my third cup...
---
Last edited by dobrostang; 04-02-2017 at

08:23 AM

.
Senior Member
Join Date: Sep 2011
Location: Central Kentucky
Posts: 1,344
Good info!
---
Coyote build in 65 GT Fastback on the rotisserie
F150 SCREW Ecoboost as my daily
66 Emberglow Coupe first car,71 Torino GT, 82 Fastback slooooow 6 banger, 71 Boss 351, 85 GT all long gone
For me pressure depends.
I run CAM-T if my competition doesn't come out I run the pressure higher and stay away from the indicators,if it's on like Donkey Kong I'm right to the indicators.

I drive on my race tires so as soon as I arrive I set the fronts to 35psi (now,was 38) and rear to 33 (was 35). It will be about 2 hours before my first run,maybe 5 if I end up in third heat. I make my first run then reset pressure basted on the scrub line insuring that the pressures are the same side to side.
On our last event it rained and I was down to 30psi in front,25 rear.
On hot days 34 front,30 rear.
To answer "has it changed?"
The "hard core,rank and file European/Japanese car guys" seem to like the big V8's coming out and pegging the sound meters.

I usually have a line wanting rides.
Member
Join Date: Sep 2016
Posts: 65
I use some old school shoe polish on the sidewall. A dot or two per tire and then I can tell if I am rolling up on the sidewall or not and can adjust pressure accordingly before I destroy a front tire.

BTW I run in the novice class on street tires, and just fart around with Auto-X - not an expert, but this seems to help me get my pressure dialed in. In the summer i usually adjust pressures a few times as heat builds and pressure and grip changes.

I've auto-x'd late model mustangs, and even auto-x'd my daily driver G35S sedan a few times. Can't wait to get my 67 from project to driver to spin a few laps around our local venue with the Cincy SCCA group!

-- Mike
---
______________
1967 Mustang Restomod Coupe
Work-in-Progress!
Posting Rules

You may post new threads

You may post replies

You may not post attachments

You may not edit your posts

---

HTML code is Off

---