I have 17X8 TTII's on my 68 (just 12.25" from center of front wheel to well lip) with 235/45 17 Bridgestone RE71's on the front and my 245/17's on the rear will fit the front too. I would say I'm at least 2-3" low in front. Fenders rolled,upper control arms trimmed back too.

Tires are not all the same SIZE,Tire Rack has specs for the tires they carry look at the diameter and overall width .
Quote:
A 275/60 15 front and rear would be HUGE tires on a 66 and rear only on a 67-68,and maybe even a 69-70.
My bad.. I was just posting a link for 15 inch tires. Not suggesting he would be running that size. Also had no problem finding 215s or 225s.
Cooper Tires Cobra GT P215/70R15 97T
225 60 15 at Tire Rack
---
68 J code sprint, 408W
11.47@123.35mph in street trim.
Tell me more.

What kind of driving style are you planning on to live out? - spirited driving, cruising, track?
What kind of performance are you planning on to add? 200hp?300hp? 500hp? what about torque?
With these two above, tell me the stance you plan on choosing, tell me about the lower/height goals you are trying to reach?
Probably you are going to keep stock fender, are you planning on widening the body subtle or extreme?



All the information above, I can now offer you the better choice (I can't give you an answer).
---
'68 HardTop
302, Flat Pistons, 170 Trick Flow (P&P)
Trick Flow Lifters, Scorpion Roller Rockers
Hooker,T5, Al Flywheel, Al Drive Shaft, 9 rear
---
Last edited by romayo; 06-21-2016 at

06:26 PM

.
If you want tires that aren't trash that also cost less than $350 each, go to at least 16" wheels, but probably 17" because you have more options. With 16" the good tires are all 225/50/16, which are a little short for our cars. I stuck myself with 15" wheels and went crazy searching for tires. Finally went with Vredestein Sportrac 5, which are better than most 15" in popular Mustang sizes, but still a compromise compared to any actual UHP tire.
---
1965 Mustang
15" or 17" wheel?
---
Quote:
There is a braking advantage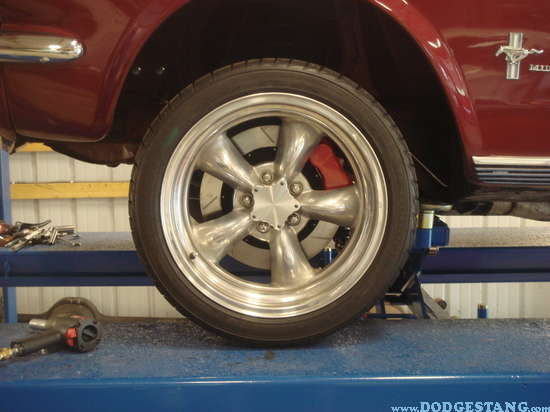 x1000
15" limits you to an 11" rotor most of the time. Bigger wheels allow bigger brakes when you decide to upgrade. Plain and simple.
---
Last edited by Riley; 07-05-2016 at

06:44 PM

.
tire size?
---
Quote:
I have owned many different sets of wheels/tires on my 65-66 cars. I just recently sold a 65 fastback that had 17x 8 tq thrust 2's and until 6 months ago. I had the same wheel tire combo on my 65 coupe. Although it looked nice, the ride quality with "rubberband" sidewall height sucked.

I just switched to 15 x 7 styled steel wheels with michelin tires and the car rides so much better and does't look like every other mustang/camaro at the car shows anymore.
Quick question: what size tires are you running on the 15 x 7's?
---
revolution001 on VFM chat.
-'66 Gt coupe & 05 Ford Explorer Sport
there is nothing wrong with 16's
---
Just came back from a weekend at Thunderhill Raceway with Nor Cal Shelby. I've been running 16" ten spokes for a decade and was one of the first with Bear's "4 on 4" brake system, four pot discs on all four corners (with rear parking brake). I just upgraded from 225/50-16 RE11's to the new RE-71R (both shaved). Both front and rear suspension are highly modified, in fact just installed Mike Maier's rear springs. The only changes I make from street to track is a change of front rotors and pads (hawk blue to black).
There is nothing wrong with running 16's and there are lot's of amazing track and auto-x tires to choose from. I have never seen a difference in early cars running 200 treadwear tires of 16 or 17 sizes. You have to justify the extra expense, looks and always changing manufacture's trends in tire sizes. About 5 years ago it was hard to find good 16 sticky tires.Now there is a nice selection of 200 treadwear and race tires.
I think the main reason I love the 16" rims (especially in the ten spokes) is that they carry the same "look" as the original 14/15 Shelby 10 spokes. When you go to the 17" it just looks so wrong from the original perspective.
---
I may be going to Hell in a Handbasket ... but at least I'm enjoying the ride!
Posting Rules

You may post new threads

You may post replies

You may not post attachments

You may not edit your posts

---

HTML code is Off

---