Senior Member
Join Date: Jul 2015
Location: Mercer Island, WA
Posts: 295
Video pop ups?
---
Is anyone else experiencing problems accessing the vintage forum discussion threads with an iPad?

I couldn't read any thread without a video ad coming up.

Not sure if this is a problem with the site or my iPad.

Used to have the same problem with a redirect to a site that says I was a luck winner. Now its a video pop up.

Very annoying.

Rodney
I was experiencing all kinds of stuff last year.
Ads with videos loading, tons of ads, re directs to another page saying that I had won something, and one time an alert that I had a virus on my iPhone.
I've had 3 new iPhones in the past year.
I keep breaking them, I guess they are not made for const.
The new iphone I got this year seems to be working fine on the VMF site, no anomalies.
---
1970 Sportsroof.
Parked in 1977 resurrected in 2015.
Original 302-2V, C4 trans, and 2.79 open differential.
Manual drums, manual steering.
Member
Join Date: May 2016
Location: Arizona
Posts: 30
I have been seeing this intermittently the last couple weeks. Usually I get redirected to a video and then have to back up and click again to get the right link.
Today, all I get is a video that doesn't even fully load
And re-clicking isn't working. This and one other thread are all that I've been able to get into. I also noticed the address is correct for the link, so I'm not getting redirected to another site. Using an iPad Air.
Screen shot and link:
Leaf Springs Options
When you get these again please can you grab a screen grab of what you are seeing as well as the URL it redirects you to or tries to. I need this to report it to our ad traffic team.
-Philip
Senior Member
Join Date: Dec 2012
Location: Huntsville, AL
Posts: 4,054
It's the same as this...
Pop Up Videos
They won't be able to grab anything on the iPad or iPhone. I have tried multiple ways and times, but then again I may just be iXXX illiterate
---
Regards,
Patrick
Just to make sure, you tried going through your browser history after you get one of these redirects as well? Should be able to grab the url from it there.

We can try a different tack though. It's happening on ipad, but what browser are you using and can you tell me your rough geographic location? Maybe I can recreate this.

Kevin
Senior Member
Join Date: Jun 2011
Location: Boise, ID
Posts: 364
Today's video was for Mr. Peanut. No redirect. Just a vid that played in place of going to a forum. This was while using my iPad here in Boise, ID.

LJ
Senior Member
Join Date: Dec 2012
Location: Huntsville, AL
Posts: 4,054
Notice video playing, active history web page at top of list is VMF.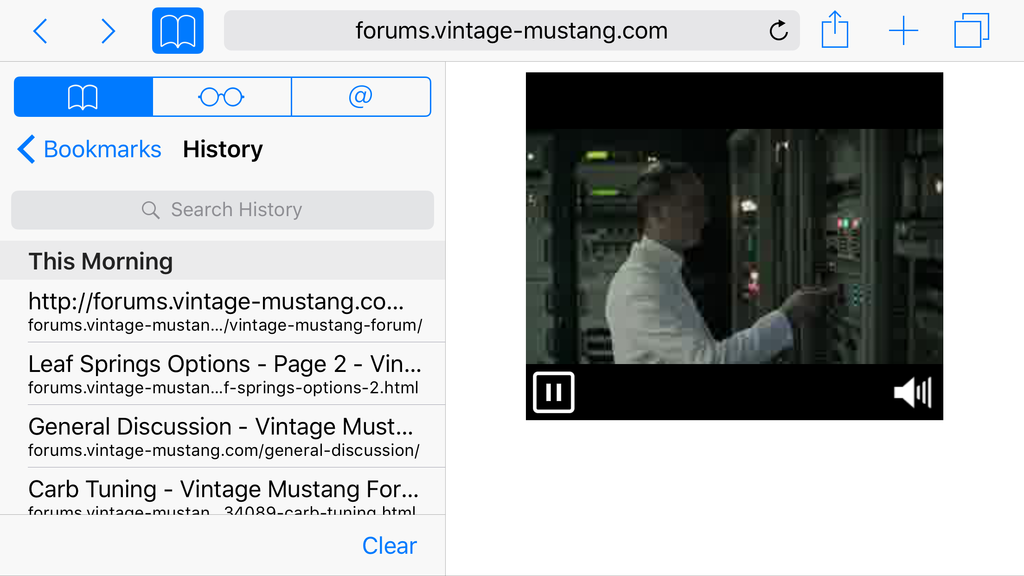 On iPhone in Huntsville, AL.
---
Regards,
Patrick
This is reported to our ad traffic team.
-Philip
Posting Rules

You may post new threads

You may post replies

You may not post attachments

You may not edit your posts

---

HTML code is Off

---