Senior Member
Join Date: Jul 2015
Location: Mercer Island, WA
Posts: 319
Tail Light Panel Repair?
---
While my clutch pedal is off being upgraded, I thought I'd finally fix the trunk lid.
I had the original one from the PO and you can see it fits much better.
I now have to do something with the holes that were there for the black grills.
Do I
A) weld them up with a copper spoon;
B) put in a small disk of sheet metal and weld around that; or
C) glue a larger disk of metal behind and fill the hole with body filler
I have a MIG welder but I'm not very experienced/good.
Any advice is appreciated and let me know if anyone wants a lime green fiberglass trunk lid on the cheap.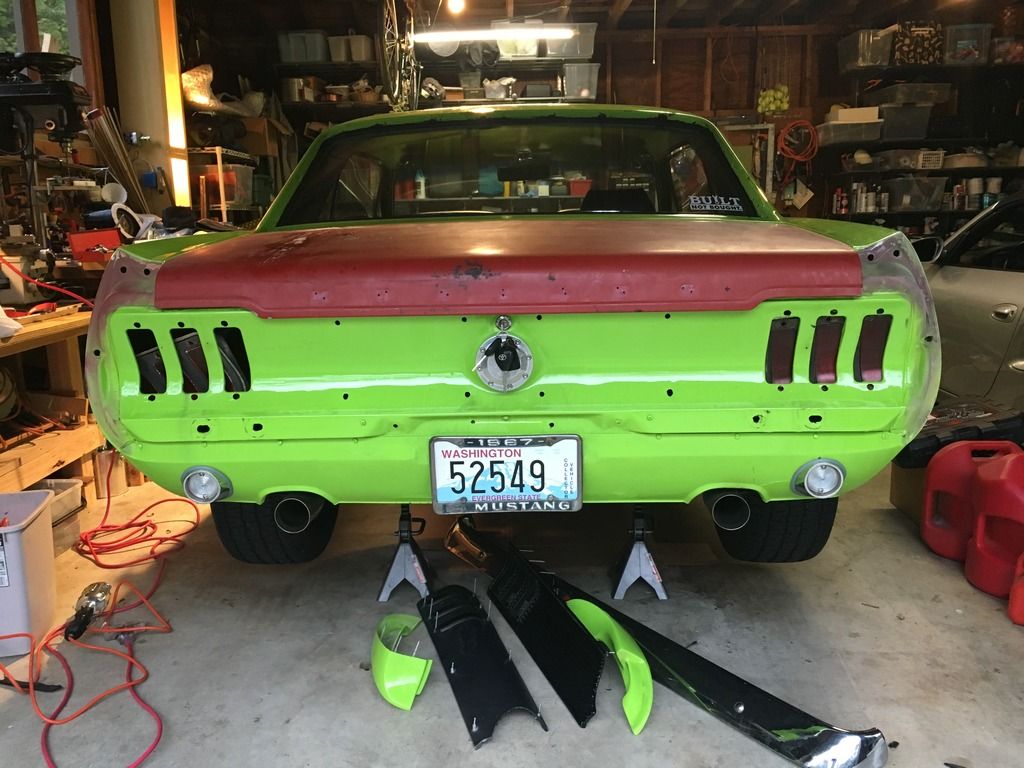 Well I would just weld them shut with nothing else needed, however, in your case a copper backer would probably be best.
What I do for these is take my matching sheet metal and use my spot weld popper. It's like a hole punch for doing spot welds. I then save the little circle that comes out and use a magnet to hold it in place. Tack it, Grind, tack etc. Then hammer and dolly as needed.
---
My Build thread:
http://forums.vintage-mustang.com/vi...thank-you.html
1966 Coupe I6 with australian head and a weber carb -
Gone but not forgotten
2007 Mustang GT custom ordered -
SOLD!!
1966 Fastback A-code -
Finally Painted
2015 - JEEP Grand Cherokee Altitude
Brand new daily driver/parts hauler
Senior Member
Join Date: Jun 2015
Location: Surfside Beach,SC
Posts: 665
You gonna be using body filler anyway....put a backer over the hole(fiberglasscloth works) and fill'em in.
6sally6
Senior Member
Join Date: Jul 2009
Location: Niceville Fl
Posts: 2,653
YouhVe the welder, do it right. Grind the welds carefully and you won't need more than ask coat of filler.

Any idea what brand that trunk lid was? It appears to be seriously warped.
---
Flade
68 289 convertible Candy-apple red & white
66 200 coupe Blue
94 GT convertible Red & black
98 GT convertible White & black
98 V6 convertible White & tan
Senior Member
Join Date: Sep 2006
Location: NJ, by the shore in the south.
Posts: 499
First a little science.

Every time you take metal up past the plastic point it shrinks.

You correct shinks with hammer on dolly work to stretch the metal the has shrunk.

Mig welding can be tough. You really need to get settings right to lay a thin bead. To correct for shrinkage you need to grind smooth and hammer on dolly. Copper shaped to the surface can help reduce work, but does little correct for shrinkage.

Small holes can be filled using a MIG and getting TIG rods of the same material as the wire. You back the hole with copper. Lay the TIG rod into the hole (touching) and start the arc on the tig rod and feeding in the tig rod to control heat from the arc. This prevents the burn back you can get at the edge of metal from too much heat.

You will want some small wheels to get the metal sort of level before you correct for shrink. You might also be better off welding on the inside as you will need to do more grinding on the side you are welding.

Larger holes or even smaller holes it would be good to have some premade rounds. I think there is a low cost tool you can get at harbor freight. Look up on youtube for making a ring out of a coin. They show this low cost punch you can get that may be a good thing for you.
Senior Member
Join Date: Jul 2015
Location: Mercer Island, WA
Posts: 319
Thanks everyone. I'll do some more practicing and see if I'm brave enough to use the welder. I won't learn if I don't try.

Rodney