Senior Member
Join Date: Jul 2001
Location: West Central Wyoming
Posts: 3,897
Have any of you used the rattle can spray bedliner for coating the insides of fenders, wheel wells, etc.? I used some to restore the fender splash shields and the stuff dries tough and is scratch and chip resistant, hopefully. Seems that with time, rubberized undercoating "deteriorates" and chips off. Maybe that is a function of poor prep work prior to spraying. I did spray the underneath of my car with rubber undercoating and I'm pleased with the result. Just curious as to which might be better for fender and wheel well areas.
---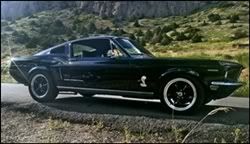 _______68 Mustang Fastback_________
Fuel Injected 302 - 4 Speed. Lots of Goodies.
I think either will work fine. The undercoating eventialy scrapes off with road debris and the bedliner will come off in peices eventialy. Both work great for a long time before you have any problems though and are easy to repair - just shoot a little more on. Personaly I like the bedliner because it dries hard and you don't get gooey when working on the car like with undercoating. If you miss with the can of brake cleaner, or grab the inner fender on a hot day the undrcoating can be a real mess.

Just a tip - prime the metal before you use either one.
Senior Member
Join Date: Oct 2000
Location: S.F. Bay Area
Posts: 6,630
i used some of that spray on bedliner in a blue can... all i can say is CRAP. I did notice that it sticks a lot better to sanded metal than to primer. It peels off the red-oxide primer. So now im getting smart and blasting it all off and using por15 like i should have in the 1st place
---
-------------------------------
What's a bolt on
- Word to yo mutha.
Spray on bedliner is no better than undercoat, its garbage! Its gotta be a multi component material to be worthwhile. Eastwood has some very good 2 part epoxy bedliner thats similar to commercial grade stuff that holds up well. Id go that route long before the spray on stuff.
I talked to t he POR 15 people about putting a roll on bed liner over POR 15.
They told me that it was fine but not to let the POR 15 dry but to put the liner on when the POR was still tacky otherwise nothing sticks to dry POR.
I have not tried this but it is my plan if my car ever leaves the body shop.
I shot epoxy primer over cleaned metal and then shot it with bedliner on the bottom side of my '67 SW F100 shop truck about 15 years ago. It still looks great.

There is a huge quality difference between brands, you're right, some are just crap.
I used Duplicolor roll on bed liner for the inside of my fenders and it worked great. It doesn't even come off with a 3,000 PSI high pressure wasker set at its most direct setting.
Senior Member
Join Date: Jul 2000
Location: Central California
Posts: 10,518
Sounds like those Rhino liner franchisees are missing a whole other market for their services....

*G*
---
Visit my
VMF lingo
page
Visit the
Ford engine torque specs
page
Visit my
MySpace
Blog
Yeah man, tough stuff. If this stuff will stand engine blocks sliding around the bed of a PU, it will sure take road debris underneith a driver Mustang..............