Member
Join Date: Oct 2001
Location: Houston, Texas
Posts: 36
What should I paint my 65 trunk with? - Spatter paint or paint to match my exterior color. What looks best?
---
'65 Mustang Convertible
Senior Member
Join Date: Jul 2000
Location: Denver CO USA
Posts: 5,293
The underside of 65/66 trunklids were painted with the same paint as the exterior of the car.
---
"Beer is proof that God loves us." Benjamin Franklin
I'm doing the underside of the lid, hinges, rods, etc. body color...then "inside" on the trunk is already a textured paint (by a PO), sort of like that spray in bed liner.

Look good though, and no problems with rust...I'll probably just freshen that up.
---
Brian
Senior Member
Join Date: Feb 2003
Posts: 2,288
Hello. Ford painted everything in there except for the gas tank,filler neck and wiring the same color as the body.What'looks good', however,is entirely a matter of opinion.It's your car.Make it be something that YOU enjoy.Good luck!
Senior Member
Join Date: Aug 2002
Location: Rockwall, Tx. USA
Posts: 499
Paint! [grin]
---
Got my whole trunk painted in body color. It looks pretty nice and clean. The only drawback is, that you feel sorry for putting ANYTHING into it...! [IMG]/forums/images/icons/wink.gif[/IMG] [IMG]/forums/images/icons/smile.gif[/IMG]
Have a look here :
http://www.66mustang.de/1trunk.jpg
---
66 Hardtop - Wimbledon White - 302 powered
[color:"red"]Driven - Not Hidden![/color]
www.66mustang.de
Senior Member
Join Date: Jul 2001
Location: West Central Wyoming
Posts: 3,897
Mine had the "bedliner" sprayed on the inner rear quarter panel areas inside the trunk. Not sure, but seems like it could have been factory? It was painted over with the original poppy red. I brushed the old bedliner out with the wire wheel on a griinder and re-sprayed with rubber undercoating. The whole inside of the trunk was then painted the same as the exterior color. Looks great now with the zinc gas tank and the painted underside of the trunk lid.
---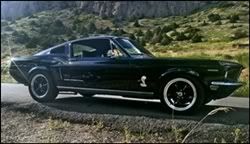 _______68 Mustang Fastback_________
Fuel Injected 302 - 4 Speed. Lots of Goodies.