Is it true that u cant rotate radial tires side to side? only front to back? Cause a person like me with no limited slip is always wasting the right side wheels... would it be dangerous to put the left wheels on the right side and visa versa?

i have Firestone Firehawk ss20 tires. p215/70r-14 and they spin ALOT! these tires suck... but i still wanna make em last.....


---
FOR SALE $6,300 Or Best Offer
http://www.cardomain.com/id/metal351
1973 Mustang Coupe 351c
Edelbrock intake, Edelbrock 1405 600cfm carb, K&N 14x3 Filter, Hooker Comp Headers, 2.5 inch pipes, Magnaflow X-pipe, Flowmaster 2 chamber mufflers with turndowns. Rv midrange cam. Mallory Unilite Distributor.
FOR SALE $6,300 Or Best Offer
Senior Member
Join Date: Dec 2001
Location: Alabama
Posts: 5,444
My experience has been that it makes the belts inside slip and start bump-bumping (ask me how I know this) and then they come apart inside! I learned to just go front to back and no problem. If you think about it, you are turning the tires around if you go side to side and they are already conditioned on the inside to go the other way, so maybe the force of turning around is too much...sure others with more knowledge than I will weigh in on this...good luck and good question!
That is the "old school" thinking from back when radials first came out. There's no problem switching modern radials side to side. Those of us that run bigger tires in back have no choice but to do this, or not rotate them at all.
Got me thinking so I did a web search. All the tire manufactures I came across show switching sides, but the pattern is different for front and rear wheel drive cars. They did not mention an exception for radials. The AAA web site specifically says keeping the tires on the same side is left over from the days when tire molds were not as precise as they are today.
There are unidirectional tires that must stay on the same side. These are marked with an arrow on the side wall.
---
Bought Deja Blue from Stef Roberts.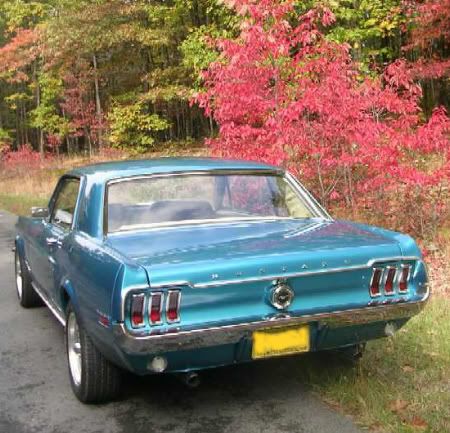 http://johnz.mustangsandmore.ws/
Senior Member
Join Date: Nov 2002
Location: boise idaho
Posts: 466
i havnt had a prob with tires from side to side... im always taken of my street tires to put on my cheater slicks and i never keep track of what side the tires came off of.
---
351w with 10.3 compression, .520 lift comp cam, edel rpm performer manifold, world 200 heads, 750 edel carb, block was hot tanked, bored .03 over, crank turned, balanced, put to the ground by a C4 and 3.55 8"with powertrax and expelled by all hooker headers
best run: 13.10 at 104.4 mph

[image]/image]
Just some guy
Join Date: Jun 2001
Location: SC foothills, USA
Posts: 15,384
In about 25 years of driving I've had about 9 tires self destruct from this. It's generally termed the tires taking a "set". When reversed the steel plies separate and the tire self destructs. I used to work for Firestone as a mechanic and bought a nice set of used tires that were traded in. The manager inspected them so he could price them to me. Sure enough, I got the 2 front ones mixed up. On the way to work the next morning the left front went lumpy and self-destructed. When I showed it to the manager he denied in the face of the evidence any possibility that it was caused by "reversing" the tires. Firestone policy it seems. Perhaps some day somone will sue them into admitting that it happens. They'll probably just try to blame it on Ford or something.
If you want my opinion, 95% of the time(or so) you can swap tires any way you like and be OK. That other 5% can kill you though. I try very hard not to cross-rotate tires. In 25 years of driving I can only remember buying 2 sets of new tires, the rest have been used. I can't resist cheap stuff and I'm always working where tires are available. I figure I've had a heck of a lot of used tires mounted on my cars over the years and only 9 gave me trouble. That's where I get my estimate of 95% of them working out OK. A small risk maybe, but I'd rather not take it. No matter what the tire companies say.
---
.... it wouldn't be the first time reality took theory and conjecture out behind the woodshed and gave them a good thrashing.
Ditto on what Johnpro said. I remeber when radials first came out and we would rotate from side to side. The bands would warp or even break.

But, these first generation radial problems have been corrected.
---
Thanks!
Nick
1966 Convertible/Pony Interrior/289 2V/PS/PB/AT
1988 Convertible LX /2.3L/AT
1997 Ford Crown Victoria (My daily driver)
2000 Mercury Mountaineer 5.0 AWD (Wifes daily driver)
Check out more pictures at our family web site:
http://mywebpages.comcast.net/ceccac...Page/index.htm
Senior Member
Join Date: Jul 2002
Location: Lansing, the one in ILLINOIS
Posts: 9,139
That IS old thinking from 25 years ago. Go look in the owners manual of the car you drive TODAY. It will show, most often, that you move the rear tires to the front keeping those on the same side, then, switching sides of the tires that were on the front- to the opposit rear.
And, yes, if you have big/little tires then you can't do this front to rear switch, only side to side.
---
Roddster
67 GT 350: MCA & SAAC Gold winner
67 S code GTA coupe
Senior Member
Join Date: Jul 2001
Location: Kentucky
Posts: 553
just as the others have said you can rotate regular radials from side to side. and most manufacturers suggest a staggered rotation pattern where left front tire rotates back and becomes the right rear tire and all the other tires move foraward or back. provided all 4 tires are the same size.

now just to confuse eveyone, i will say that most modern water displacing radials like Goodyear Aquatreads etc. are only suppossed to be rotated front to back because they have a specific tread rotation pattern that displaces water to the rear of the tire. if you switch them to the other side the tires would be diplacing that water forward. the Aquatreads on my 98 Mustang have arrows on them saying tire turns in this direction meaning forward, so you dont get them mixed up.
---
Senior Member
Join Date: Mar 2001
Location: Finland
Posts: 3,047
---
Oversized sig pics nobis delenda est. No need for that anymore, I found Hide avatar choice.
Directional tires can only be MOUNTED one way (i.e., you can't mount "inside out" so as to show or not show raised white letters, white walls, etc.). Once they are on the wheel, they can go on either side. If you take your left wheel, and put it on the right side, it will rotate in exactly the same direction, so it won't displace the water in front of the car. It would only do that if the tire where mounted wrong, in which case it would displace the water to the front no matter WHICH side it was on.
Senior Member
Join Date: Nov 2001
Location: NW Washington State
Posts: 327
Well, I too was told that was old school thinking by a tire store and now it didn't matter. So I rotated side to side and within a month the belt started sticking out the side of my Uniroyals. I guess you know what I believe.
Just some guy
Join Date: Jun 2001
Location: SC foothills, USA
Posts: 15,384
Yah, all the tire companies flatly deny it. "Used to happen"?"First generation radials". Hah. All tires have a "born on" date code on their sidewalls. Is 1-14-02 first generation? I think not. Did it self destruct on me last month, yes.
---
.... it wouldn't be the first time reality took theory and conjecture out behind the woodshed and gave them a good thrashing.