Senior Member
Join Date: Jul 2001
Location: West Central Wyoming
Posts: 3,897
OK, the chrome simulated scoops on the 65 coupe are pitted, tarnished and scratched and will need replaced anyways. The old ones have got to go. So I'm contemplating the shelby style side scoops as a replacement...

I've grown to really like the looks of the California Special mustangs with the rear spoiler and side scoop arrangments. The rear spoiler project on the 65 is progressing well and the spoiler does a beautiful job of integrating the rear end with a performance look. The GT exhaust will finish out the rear end. The front has the shelby scoop on the hood and I will eventually install a foglight grill. That takes care of the front.

The sides...I've seen mustang coupes with side scoops and have not really cared for them. Now, I'm rethinking my opinion. My mustang will be painted poppy red, no stripes of any kind, nor will a rocker moulding be installed. Because the exterior will be toned down substantially with one color, and the sides will not have any striping...the sides will be kind of plain. Adding the side scoops may compliment the look of the car without making the car too "busy". I like scoops and spoilers if the project is done correctly, and the scoops may even look great on a 65 coupe. My car is a restomod project and I don't mind altering the body with 1965 era modifications. What do you all think of the sidescoop additions?
---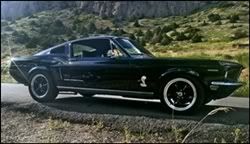 _______68 Mustang Fastback_________
Fuel Injected 302 - 4 Speed. Lots of Goodies.
Banned
Join Date: Dec 2001
Location: Washington State
Posts: 5,578
I don't think they look all that good on a coupe. Fastback, yes; coupe, no.
Personally, I've never cared for the side scoops and spoilers on coupes. I never cared for the California Special (and other similar trim packages) because of the scoops and spoilers. Personally, I don't even like them on the Shelbys. I do however, love the stock fake side scoops on the '69 sporstroof models (I always thought it was dumb that Ford deleted them for the boss 302's in '69).
That's just my opinion and of course is worth exactly what you paid for it ... squat
Senior Member
Join Date: Aug 2002
Location: Concord, CA
Posts: 2,176
If you like em, do it. Nothing better then your car lookng just like you want.
---
Regards,

BillGear,



Just some guy
Join Date: Jun 2001
Location: SC foothills, USA
Posts: 15,387
Since we're just bouncing opinions, I like side scoops. I never have liked the 66 "slash cut" looking versions though. I like the CS style much better. Even on a 65-6 car.
---
.... it wouldn't be the first time reality took theory and conjecture out behind the woodshed and gave them a good thrashing.
Senior Member
Join Date: Mar 2001
Location: Southern Cal
Posts: 3,179
My opinion? Aerodynamic disaster. Of course my opinion doesn't mean much since the whole car is an aerodynamic disaster. It turns out a brick has better coefficient of drag than a '65 Mustang.

But I like the 'Stangs and don't have much use for new cars...

Dean T
---
Every day driving a vintage Mustang is a great day.

Still Inline (and still offline)!


Senior Member
Join Date: Feb 2002
Location: Upstate NY (Watkins Glen area)
Posts: 1,376
MMMmmm, that's a tough one. Maybe you could hoodwink somebody
that's good a Photo Shop to conger up a couple of good examples. CS style and 66 style,
Dan
Senior Member
Join Date: Jul 2001
Location: West Central Wyoming
Posts: 3,897
Thanks for the input guys. I'll contemplate a while longer yet. Whatever I do, I don't want to detract from the looks of the car.
---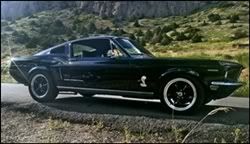 _______68 Mustang Fastback_________
Fuel Injected 302 - 4 Speed. Lots of Goodies.
Senior Member
Join Date: Jul 2000
Location: Somewhere Else...
Posts: 16,008
IMO the 65/6 cars have the cleanest sidelines of any year. If you put nothing there (no ornament, scoop, etc.) it looks perfect and really clean.

Like Johnpro's car, if you took out the chrome ornament I think it would really enhance the side look ... no scoop though.
---
[color:red]
VINTAGE MOTORSPORTS
[/color]
[color:gray]Backdraft Racing Dealer and Roush Performance Distributor[/color]
Wallingford, CT
www.vintagemotorsports.com
When I first painted my car, I was sorry I put the side scoops on. After I added the stripes on the sides, I liked them better. If I was doing it again (which I won't!), I'd leave them off unless I was ducting the rear brakes...
---
Lance
67 Mustang 289 4V T5Z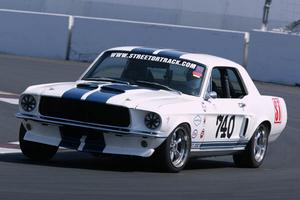 97 Mustang GT 5 Speed