Member
Join Date: Feb 2004
Location: New Jersey
Posts: 36
I have just switched to original mustang magnum 15x7 wheels from 14x6.5 wheels. Could anyone tell me if the tire size: 235/60 would fit in the car or would 225/60 be better. The original tires were 205/75/14. Thanks
I have 225x60s on 15x7 wheels on the front of my 68 fastback. If I went any larger, I would have to roll the fenders as it's really close now. I have 245s on the rear, also close. The car is lowered about an inch, however.
---
"I love it when a plan comes together!" -- Hannibal Smith
Murphy, 1968 Coupe - Concours
Trouble, 1968 Fastback - Modified
MiniMe, 1966 Mustang Jr. - For Fun
MCA Gold Card Judge, 67-68 Concours
MCA Gold Card Judge, Modified All Years
I have 235x45x17 front and 245x45x17 rear, the cars been lowered and the fenders have been rolled.
---
Link to my pictures
www.cardomain.com/id/my68stang
65 Fastback 2+2, carbon fiber teardrop hood, 306, 750 Holley, Parker funnel web intake, Comp XE284H cam, Toploader 4spd, Centerforce DF clutch, 4.11 trac-loc, Centerline telstars, 245x60x15 BFG rear tires. [color:red][/color]26x9x15 Hoosier slicks.[color:red][/color]
I have 235/60 Goodrich T/A tires on mine with no problems on 15x7 wheels. All stock.

---
steve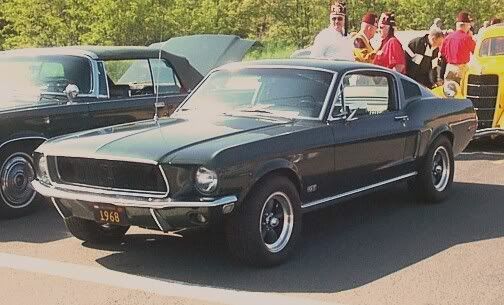 68GT390FB4sp
"Sometimes a man's life can depend on a mere scrap of information"-The man with no name
Member
Join Date: Feb 2004
Location: New Jersey
Posts: 36
Thanks, everything helped a lot. I am probably going to go with the 225/60. Thanks
Have the tire shop mount one up and see if it clears okay. That's what I did and everything worked out fine.
Most reputable shops will work with you.
---
steve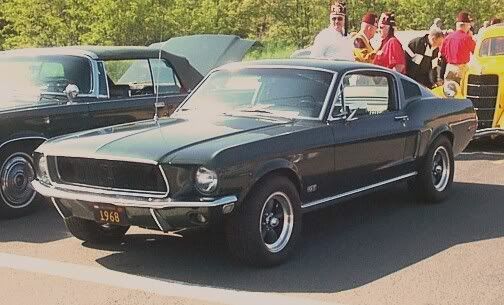 68GT390FB4sp
"Sometimes a man's life can depend on a mere scrap of information"-The man with no name