I'm trying to figure out how to get the lock out of the steering column so I can then figure out how to get the ignition switch out to replace it. How does the lock cylinder come out? I tried searching and nothing showed up for the 71-73's.
Everything I've read refers to a hole to the right of the keyhole, there is nothing like this on my steering column that I can see.
Thanks,
---
Dave
73 Mach 1 351C 2v
02 Toyota Prius
I have seen the hole in the column in my '71 repair manual, but my late-71 vert does not have the hole. I suspect sometime in '71 Ford eliminated it. There is a hole behind the steering wheel that releases the cylinder. You have to pull the steering wheel to get to it. However, you don't have to pull the cylinder to replace the ignition switch. It is located on the underneath side of the column below the dash. There is a rod actuator that the cylinder pushes that activates the switch. You should be able to just disconnect the switch from the harness and the column and replace it. The switch does have to be in the "lock" position when installed in order to adjust it properly. I'm sure Hemikiller and/or Qcodemachman will chime in here if anything I've said is incorrect. They are the resident '71-3 experts, and I believe Hemikiller may have the Ford repair manuals memorized. :winkgrin:
Senior Member
Join Date: Feb 2003
Location: Terrell,Texas
Posts: 1,901
Just like jmoffett said,the switch is on the bottom of the column and can be changed with out removing the lock cylinder.I can check the shop manual this evening. FastE
---
[b][color:"red"]FastE
'73 Mach 1[/color]351C"Q",C6'3L25 White deluxe,folddown,gauges,added factory ram air and magnum 500s.Bought Sep.3'1973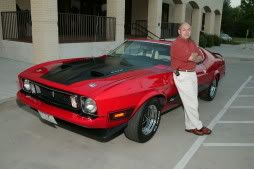 Thanks guys. I found the hole behind the black plastic ring that is attached behind the steering wheel with the 3 black screws. I guess I'll drop the steering column down this evening to get to the ignition switch. And when I install it, I'll make sure it is in the lock position.

I appreciate all the help.
---
Dave
73 Mach 1 351C 2v
02 Toyota Prius