Member
Join Date: Nov 2001
Location: Calgary, Alberta, Canada
Posts: 78
About twenty years ago I purchased some parts from a Mustang wrecking yard just outside of Seattle. Can someone tell me their name, address, phone or some way to contact them for some other items?

Thanks in advance.
Senior Member
Join Date: Oct 2002
Location: Ingleside, Illinois
Posts: 226
That would have been The Wild West Classic Mustang Ranch in Woodinville Wa. I had the chance to visit there a few years ago, It was a Mustangers dream. They have since sold the property and moved. They
had a web site wildwestmustang.com but it does
not appear to be opperating now. Not sure of the
status of the buisness.
I know this doesn't help much, good luck: John
Member
Join Date: Nov 2001
Location: Calgary, Alberta, Canada
Posts: 78
Thanks, John, but no success! Given the name Wild West Classic Mustang Ranch, I was able to get a phone number, but it too was out of service!

Don
Senior Member
Join Date: Jan 2003
Location: Calif
Posts: 6,807
The place changed hands a few years back. the new owners parted out all the cars and placed them in a new building (different location) and scrapped the hulls.

Have not been back or heard from them following that
---
Jeff Speegle
Come see us @ ConcoursMustang.com
MCA Shelby Judge, SAAC & Team Shelby Judge (in no particular order
Try calling Colorado Mustang. They have the largest Mustang salvage yard I have seen yet. Ask for Dan Dunning and he can probably help with what you need.
---
Joe
66 Hardtop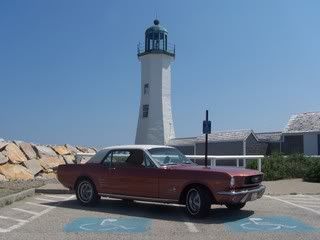 Member
Join Date: Nov 2001
Location: Calgary, Alberta, Canada
Posts: 78
I have found a site on the internet
www.amustangranch.com
which claims to have 31 years experience in the northwest and is located in Eatonville, Washington. I will phone in the morning to see if they are the same business.
Sadly, the salvage yard was sold to accomodate a water/sewage treament plant about two years ago. The shells were crushed and left over parts were sold out to what is now B&M Classic Ford. I don't know what kind of used stuff they had but I think a lot of it is now new reproduction stuff.
Here
is their new contact info.
---
MCA Certified Judge 64.5 - 66 Concours
1965 K Code Coupe
1966 K Code GT Fastback
www.6R09K.com
Senior Member
Join Date: Jul 2000
Location: USA
Posts: 745
Don, Eatonville is not the same business,but they do still have a lot of hard to find parts though.
They know their parts and price them accordingly. As the others said, Wild West Mustang pretty much went down the toilet - not by their choice or wrong doing, just got the shaft and had nowhere suitable to move to. Not to get political, but another situation of King County forcing their crap on Snohomish County litterally........pun intended
Member
Join Date: Nov 2001
Location: Calgary, Alberta, Canada
Posts: 78
Thanks for all the information. My motivation for the question was that my son is going to Seattle this weekend and I was going to get him to do some shopping for me! Guess I will abandon the idea.

Don