How to replace a clutch? Lessons Learned so far
---
I'm looking at doing my first clutch.
I have a 3sp toploader, and a 5.0 block based on the E7TE stamp. I found the steps below on another site and have some questions:
Quote:
1. Before raising the car, remove the transmission gear shift selector lever boot retainer and slide the boot upward on the selector lever. Remove the selector lever retaining bolts and remove the selector lever from the control assembly being careful not to lose the two trunnions and springs. The remaining shift linkage may be left on the transmission during removal.

** Also a good idea to disconnect the battery at this point***

2. Disconnect the drive shaft from the rear U-joint flange. Slide the drive shaft off the transmission output shaft and install the extension housing seal installation tool into extension housing to prevent lubricant leakage.

*** Or take a gear oil bath***

3. Disconnect the speedometer cable from the extension housing.

4. Disconnect the parking brake at the equalizer bar and support the engine with a transmission jack. Not optional

*** This will save the show later where people kaugh till they cry watching a fat man on a creeper trying to get leverage to keep the tranny from falling as the jack is squirting out from under it because the tailshaft is hung up.

There should also be a step here that says to disconnect all wires from the transmission at this point as they'll hang you up later.

5. Remove the extension housing-to-engine rear support attaching bolts.

6. Raise the rear of the engine with the transmission jack. Disconnect the frame crossmember at the frame and remove the crossmember and engine rear support as a unit.

7. Support the transmission on a jack and remove the bolts that attach the transmission to the flywheel housing.

8. Move the transmission and jack rearward until the transmission input shaft clears the flywheel housing. If necessary, lower the engine enough to obtain clearance for transmission removal.
Additional steps should have been listed
Quote:
9. Disconnect the starter cable

10. Remove the starter.

11. Remove the Equalizer bar and mounting brackets

12. Unbolt the Bell Housing, and rotate away from the engine. It's about 25 lbs and comes off fast!

13. Unbolt the pressure plate in a criss cross pattern. Again, it's heavy and comes off quick.

14. Unbolt the Flywheel. When the screws are out, it is hanging by a thread! It's heavy and has major doofus potential. The scatter shield will be close behind.
Based on steps 6 and 7 it looks like 2 jacks are needed. Is that correct?
Yes
How much does the toploader weigh? With and without the bell?
97lbs without
Am I better off separating the tranny from the bell housing?
Oh Yeah!
What are common "gotcha's?"
1 Wiring to Tranny
2 Leaking Fluid
3 Bellhousing falling off
4 Pressure plate and clutch coming off unexpectedly
5 Flywheel and Scatter Shield falling if not ready for it.
I've read about cutting the heads off some bolts for use as guides in stabbing the tranny, and using a piece of string to help in holding the throw out bearing in place while assembling, what other tips and tricks will help?
Thanks in advance.
---
72/5.0/Holley Street Avenger 570 4v/3spd
Added 8/09 New King Cobra Clutch, Power Steering and Power Brakes
Senior Member
Join Date: Mar 2001
Location: Richmond Va.
Posts: 154
A toploader is heavy. When I was a young pup I could manhandle one but not any more. A good jack and a strap to hold it are a good idea. The bolt trick helps as well. Make sure you leave it in gear as you may need to rotate the the yoke a little when re-installing. A helper would also be nice. Good luck.
---
66 Conv. (New Toy)
68 Coupe
1987 GT Conv
2000 GT Conv. (Young Son's)
2011 GT 5.0 (Older Son's)
Senior Member
Join Date: May 2003
Location: Modesto CA
Posts: 1,674
Re: How to replace a clutch?
---
I replaced the clutch on my 65, but I'm not sure of the differences with your 72.

I used 4 floor jacks for better clearance. Jacking up the rear will give you much better room to move around. My T10 weighs about 80-90 lbs and another person helped me drop it. My trans has a curved bottom and was not steady on my floor jack. Another set of hands really helped. Your trans should weight less than mine.

Remove the trans and then the bell. You'll have more room to get to the bell's bolts

The only 'gotcha' I had was when I installed the trans to the bell. It slid in just fine but would no go in the final 1/4". Turns out that it as far as it will go by hand. You have to tighten the bolts to get it to finally seat to the bell. Tighten each bolt a little at a time and rotate around the bell.

Guide pins are a must. I bought some at a local hardware store. Mine are about 6" long. Good luck. Overall it'a very straightforward project.
---
Early 65, 5sp, GT Clone, Nightmist Blue
I would recommend four jackstands (the large ones). You'll want maximum height to make things a bit more easy to access.

Try to find a helper to help support / steady things.

I've always separated the transmission from bellhousing during removal and reinstallation. See Step 7 in your instructions.

Transmissions are heavy. As noted above, use a good floor jack and a strap.

If you don't have one, get the clutch plate alignment tool. Any parts store should have one.

First time: take pictures as you disassemble.

Take care to note the steering lockout rod assembly and position so you can reassemble it correctly.

If you have not done it before, this would be a good time to replace the shifter bushings.

Take your time.
---
Bill73 Conv
Buffalo, NY
1973 Conv
1969 Conv
Thanks to all who have answered.

Does the engine need to be supported when the transmission is removed? I.e. does it take 2 jacks?
---
72/5.0/Holley Street Avenger 570 4v/3spd
Added 8/09 New King Cobra Clutch, Power Steering and Power Brakes
Senior Member
Join Date: Mar 2001
Location: Ontario
Posts: 9,768
Supporting the engine keeps it from tipping back and therefore keeping the fan from doing any damage.
---
Paul
1965 Mustang 2+2
1968 Mustang California Special
It is quite a pita , especially when reinstalling, you definately need a helper for reinstalling. I did remove it by myself with those big Nascar type jack to support it and lower it.
Get a good set of jackstands, the ones that lift the car the highest, cuz believe me you'll need room.
The top-loader is a good 100 lbs, so be carefull when handling it, like others have mentionned, make sure you strap it good to the floor jack.
Do the tranny and then the bellhousing, much easier. Take photos before you remove anything.
I put mine back with the shifter in place.
If you need anymore advices, let us know.
---
[color:red][/color]My 4 wheel lug nuts make more torque than your Honda!
1988 LX 5.0 Notch
1969 Mach1 351W Acapulco blue
2006 Ford E-150
2009 Ford Escape Limited 4WD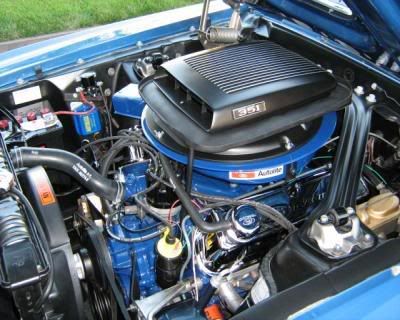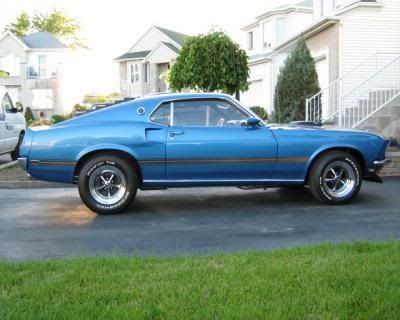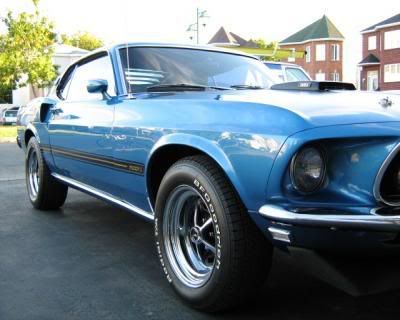 Daniel C
Thanks. The tranny is ready to drop once my buddy shows up to spot me. The equalizer bar bushings and bearings etc are in very bad shape. Does anyone make a set for the 71-3? All I see is for models ending in 1970??
---
72/5.0/Holley Street Avenger 570 4v/3spd
Added 8/09 New King Cobra Clutch, Power Steering and Power Brakes
Updated initial question with lessons learned for other beginners. HTH!
---
72/5.0/Holley Street Avenger 570 4v/3spd
Added 8/09 New King Cobra Clutch, Power Steering and Power Brakes