Member
Join Date: Apr 2009
Location: Affalterbach/Germany
Posts: 72
Which toploader have I got???
---
Dear all,
today I started cleaning up the transmission of my '71 Mach I. It has a 4 speed toploader, but what I found makes me wonder what exact type it is.
Looking at some pictures that claim to show the original transmission (on the 429mustangcougarinfo website) I suspect my toploader can't be the original one. Compared to what I saw, my transmission has some kind of build in switch (for the back up lights
).
So does anyone know what type of toploader this is?
Thank you, Manfred
More pictures, or hopefully the tag on the RH side, will help. I suspect you have the 3-speed overdrive, though.
---
Amateur restorer. Well, sometimes I have been paid for it. But not right now.
---
"Human beings, who are almost unique in having the ability to learn from the experience of others, are also remarkable for their apparent disinclination to do so."
- Douglas Adams

8R03S : 76A I 2A 15M 72 5 U
8R01S : 65A B 2A 28M 72 7 5 - Factory GT
8R01C : 65A M 2A 01E 72 2 W - CS/GT
8F01X : 65A I 2G 20E 24 1 U - EXP500 repli-bute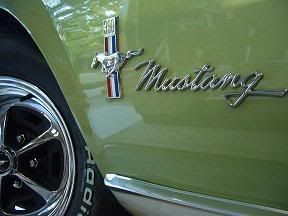 ---
Last edited by dalorzof; 03-22-2010 at

05:00 PM

.
around 1971 or 72 ford started putting those switches for either the backup lights or a neutral safety switch even though i would think the neutral safety safety switch should be on the clutch. you can remove the switch and get a plug from dan williams toploaders (828-524-9085) or david key toploaders or keep the switch. i had one of those cases and removed the switch and pluged the hole for my 65. btw that IS a real ford 4 speed toploader and NOT an imposter 3 speed with o.d. !
That is for your reverse lights. I think it is correct for 72-73 but may have been used in 71 or late builtd 71 models?

John
Casting number is on the opposite side of the case by the topcover.

The switch is most likely for the Ford transmission regulated spark system (TRS) that was used in '72. The switch should be open in 3rd & 4th gear.
Member
Join Date: Apr 2009
Location: Affalterbach/Germany
Posts: 72
Thank you all for your help. I know have confirmed by the casting number and the tag that it is a '72 transmission for a Boss or CJ. Unfortunately, the first part of the VIN stamped into the flange is not readable. But I already know from the other information that it is not the original transmission. However, I'm not that much concerned with originallity.

Best regards, Manfred