Transmission Cooler in the radiator vs external one..question
---
I am trying to cool the supercharger down and have bought the fitting from Craig Connely to pump the fluid out of the supercharger through a transmission cooler. Is it better to use the transmission cooler in my radiator (don't use it as I have a manual) or go with an external one. I am considering this one..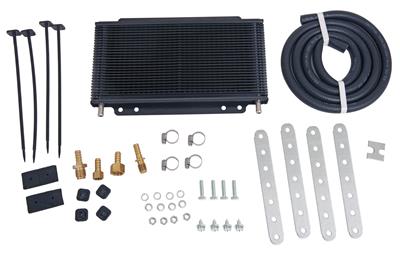 I am worried about blocking good airflow across the radiator as it already runs hot (mine is a 4 core brass one). It is already pretty thick and getting good air flow through it seems like it it is not great..but..since the radiator is already hot, it would not cool the supercharger fluid as good as the external one.
Thoughts
this the order I would take were I in your shoes: First disconnect the supercharger belt, and diagnois & fix the rich/overheating problem. I'm betting you will still have the issue w/o the Paxton hooked up., though if it is related to the engine bay temp it might take a few more minutes to manifest itself w/o the supercharger adding to the engine bay heat. Once that has been accomplished, putting a supercharger cooler in front of your radiator should be no problem, at least I haven't noticed any engine temperature difference when I went to an external cooler in front of my radiator.

At this point the process of elimination leaves you with either an ignition component heat related fault, or, second most likely, would be fuel overheating before it gets to the carb. To counter that, most speed shops sell a fiberglass sleeve that slips over the fuel line and provides insulation from exhaust system or engine bay heat.

Z.
---
I have run for quite some time without the top hat on the bonnet and still had the problem. that does not remove the heat from the supercharger, but I just don't think that is it as the supercharger does not get "too" hot to touch with the car is having problems. I am leaning towards both..to rich and to hot.. the to hot I feel is causing the ignition problem.. I posted the question about the cooler as I was about to pull the trigger with summit on the cooler for the supercharger as I was wanting that to help the life of the supercharger reguardless of the other problems.

I will be running the solid fuel lines this weekend to get the fuel lines away from the engine. I will also check on the fiberglass sleeve as that sounds like a good idea as well. I am also planning on putting on the fan schroud this weekend... I was going to do it last weekend, but did not want to tear into the fan and schroud last weekend as i didn't have enough time to finish it.

I am putting off the aluminum radiator and MSD stuff till I validate my thoughts by adding the fan schroud and solid fuel lines. I also plan on verifying the float levels, but did not want to mess with the jets until i get all my gauges hooked up. Those come in this week.. If I don't have to buy a aluminum radiator and MSD, I am going to replace the stock gauges in the bezel with some good ones. I hate those L-H gauges..
Man..you aren't joking about the sharp edges.. I was hoping that i wouldn't have to remove a lot of stuff, but looks like the radiator needs to come out to do this.. I was thinking about going with a different fan when it is all out. I don't like the fan that was put on my car.. It is a 6 bladed thin flemsy fan without much surface area.. I have a decent SPAL Electric and a stock 5 bladed "C" code fan. I don't have a 4 bladed Hipo fan, but trying to decide what fan to put in place if I am going to pull the radiator to pun in the schroud..

I am in the process of ordering the Supercharger cooling system now.. I am going with the Carter pump you recommended.
new repro hi-po fans are available for about $100.
Mustang Shelby Ford 289 HiPo Fan Blade
Used ones go for half that I'd guess. I've got a spare somewhere, have to look for it. You might have to use a different far spacer if you go to a different fan.
---
External cooler is MUCH more efficient. Put in front of the radiator.

I've had a 4-blade HiPo fan and replaced it with a Flexalite FIXED BLADE (not flex) fan with six blades. $30 from Summit - get the aluminum one. Good to 8000 rpm and moves a LOT of air - even at idle.
---
John Bednorz

1967 Shelby GT350, dark green, 347 stroker, 5-speed, inboards, #2206
1973 Mustang Convertible, white/white, black stripes, Q-code (351C-4V), ram air.
1968 1/2 428 CJ convertible, R-code, red/deluxe red, auto, finally finished.
"If you find the car of your dreams, ignore the price guides and pay whatever you have to in order to get it."
Senior Member
Join Date: Jan 2010
Location: SW Michigan
Posts: 2,000
your warm running car......
---
Todd, IIRC your car is a 64-65-66 body, isn't it ? Have you considered adding a 'shelby' or road race style lower front splash pan ? That would let alot more air in the front end easily, and you could mount your new external cooler down under the bumper in front of the rad. The race cars had more power than most of us make now, & they didn't overheat. Some of those front panels look pretty good, and I would have to think they let LOTS of air in. Something to consider............





LSG
I do have a Shelby style front splash pan that is primered, but not painted. I didn't like the look and decided against it in favor or the bumper and normal valence. If this fixes my air flow problem, I can learn to like it.. That is definitely something I will consider ...
Quote:
External cooler is MUCH more efficient. Put in front of the radiator.

I've had a 4-blade HiPo fan and replaced it with a Flexalite FIXED BLADE (not flex) fan with six blades. $30 from Summit - get the aluminum one. Good to 8000 rpm and moves a LOT of air - even at idle.
I ordered the external cooler from Summit and decided to to that route. My fan is the Flexalite 6 fixed bladed fan and wasn't sure how much air it was moving which is why I was leaning towards a Hipo fan or an electric SPAL.. I was just thinking that it would be easy to replace if I go with an aluminum radiator. I hate tearing into things multiple times if I can help it..
Member
Join Date: Jan 2006
Location: dallas, tx
Posts: 96
Robert, what cooler you going with? I am having overheating issues as well with my stock 302 w/ c4 trans. this darn texas heat isnt helping is it?
I ended up going with the B&M cooler in the original post fromm Summit..
I mounted an external cooler in the front wheel well in front of the tyre behind the headlight.
On this I have a 7" thermo fan with a Derale oil temp swich in the hot oil line which switches
the fan on at 170oF.
It works a treat and leaves the radiator with the full air flow without heat generated from the tranny cooler. The fan doesn't even run very often.
My 347 engine has been dynoed at 487 hp at the flywheel and I have no problems with overheating. The radiator is a 4 core brass 16" wide (standard width) and has a 16" spaal electric thermo fan.
Hope this idea helps.