Member
Join Date: Oct 2010
Posts: 49
351 Cleveland 4V Exhaust Manifolds
---
I have been searching around for a pair of 4 Barrel exhaust manifolds for my 70 and have come across a complete supposedly unmolested engine. Waiting for some pictures and further details, but this is what I know so far. Was removed from a totaled 70 mustang M code 4 speed, has original exhaust manifolds, intake, carburetor, air cleaner, power steering pump, alternator,etc..
My identifier guide tells me the casting # should be DOAE-6015-A,C,E,G,J or L.
So I have a couple of questions.

Would this have come with a Autolite 4300 carb from the factory?
Is there a way to tell if it is a 4 barrel block without dropping the oil pan? I don't see that there is a different casting number between the 4V and the 2V.
Worse case scenario the engine needs a complete rebuild what would a fair value be?
Any other items I should look out for?

Thanks for any feed back.
Check back of block for Vin, as you are looking at the back left hand side right below the head. I have two "M" code cars both have the vin # on block. I am pretty sure the block is the same. Intake , heads, carb, and some internals are different. As for the value, I do not see as much Cleveland stuff around compared to 10 years ago. It might be along time before you find another complete unit. I could be out in left field, but I think $1,000.00 is reasonable. For complete unit matching carb. etc.
---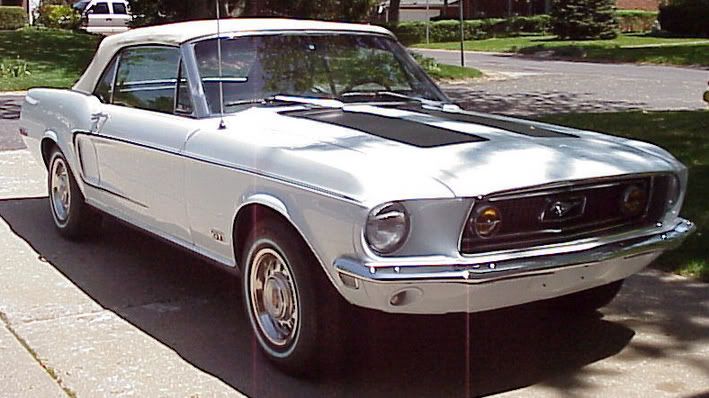 68 GT "S" Code,Convertible,4 speed, Tilt, Convenience Group, Deluxe Interior, Head Rests, Hood Stripes From Factory
1970 428 CJ Mach1, Shaker, Slats (Rear Window Shade)
---
Last edited by EAW; 03-03-2012 at

10:51 AM

.
Member
Join Date: Feb 2012
Posts: 34
The carb should be a 4300. The blocks are the same, 2V or 4V. Very few '70's had 4 bolt mains. In '71 and up I've seen 4 bolts on both 2V and 4V engines For what its worth, I have a left manifold. Depending on what part of the country you live in, I think values will be quite varied. Where I live in the pacific northwest, I recently saw a complete 1970 351C, 4V from a Torino sell for $450, owner claimed it ran and would make a good rebuildable core
Member
Join Date: Oct 2010
Posts: 49
So I got some phots and the numbers all line up to verify it came out of a 4V 70 mustang, I could read the part numbers exhaust manifolds and intake maninfold.
It is a 4 bolt main engine so maybe a little more desirable..

Thinking about buying it for the parts I need and rebuild it as a project..

What do you think it would cost me to rebuild? I would want to rebuild it to factory specs and upgrade any components that made sense during the process but not looking to vary much from factory.

I would do all the work I could myself, I am pretty mechanically inclined, but the most I have ever done on an engine was replace lower end crank bearings, oil pump, seals etc..so it would be a learning experience for me as I went through the preocess but I have the luxury of time as I wont be pressured to get it done for a specific project.
Senior Member
Join Date: Jun 2011
Location: Colorado Springs
Posts: 7,863
A basic 351C rebuild isn't any more expensive than, say, a 351W rebuild. But if you want to get some serious RPMs from the engine, some oiling mods would be a good idea. If you want to run an adjustable valve train, that can get into some money as you have to have the pedestals machined down to install screw-in, adjustable rocker studs. (Also a good idea, but not necessary if you'll be running a mild cam.)

Be very aware that building a Cleveland for performance, even mild peformance, is nothing like building a small block Chevy or Ford. If, for example, you install a cam grind that works great in a 351W, you'll likely be disappointed in how it runs in your Cleveland.

The myths and misconceptions we hear about the Cleveland are mostly based on people trying to build a Cleveland like a Chevy. The results are, "It's a dog below 5,000 RPM. The heads are just too big." Nonsense.

Check out the 351 Cleveland forum. Those guys have been running Clevelands for a very long time. You'll see some disagreements, but you'll also see some very good information.
From my experience, the passenger side manifold has a tendancy to crack. I had to go through 2 sets before I found one that wasn't cracked. I did have one of the cracked ones brazed at the crack, just in case I needed a backup.
---
Spliffy
Senior Member
Join Date: Sep 2001
Location: marshalltown I.A.
Posts: 3,965
All 1970 blocks were 2 bolt mains, the blocks with the 4 bolt mains are asually late 71 + boss 4v's, 72-73 4v's. Not sure but I believe 4 bolt main blocks have a D1AE-CA for the most part.
If the 2v-4v is what your after there should be a 2 or a 4 in the upper corner of the head by the intake. 2V manifolds are NOT interchangeble with 4V's. Also 71 and later driverside manifolds are different. The passinger side seems to interchange. A 1970 driverside manifold has a kinked in rear port for steering box clearance and dumps almost parallel to the ground. A 1971+ driverside manifold dumps at almost a 30 degree angle. If you have a Z bar (4speed) this can be a issue or tight steering box clearance.
Yes all 1970 351 4V's had a 4300 carb (600 cfm)
Depending on whats all there I'd say $500 would be a fair offer.