DIY Rotisserie
---
I tried the search function to see if anyone here has built a rotisserie from Matthew Harwoods design. I got a great deal on enough steel to build one end so I said what the heck. His plan called for 3" stock 3/16" thick but I think its overkill; 2" - 3/16" is plenty for a 66 Mustang. I'm interested in hearing if anyone else has used this design.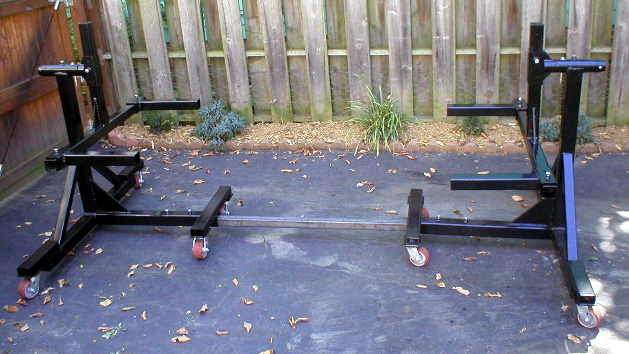 Senior Member
Join Date: Jun 2010
Location: Syracuse, NY
Posts: 121
I modified it slightly. I added the balancing rod and hydraulic pump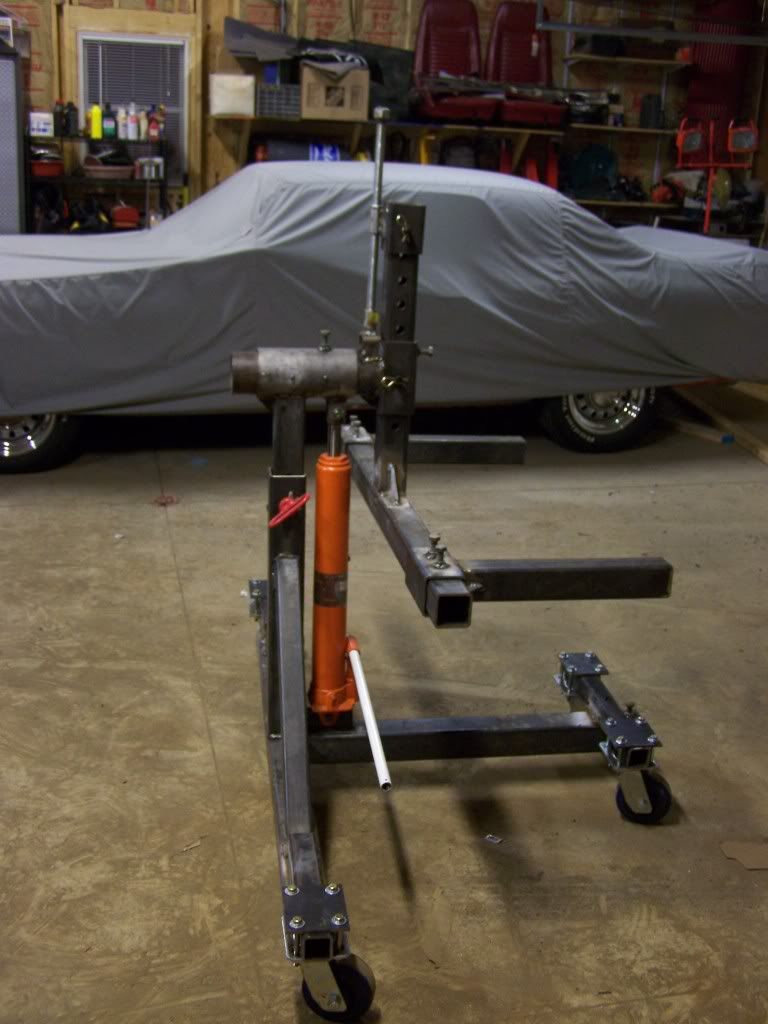 ---
Ray Morey
1967 mustang - restoration in progress
1969 Cougar XR7 - heavily restomodded
http://s228.photobucket.com/albums/e...ey/My%20Build/
I got caught up in his design in that I used his measurements since his was for A 40'S B
Buick I figured it would surely work for my 66. I think its pretty tight when you look at the Gussets and all. I was figuring on sleeving the swivel mount just like you did on yours. You did a fantastic job on yours btw. Did you use 2" or 3" stock. This is what I have done so far. Iphone pic not the best quality
I designed and fab'd my own but I used 3" in places. No gussets just good welds, no extra casters just a good center beam, solid rubber tires and a 3 pt hitch and pivoting front axle like a hay wagon so I can tow it outside for media blasting. I used hydraulic cylinders for raising the car and acme threaded rod for the CofG adjustment. I turned down some heavy wall round to make a perfect fit pivot coated with neverseize and made a spring loaded locking toggle for the rotation cog wheel.
---
...
FRH
1964.5 Coupe
1970 Coupe
2011 GT/CS
Member
Join Date: Apr 2010
Location: Polk Co Florida (Ft Meade)
Posts: 43
Just waiting for the machine shop to bore a couple of sleeves.
Senior Member
Join Date: Jun 2004
Location: Columbia, SC
Posts: 8,137
I saw photos of home builts and sat down with a notepad and tape measure and came up with this.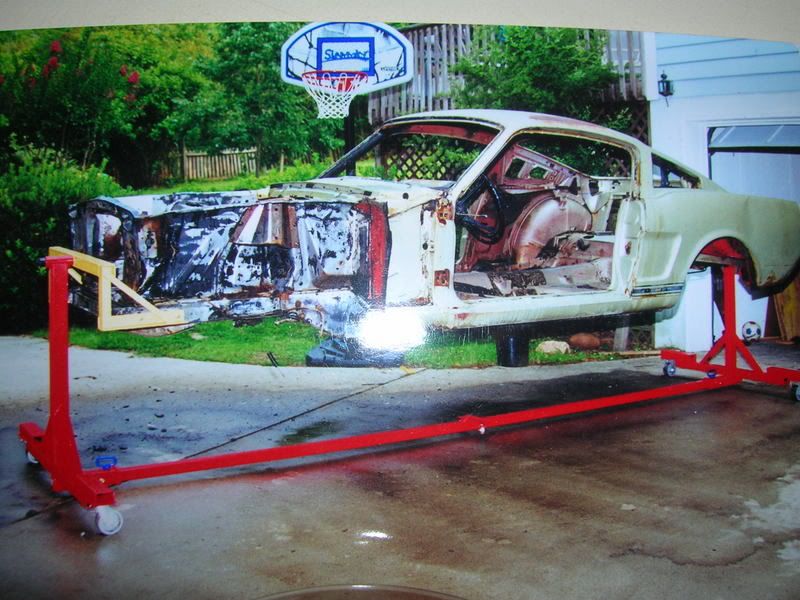 I have a very low clearance garage with a door opener I had to fit and spin under. I had about an inch clearance to spare.
The pivot points were 1 1/2" pipe with one size smaller inside. Had some play, but precision is not necessary to roll a car upside down.
---
1966 GT Fastback, restoration almost there! Code T Red with White LeMans stripes.
2015 GT Fastback - Deep Impact Blue
I had these and a few others if you want to see some other rotisseries
---
Scott I like your design for the arms, simple but strong. Just curious high high is pivot point?
I was in Lincoln, NE in early September for the SCCA Solo Nats...drove by a repair shop that had a parking lot full of really cool old stuff (mostly Ford !), then finally stopped one day. Met Doug Kielian, who is a serious Mustang guy who also makes the "Roller Hoop" rotisserie...pretty original thinking, IMO.
Check out the video -
Roller Hoop Video - Watch the Roller Hoop in action
---
"It's always better to be shot out of a cannon than to be squeezed out of a tube" - Hunter S. Thompson
Senior Member
Join Date: Mar 2011
Location: Hudson fl gulf coast north of tampa
Posts: 3,056
this is my Roti found on Craigs in Tampa fl paid $125 add $55 for steel between posts .. only prob no way up and down .. hurt my back trying to up the 67 coupe sheel...
Senior Member
Join Date: Mar 2011
Location: Hudson fl gulf coast north of tampa
Posts: 3,056
more pics
---
67 coupe with blue cover