Junior Member
Join Date: Apr 2012
Posts: 3
Headers
---
Does anyone know of a header that will fit on my 66 289 coupe? I bought some Patriot shorty's but not enough clearance to the shock towers. I have aluminum heads but they measure the same as stock. Any help on this topic is much appreciated. Thanks, Rocky K
Senior Member
Join Date: Apr 2010
Location: Mesa,Arizona
Posts: 582
I used Patriot long tube on my '66 w/289&C4. Just dropped in, no hassle. Be advised I have stock steering & suspension.
I used Sanderson shorties. No clearance problems at all. I have a 66, 302, AOD, Borgeson power steering.
I don't have the measurements handy, but you may want to measure the engine bay to make sure you don't have any shock tower sag (leaning inwards). Do you have a Monte Carlo bar installed? If not, that may help get you a little extra clearance and stiffen the front up at the same time.
---
1968 Fastback: 331 stroker, FTI cam, N351 Heads with a few upgrades, 4r70w w/3600 stall, 9" locker w/3.70 gears
I used Hedman #88306 Long tubes with a T5 and cable clutch with shelby drop. No issues with clearance except speed bumps! I do have all the standard stiffening items, tho'.
---
Steve
64 1/2 D code 5 speed Coupe
07 GT 5 speed Vert
Plus 9 more that I no longer own!
I used those cheap stainless tri-y headers from Ebay. They work perfectly and I paid around $170 shipped.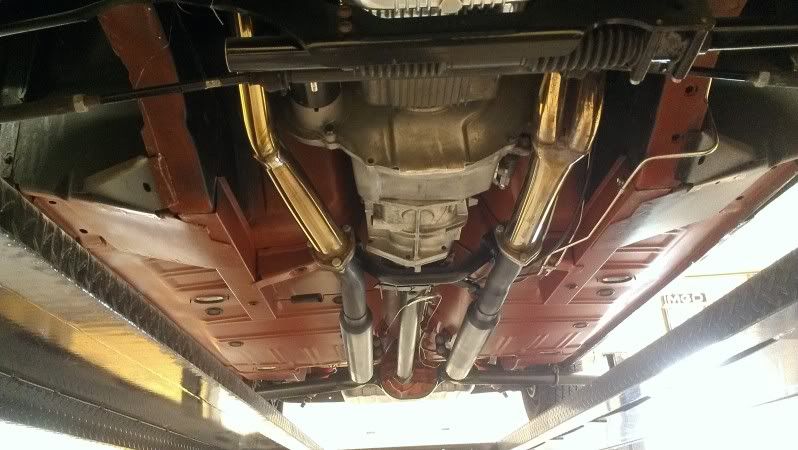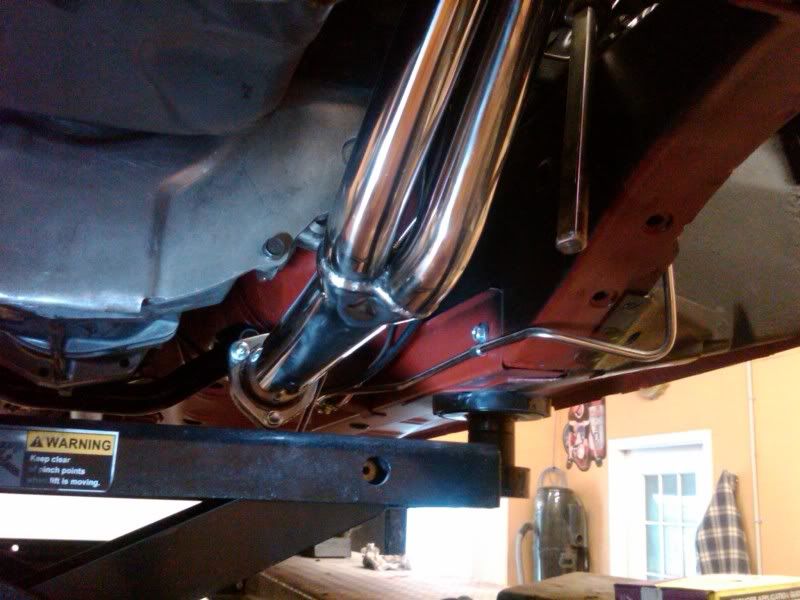 ---
1965 Fastback.
Senior Member
Join Date: Jun 2011
Location: Colorado Springs
Posts: 7,872
In my experience, the Hooker Competition series (not the Super Competition series) fit very well. And they are reasonably priced.

If you have power steering, you'll have to replace the bracket where the hydraulic cylinder attaches to the frame rail. The replacement bracket lowers the cylinder on one end which allows it to clear the header on one side. It's an easy, three-bolt install.
Senior Member
Join Date: Aug 2001
Location: Pennsauken, NJ 08109
Posts: 782
I had Flowtech's ceramic and uncoated long tubes in my 66. Both fit exceptionally well considering the cost (cheap). I'm currently running Doug's long tubes and the fit is even better but the price new ($700) is a hard pill to swallow. I found mine on Craigslist in Miami for $225 to my door from a private seller. I'll pay that any day....
I would definitely take 66resto's advice and try to find and compare tower measurements to make sure yours aren't leaning in too far. Every 66 I've owned (4), I've had to use a porta-power on the towers spread them out to fit a one piece export brace...
---
Last edited by tweet66; 11-13-2012 at

03:51 PM

.