NAPA auto parts
---
I am getting ready to order new suspension parts for my 68, and am thinking of buying from my local NAPA. The prices seem in line. Has anyone had any experience with them? Thanks.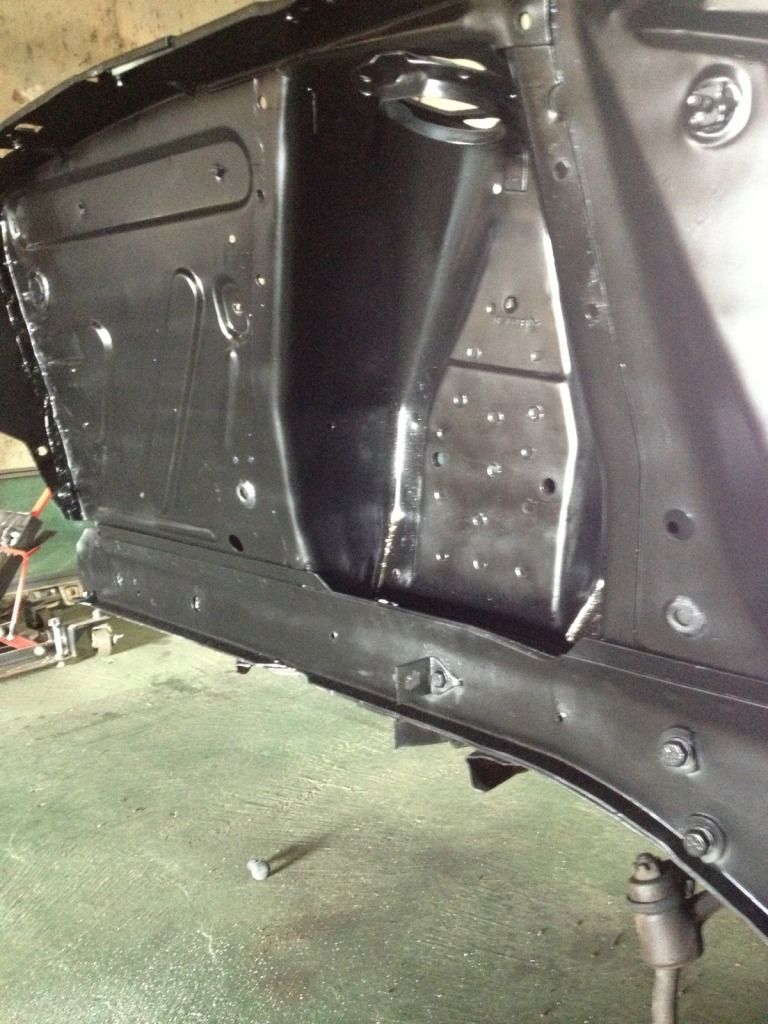 ---
68 Fastback.
351Windsor, 4sp, 8" 3.40 TracLok
http://forums.vintage-mustang.com/bu...ld-thread.html
Can't say that I remember ever getting any bad stuff from NAPA, as long as you find a knowledgeable counter guy. I buy alot from the local one.
---
"If you're looking for Sympathy, you'll find it in the dictionary between Sh*t an Syphilis"
Senior Member
Join Date: Jun 2011
Location: Colorado Springs
Posts: 7,863
If you're buying individual parts, NAPA prices are probably similar to what you'll find online. But you can save some money going with a suspension kit from online vendors like PST.

If you only need a few parts, NAPA is a good choice. Just be sure to ask for the highest quality parts they have. NAPA has also started selling the cheap Chinese parts because that's what some people want.
Senior Member
Join Date: Jun 2004
Location: Columbia, SC
Posts: 8,137
Looks like someone still needs to do the Shelby/Arning drop on their shock towers!

Actually, on Corral.net, NAPA is the only place the guys recommend to go get some of the late model parts from. Rebuilt distributors, supposedly NAPA has the best, and mine has been rock solid ever since I replaced it years ago.
---
1966 GT Fastback, restoration almost there! Code T Red with White LeMans stripes.
2015 GT Fastback - Deep Impact Blue
Yes to NAPA! Support a local vendor and get the good stuff ta boot! (Moog)
---
1965 Fastback.
Senior Member
Join Date: Mar 2010
Location: LI NY
Posts: 4,313
+1 with Klutch. make sure you specify "premium parts" or moog
---
1970 Mach 1 San Jose built Dec 23 1969. Marti says 1 of 7. Purchased in 1987. Original family owner of the powertrain 351C 2v FMX.


1993 GT 11,000 miles, Built 2-12-93 Auto, 3:27 Axle, cloth, sunroof. Untouched except for rubber and battery, Purchased new 8-3-93. still has the factory windshield fluid and new car smell.
I buy from NAPA, never had a problem. I buy the higher end lines as well.
I love my local NAPA. Knowledgeable counter guys and the main distribution center/store is close to where I live. If anyone in town has the part in stock, it's them. I just bought a starter and tie-rod ends for my F150 there last week.
I purchase every automotive part for absolutely every car or truck i've ever owned from our local Napa and i tell all my friends not to buy from advance and places like that. Great knowledge of nearly every automobile in history, and if the part isn't at the store your standing in, they will ship it from one of their other stores on the next day and it will be there for you then.

I also buy strictly american made parts unless i absolutely must have imported.
Member
Join Date: Sep 2012
Location: Copiague, NY
Posts: 76
Quote:
Can't say that I remember ever getting any bad stuff from NAPA, as long as you find a knowledgeable counter guy. I buy alot from the local one.
+1
I have 2 local NAPAs both with less than desirable staff but I am lucky enough to have a local Speed shop that has both the knowledge and parts needed.
I would check out a few shops in your area, ask a few questions you know the answers to to gauge their responses. Then go with the shop that has access to the parts & knowledge you need and people you like talking to.