Senior Member
Join Date: Mar 2001
Location: Richmond Va.
Posts: 154
I will add another to the list of those doing the body work and letting them spray the car.
They did a base coat clear coat with the stripes fro $1200. Paint is really good with not the first run. Only issue that I missed was a drip of green pain on one of the gold strips on the trunk. I did spend hours and hours on the boy and had the jams, trunk and engine arears done when I took it in.
---
66 Conv. (New Toy)
68 Coupe
1987 GT Conv
2000 GT Conv. (Young Son's)
2011 GT 5.0 (Older Son's)
Quote:
Holy Cow 6Jeff6...you just crashed my computer with that big 'ole pic. I could nearly read the license plate on the Magnum driving by!!
Ah, sorry about that. I'll keep that in mind next time I post some photos...
Jeff
Lol When I bought my 67 here in Sacramento, I figured i'd put a $2000 - 3000 dollar paint job on it. So I made my visit to maaco in roseville, and brought the car along with me. They actually turned my car down completely. Stating that it required "wayyy too much work" So they referred me to a few other shops that all wanted $5000 - 10,000 dollars. Mind you, my car is 98% straight and doesn't have an ounce of rust on it. After being pretty pissed that they denied me, I decided to go to town on it myself, So i basically sanded the whole car down. straightened everything out ( no bondo ) and through a $50 dollar primer paint job on it.
It honestly looks a lot better than it did before. Im sure they'd touch it now. But yeah. That's my maaco experience
Before: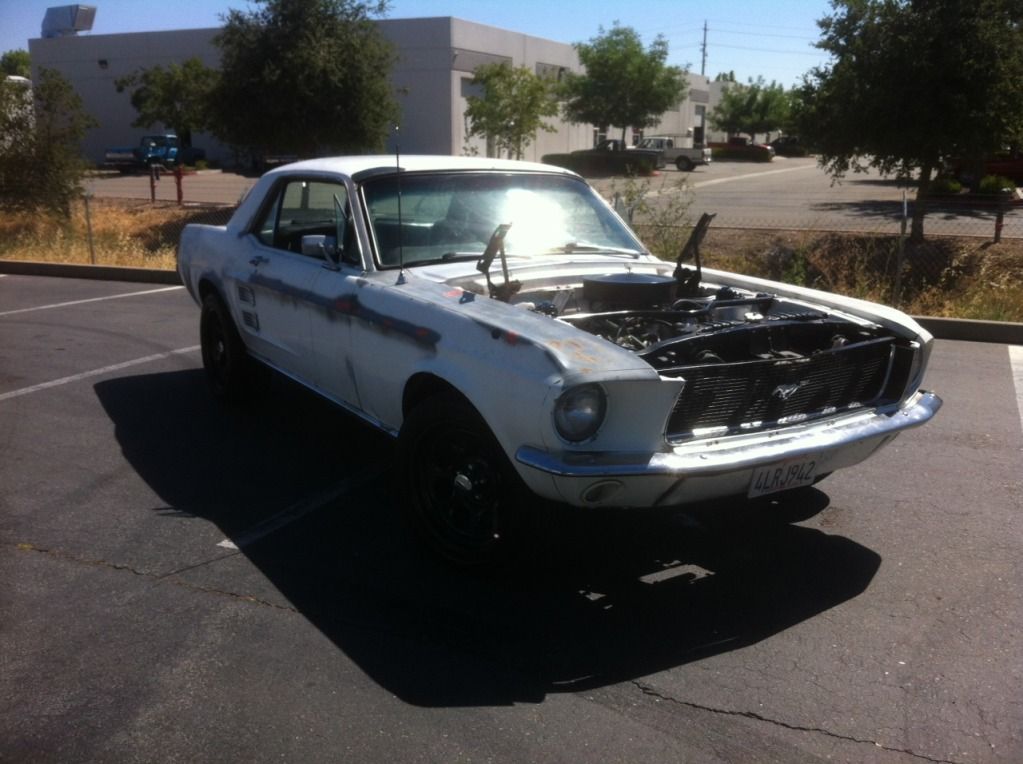 After: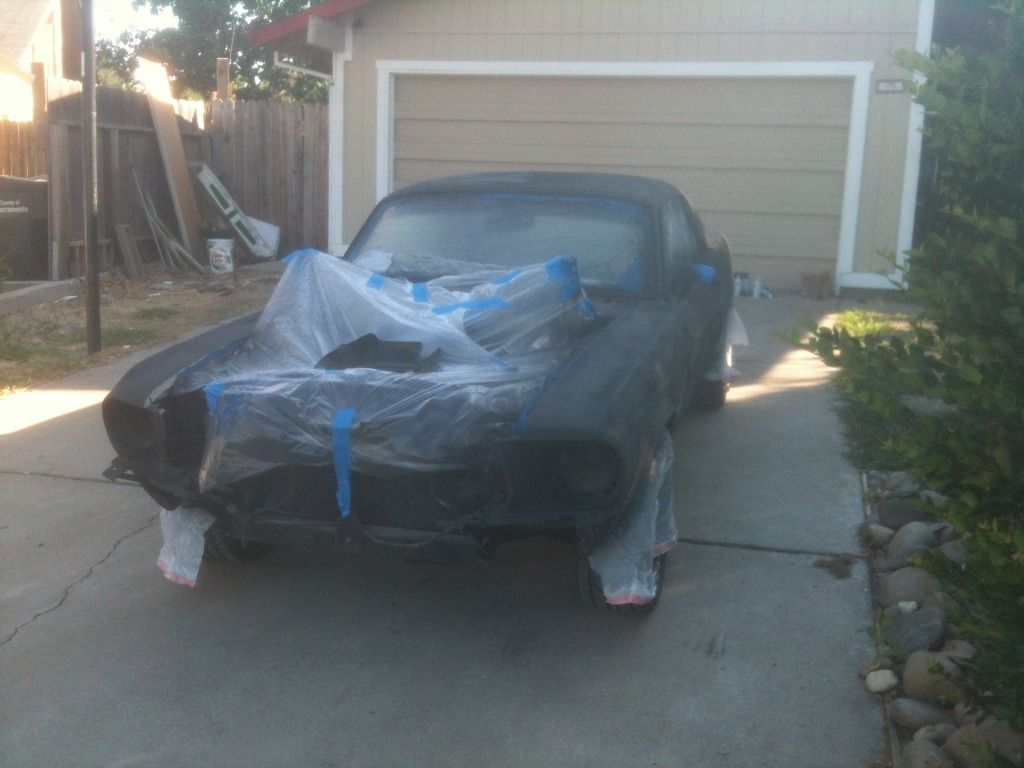 ---
1967 Ford Mustang C Code
I did all the prep on mine, sanding, primer, taking off everything that could come off (took the drivers mirror and taillights when I dropped off the car) and did the trunk, door jambs and underside of the hood myself. Plus, talked with them about what exactly they'd need. I gave them one of the best prepped cars they had seen.

They had done classics before, and I had asked around about the different Maaco's in the area to find one that was competent and cared. It came out looking pretty good, until I got hit two months later.
So, prep and prep, and ask them what they might need in the way of a good prep job. And inspect the car, in the sun, when you pick it up.
---
'67 6 cyl Convertible, Clearwater Aqua
Senior Member
Join Date: Nov 2010
Location: Kennewick, Washington
Posts: 222
Maaco Paint Job
---
This is a difficult question to answer. The quick, easy answer is to pay the 15 to 20 thousand and get a good paint job. Or pay the thousand and live with the Maaco job. It is the in between that gets difficult to explain. All should note the posting a few days ago by the fellow that just finished painting his emberglo '66. Note that he had over $3000 in materials and the paint he used is not the most expensive out there. And like he said, it is a good driver quality paint job. Now figure the cost of any preparation/body work at a mere $35 an hour and see how fast the cost goes up. I have painted cars that looked good before I started and figured that it would be a scuff and paint situation and before I was done, had several hundred hours in the job.

For advice, I would recommend that you buy good painting material, no matter who does the work. Good primer, sealer, paint, reducers, etc. The difference in cost is not worth the headache that can be caused by bargain paints.

Other than that, it is all labor, yours or someone elses.
My dad used to own a Maaco shop. You get as much done as you're willing to pay for. They can do a fine job but you need to pay the extra costs for the body and prep work. The sales price is just to get you in the door. Every step beyond the paint (advertised sale price) will cost you. If you don't pay more, all you get is a very basic scuff n shoot job. But most Maaco shops should be able to do complete body and prep work and still save you a couple of bucks in the process.
Senior Member
Join Date: Aug 2000
Location: Boise, Idaho
Posts: 1,750
Quote:
Originally Posted by
myresto68mustang
View Post
How about there paint work?? Around my area they are having a sale and it sounds real good. Almost to good to be true. But im asking because i have a guy that will do it for about $2000. He isnt the best, i mean it wont look like you spray painted it but its not going to have all of the orange peel out. Its gonna look nice, not amazing. But wondering if i can go to maaco and get the same thing for about half the price?
Huh oh, don't go to Maaco...
You can't even buy a good quality paint for $200. I've never seen a Maaco paint job that didn't peel (almost immediately) and that the paint didn't oxidize within a couple years.
"Too good to be true" actually is true.
---
YOU all laugh because I'm different, I laugh cause you're all the same

Its been said but I'll repeat
**Do the body work yourself. Have it wetsanded and ready to go when you drop it off.
Also keep in mind they will come down on their prices.
I had this done last year for $500 out the door. The first quote he gave me was $1000.
Thats for sealer and paint.
Since its tax return time, which is their busy season, they might not budge as much on the prices.
Before (also before body work and wet sanding)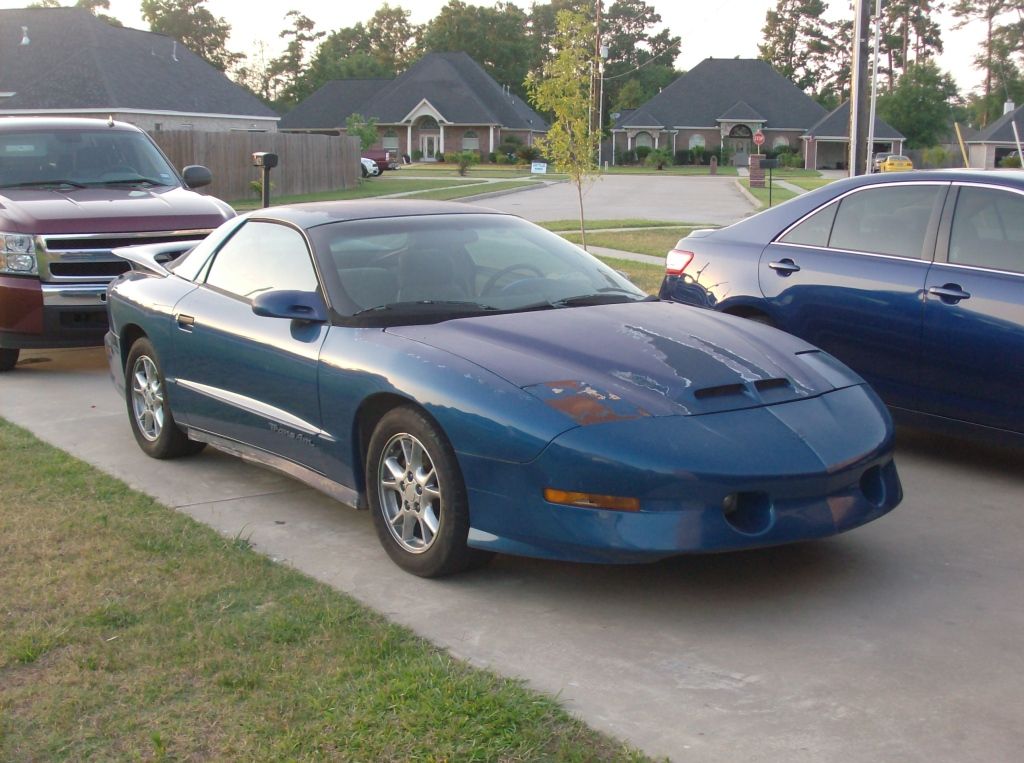 After $500 job with 4 year warranty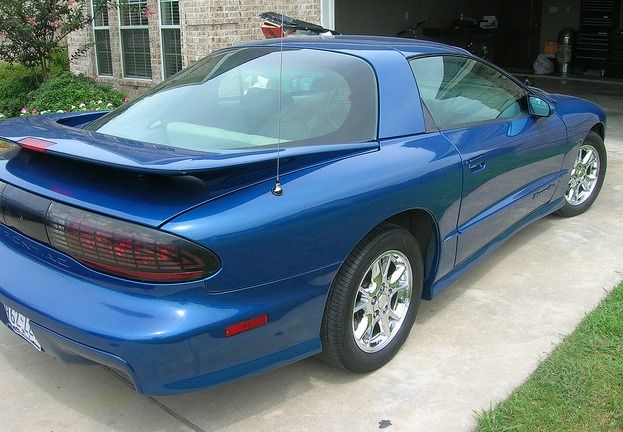 ---
65 6er build in progress
Senior Member
Join Date: Jul 2000
Location: Virginia. In the Shenandoah Valley.
Posts: 3,959
Had my '92 ford truck painted by them in 2002---not bad for the price and still happy with it.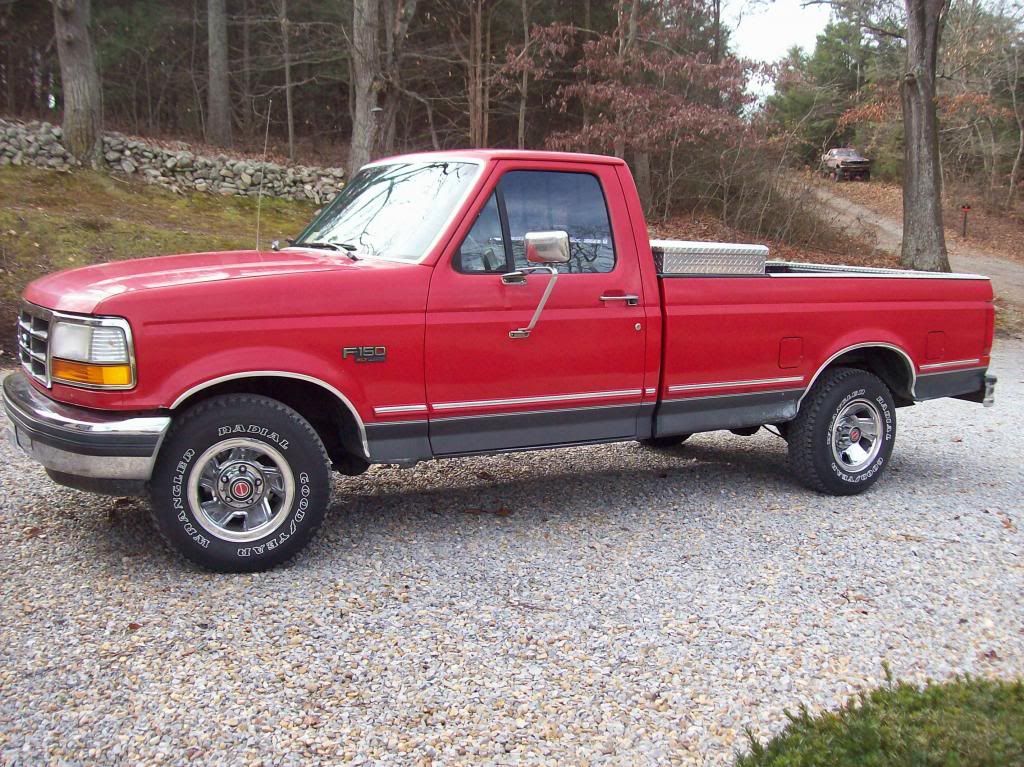 Senior Member
Join Date: Jul 2002
Location: Los Angeles
Posts: 1,892
I went with Earl Shieb on my '73, MAACO's main competitor here. I did all the prep work myself and I have to say, for $300 that I paid, the paint was great. My work sucked, but the paint came out ok.

The car's a daily driver, so I wasn't looking for showroom paint. And since I take it to work, to the mall, and just about everywhere else, $4K for paint didn't seem like a good idea.

PS: It's been a couple of years (2 or 3 at least) and the paint has yet to peel from ANYWHERE.
A year ago, neighbor took a late 90's Camry to Maaco for paint. It had no dinks, etc. and it was
painted champagne metallic color.Got it back and they missed the match a bit but that
is a tough color to match. It looked decent, was smooth, etc. A year later the Fl. sun cooked it and it was dead! They will not use any paint but theirs. As mentioned, the painters become skilled painting several cars each day. After awhile, the skilled painter moves on to better shops.
As mentioned in a previous post, my dad owned a Maaco and I forgot to mention something. They have different levels of paint quality and paint types. You get what you paid for. Some of the earlier posts where people had paint that didn't last may have been a situation where the person didn't purchase the more expensive higher quality paints. Once again, you get what you pay them with paint and prep. You can also negotiate with them as well. At least that's how it was at my dad's shop...
all of the budget auto paint shops skimp on the prep work,which is the difference between good and not so good results-if you can prep the car and then wheel it into the booth,results will be better