Junior Member
Join Date: Feb 2012
Posts: 2
1965 Ford Mustang Convertible pedal car
---
My husband has inherited a 1965 mustang pedal car from his grandma. This was manufactered in 1964- It is in perfect condition- was just taken out of the box 2 weeks ago. Original box with the Ford dealership stamp, orginal packaging, and assembly instruction included. Also have a copy of the Ford dealers promotional ad for getting the pedal car with the purchase of buying a car. This car does not meet current safety standards due to having lead paint- Open to offers please call or email with any questions or for pictures. Thanks
419-966-4763
419-966-4762
blwright1@hotmail.com
Quote:
I ran across one of Revell Visible Engine Kits in my Dad's House will cleaning it out. It was never opened, and is the 6 cylinder model. My kids are too old for it. If anyone wants it, I will sell it for $10 plus the shipping cost, and can do Paypal. Bob
can you post a pic?
---
1965 Tiger
1966 GT350
Junior Member
Join Date: Jul 2012
Posts: 1
1965-66 Very Large Mustang Go Kart - For Sale
---
Hi
I own several Mustang junior go karts,
I also have a very large Mustang go kart 4' wide and 8' long, that I have decided to sell, this is
not
a golf kart this is a go kart,
As you can see in the picture 2 smiling adults can fit into it, it has a 8hp Techumsah engine in it, goes in fwd and rev. Fiberglass body. As you can see from the pictures it is quite large
Great for car shows, parades etc. Comes with it's own car cover. I doubt you will ever see another!!
Just had it into the shop and had it tuned up! Runs good.
REDUCED
! 1966 Mustang go kart - 1/2 scale
If interested you can respond to the ad. Or message me.
Junior Member
Join Date: Sep 2012
Posts: 29
How much are you looking for?
---
Quote:
My husband has inherited a 1965 mustang pedal car from his grandma. This was manufactered in 1964- It is in perfect condition- was just taken out of the box 2 weeks ago. Original box with the Ford dealership stamp, orginal packaging, and assembly instruction included. Also have a copy of the Ford dealers promotional ad for getting the pedal car with the purchase of buying a car. This car does not meet current safety standards due to having lead paint- Open to offers please call or email with any questions or for pictures. Thanks
419-966-4763
419-966-4762
blwright1@hotmail.com
Do you have any idea of how much your looking for in price?
Member
Join Date: Feb 2012
Posts: 73
Really Cool Mustang shop/garage light
---
Selling these custome made mustang shop/garage lights.These are awesome for either your garage or even inside your house in your "Man Cave". These make a really great gift to the Mustang enthusiast and just overall look great in your shop.
Horses are made of black ABS cutouts measuring 2ft in Width by 11"inches in H.Horses are lighted using LED's that are very economical and last forever.Colors available in Red,White,and Blue.
$75.00 plus shipping.
Email or message me if interested:
Manofsteelrr@yahoo.com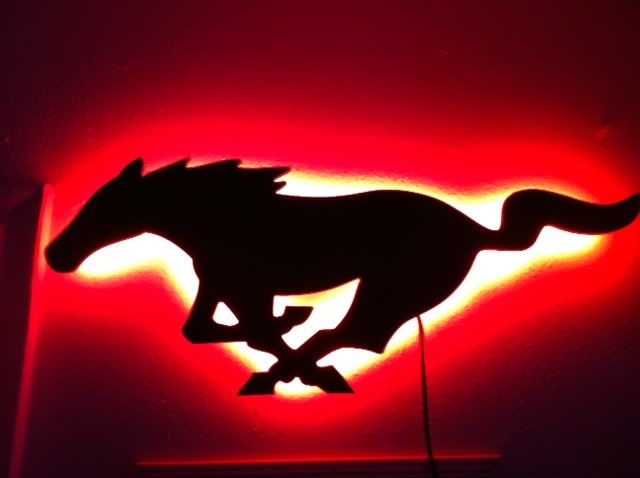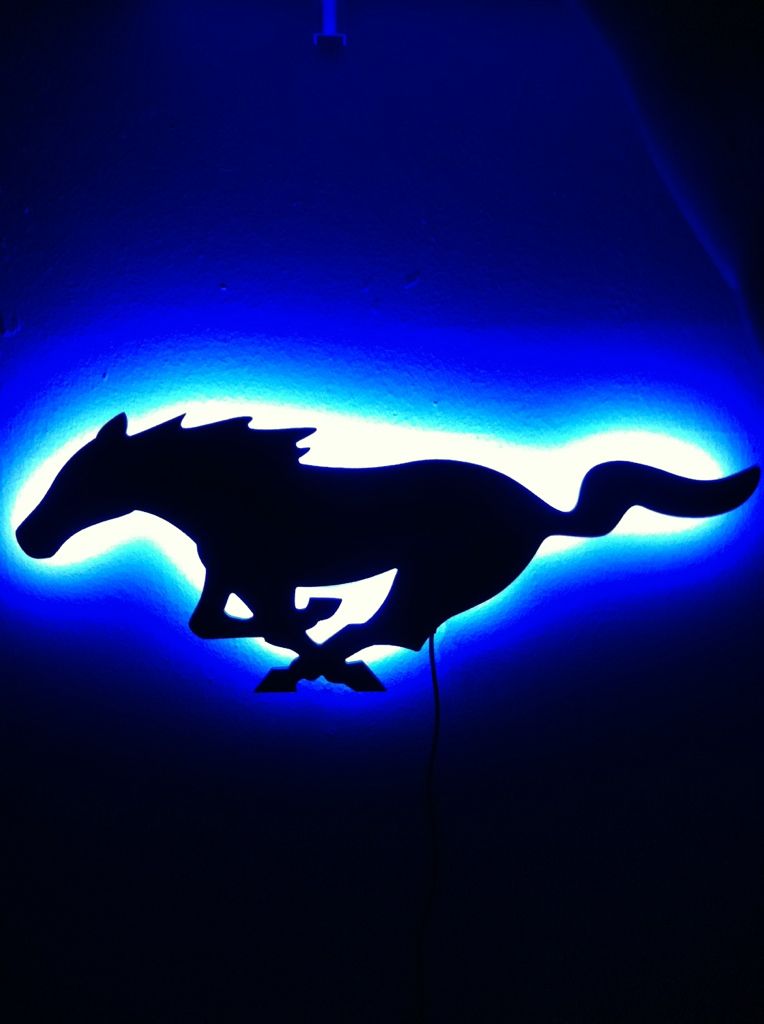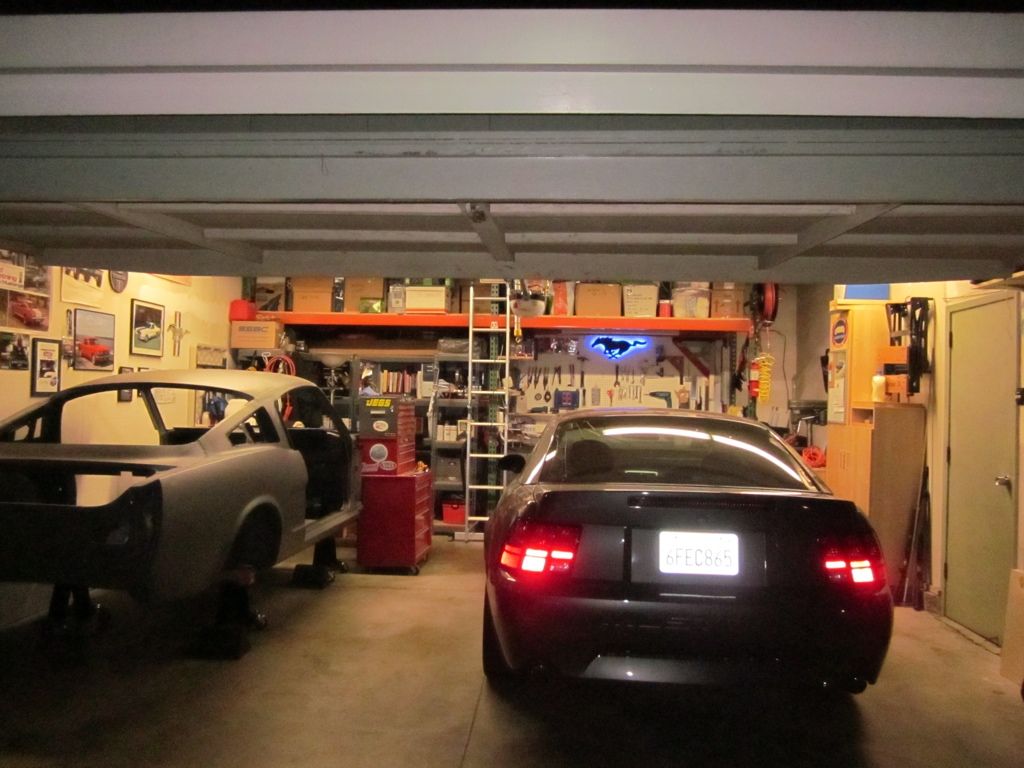 Member
Join Date: Feb 2012
Posts: 73
Bump,price drop on lights
---
Selling some really cool running horse lights for your man cave,garage, or interior decor. Cutouts are made of strong,durable,hard plastic. They are lighted with LED's that are very economical and last forever. Lights are fully custom made.Lights measure 2 1/2'Ft in length X 1'ft in height.
Lights are available in Blue,White,and Red as of now.
$65 plus shipping(I am in Dallas)
I typically sell these for $75.00 but am overstocked with them and must get them sold!
Offer won't last long so get one at this price while you can!
Let me know if interested or would like more information on them.Or email me at
Manofsteelrr@yahoo.com
I accept PayPal Only for the safety of both the seller and buyer.
We are not affiliated with the ford motor company.
Junior Member
Join Date: Dec 2013
Posts: 2
LImited Edition poster for the film Bullitt Featuring a great image of the Classic GT
---
Zoetrope Galleries has just released a special print run of 300 for the film Bullitt. The poster features the iconic GT Mustang and is hand signed and numbered by the artist. You can view more images here:
::Movie Poster Exchange::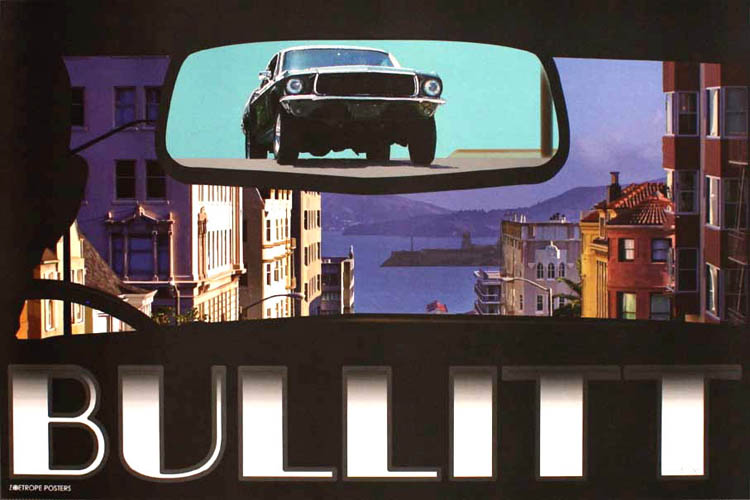 Michael Irvine "Red, Topless & Loaded" Artist Proof 1 of 20
---
I have a Michael Irvine "Red, Topless & Loaded" Artist Proof 1 of 20 for sale. Price is $500.00. Better photos upon request. Thank you!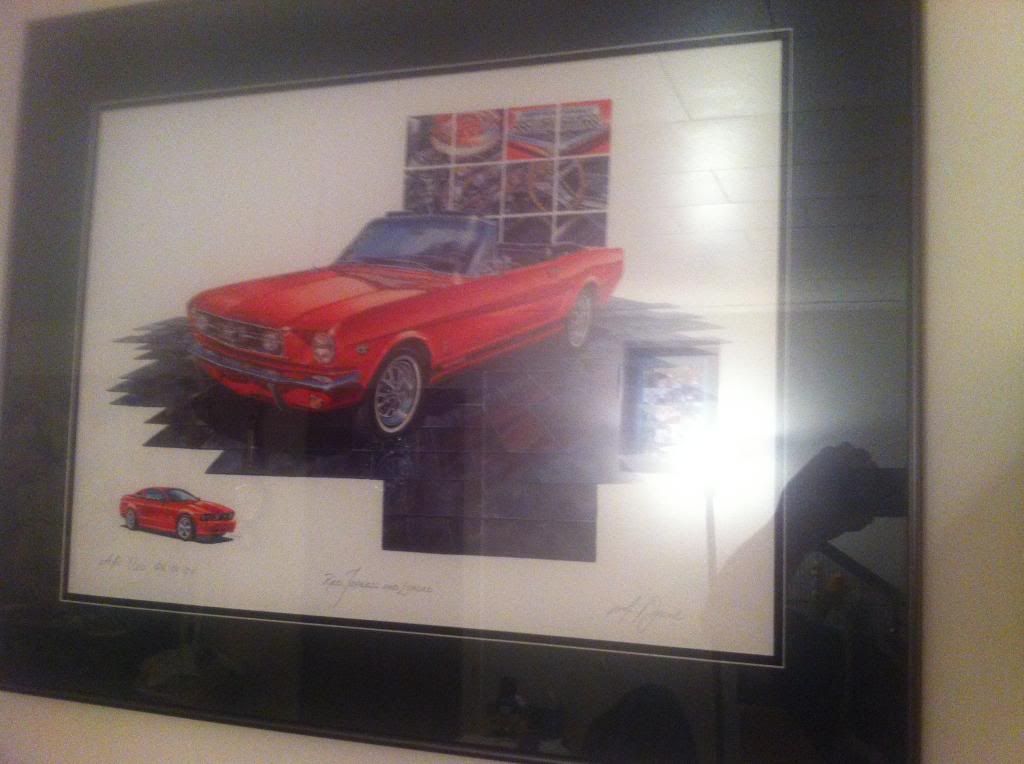 My father recently passed and I'm starting to liquidate his estate. Amongst the hundreds of model an die-cast kits, he had a box of vintage and newer belt buckles. I found three Mustang related ones I'll put up here for sale. If interested let me know. There are many other Mustang related toy's I'll probably be posting over the next few weeks also.

#1 - $5
#2 - $15
#3 - $25
Senior Member
Join Date: Jan 2001
Location: Greensboro,NC
Posts: 487
Original "Cobra" jackets
---
I have three original Mustang Cobra jackets. Two in red,one in white. These are the same as you might see described on eBay as vintage.


They are all large, although they seem to run a bit small in size, so they should fit someone that wears a medium quite well also.


Condition of the white one is very good (still has a dry cleaner tag on it), one red one is also very good, and one red one needs cleaned at a minimum. Bear in mind that these are original and were purchased new in 1966.


Sold my mustang, and grew a bit, so I'm going to part with them.


I can email pics to anyone interested, and am open to reasonable offers.
I have two M2 Machines 1:24 50th Anniversary Mustang diecast models. NIB, never opened. Each is 1 in 5000 produced, both in Grabber Blue. One is a '65 fastback, the other a '70 Boss 302. I'm looking to sell them or trade for T5 conversion stuff for my '66. Asking $50/ea or $85 for both obo plus shipping. I can do PayPal or cashier's check.

I'll get photos up tonight. Thanks!
---
1966 Restomod/track car, 1973 Q-code Mach 1, 1997 F250 diesel, 2005 retired OSP Crown Vic, 2015 Focus ST-2
Posting Rules

You may post new threads

You may post replies

You may not post attachments

You may not edit your posts

---

HTML code is Off

---