Senior Member
Join Date: Dec 2001
Location: cool calif,near sacramento in the USA
Posts: 1,642
69 convertible 302 ps,pdb,cruz,c-red red deluxe project car
---
been out of the car market for awhile so i'm asking for alittle advise on this one.. 69 vert, 302 auto ps,pdb,cruz,candy apple redout with red deluxe int! no motor or trans, radiator support and front panels in front of shock towers off probably front light hit! front looks straight, nice body and very little rust on front floor. this car is in need of a total restore.. 9F03F no fenders or hood, doors back there and clean. opinion on what its worth ? moving and light'n the load a bit.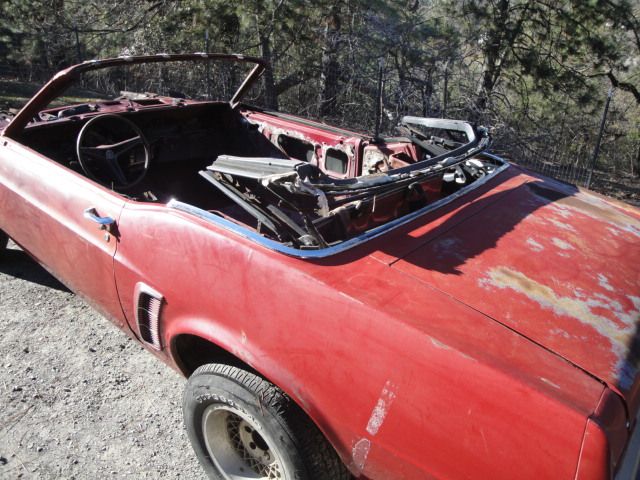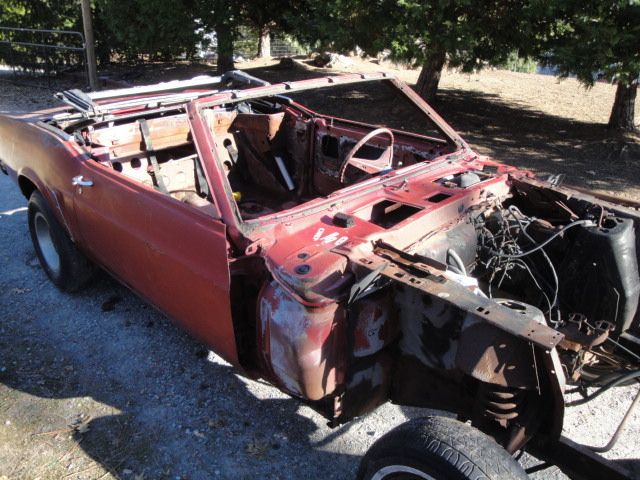 ---
Last edited by jgstang; 11-20-2017 at

08:02 PM

.
Junior Member
Join Date: Dec 2017
Posts: 1
Mustang price
---
Hi there how much are you asking for that 69 Conv? Looks like a decent project. Thanks
Senior Member
Join Date: Dec 2001
Location: cool calif,near sacramento in the USA
Posts: 1,642
i'm thinking 9500. have a guy coming after xmas from the land down under...
Senior Member
Join Date: Jun 2005
Location: minnesota, usa
Posts: 111
If you really want to establish a value, a Marti report could be suggested. If it was a fully equipped vert, even with a 302, it could be desirable. If this car was in class 2 condition, it could be worth about $30,000. If the price is $9500, if it could be put in class 2 condition for another $20,000, $9500 is a good price. I would guess it would cost a lot more than $20,000 to get it nice if you paid someone, so I think that is a high price. But if someone wants a fully optioned vert, they might pay this price. Otherwise, I would think it is high.

I have my own red 69 convertible, 302, fully loaded.
Senior Member
Join Date: Jul 2001
Location: Central Florida
Posts: 2,572
69 GT convert
---
I found my 69 GT convert at a local car show about 3 years ago. The PO was just tired of it sitting in his garage and taking up space. He had over $18K in resto and several thousand more in misc. he settled on $12K just to get rid of it. So price is really relative. Best way is to figure out what the resto will cost (always add 25% for weasels) and what it's worth restored and adjust accordingly. The speed control is rare and will add a bit if it's all there & working. (If it isn't there and the turn signal arm is correct with the button, I need one for mine, as the arm is toast!) If you can find some of the missing parts- fenders and such, it'll greatly increase the value so the next owner doesn't have to go looking.
---
64 9/10 Convertible- 400,000 miles & counting (2nd owner)- Invited by Ford to SEMA-2014 Pony Drive Pace Car
57 Thunderbird- E-Bird 312 w/ 2 4bbl carbs. 3 speed w/ O/D
65 GT Convertible
65 K GT Fastback- 60,000 original miles
Original 65 pedal car
69 GT Convertible- 90,000 miles Invited by Ford to SEMA-2014
69 Grande'- 1 of 11 on colors- 1 of 1 w/ options
2016 GT convertible w/ CDC Outlaw #13 package- delivered 10/27.
08 P-71 Police Intercepter
2000 F-250 Lariat, 2010 F-250 King Ranch
Senior Member
Join Date: Nov 2013
Location: Texas
Posts: 760
PonyDoc, you got ripped off but I'll be nice and give you your money back on that.
Nice car! I have one myself that I wouldn't let go for lest than $28K. I was offered $32K once and turned it down. to the OP, If you can get $9500 for that much of a project, I'd think that's a good price for you. We originally gave $5K for mine and I have another $25K in it and it was in slightly better shape and a complete 351W car, but they have gone up a bit since then so I think its a good price. If it were me buying, I'd probably want to be around $5K considering its not complete.
---
Finally old enough to drive the car I want instead of the one I need.
Senior Member
Join Date: Nov 2012
Location: Ann Arbor Mi
Posts: 2,475
I know this is an old thread but..... I think 9.5k is either really good if your selling really bad if you buying. I think 5-6k would be a fair price for it as a buyer.
---
Current piles of rust 1965: New yorker***1968: GTO convert, Lemans convert Porche 911***1969: MustangGT convert, Mach1 S code Mach1, Mach1 CobraJet R code GTO convert, Firbird Convert 1970 Boss 302***1972: Charger***1999:f250 CNG truck***2011:nissan Altima ---> I need to get rid of some of this junk lol
Senior Member
Join Date: Dec 2001
Location: cool calif,near sacramento in the USA
Posts: 1,642
Wow forgot this car was on here due to building a house and being very busy... been away from this site for awhile and miss it, life happens. but its just sitting in storage going up in price as an investment.. maybe i'll take to the coast with me, i personally think its worth it but who knows. i just have too much crap to sell and too many cars to move.. just crazy! love this site, best around!
Posting Rules

You may not post new threads

You may post replies

You may not post attachments

You may not edit your posts

---

HTML code is Off

---