Quote:
After pretty much taking my car apart piece by piece like you are doing, Iíve found a lot of times itís easier and faster to just use a 4.5Ē angle grinder as opposed to drilling out spot welds. Cut everything out just as you did until itís just the strip of metal with the spot welds left. Then just start grinding the strip of metal you want to remove with a flap wheel or grinding disc. The metal will get thin and start getting blue hot. Once itís paper thin it will just break off at the spot weld with light prying with a screwdriver or maybe the twist of a pliers. If it doesnít break off easily, you didnít grind it thin enough. Careful, itís hot.
I tried that method...but found it was faster to drill the spot welds...that particular strip is a PITA no matter how you do it. It always tears at least a little on that lip...tedious to repair it before installing the inner wheel house as well...but hey, tedious seems to be the name of the game when replacing all the sheet metal, not too much left to go at this point...just finish the wheelhouses and quarter, also got to examining the trunk floor closer...looks like I am going to have to patch the lower portion where the tank sits(at least on one side) and a couple other small parts...then the tail light panel, and all the rot will finally be gone though I will still have a lot of misc metal work to do afterwards most of it will fall under the modification category rather than resoration
Well, I guess I am going backward for the next week or so. I decided to order a new trunk floor(the 4 pieces surrounding the gas tank anyway) rather than trying to patch what I have. After climbing under the car and examining the surface rust, in that area I found pitting...and one thing I have learned is moderate-to-heavy pitting is just rot by a different name...so I have decided to cut it away...wont take much longer to replace...but it will delay me while I wait for the parts to arrive, and I will have to undo about 16 spot welds for the Driver's side quarter to pull out that side...no big deal but I would rather do it now than have it crop up as an issue down the road when the rest of the car is virtually new and painted....as a bonus I will get new trunk drop offs....I never was the biggest fan of the installation method of the PO on those drop offs he replaced...they should have been butt welded in instead of his spot welding....just like all the other patches they did on the car, it was the wrong method to look correct for that area.
---
Last edited by wicked93gs; 10-01-2019 at

02:11 PM

.
Just like the driver side, the Dynacorn inner wheel house for the passenger side is an almost perfect fit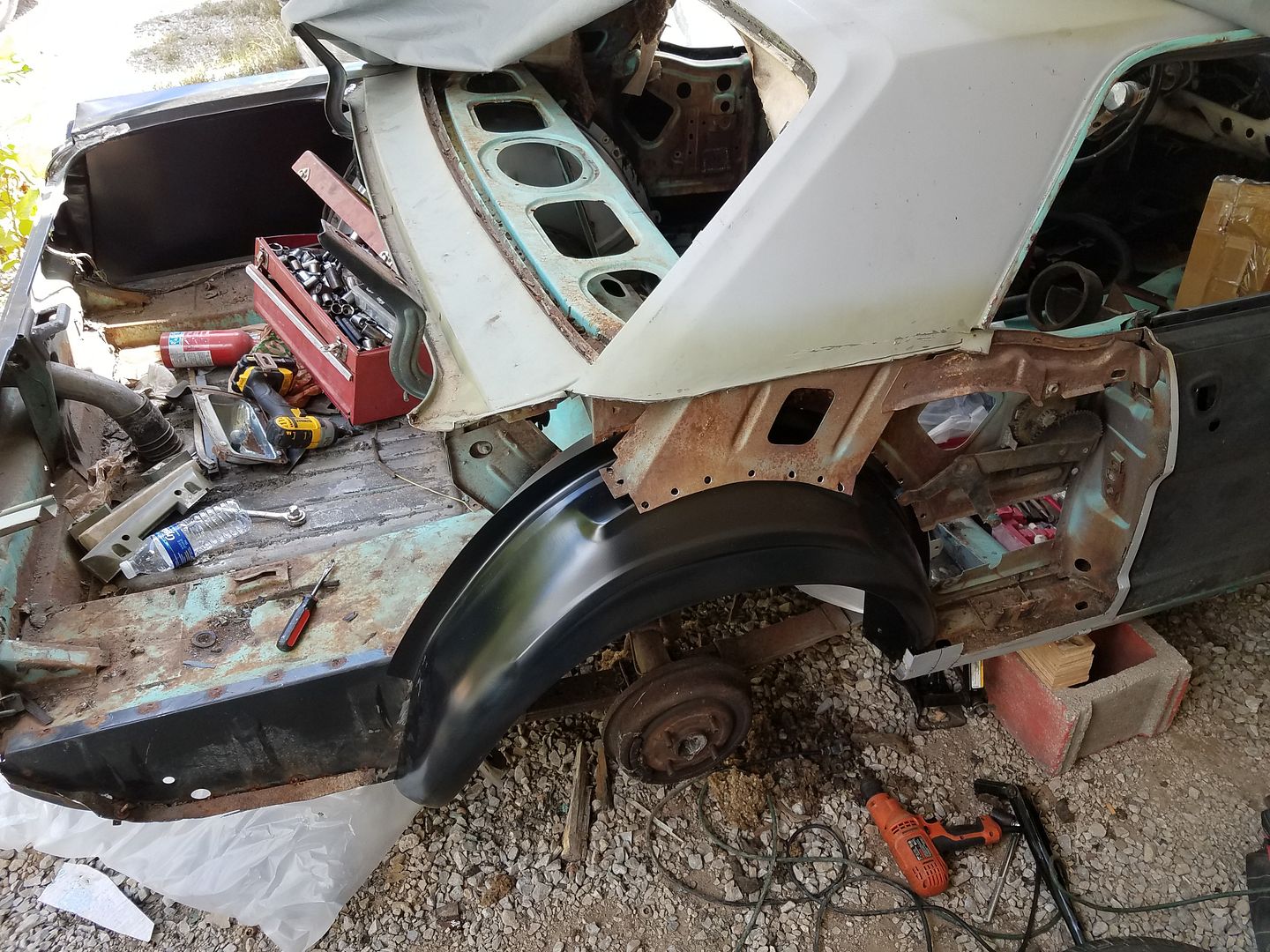 Unlike the driver side, my unknown brand outer wheel house looks like it will be a good fit....but quarter panel fitment will tell the real story. It is fitting much better than the other side though so far.
The passenger side quarter looks like its going to fit better than the driver side(though the driver side fit well too, it just took a lot of tweaking). I am actually glad I cut above the sail panel seam rather than below it like most people do...it was starting to actually rot where the factory quarter is spot welded to the inner roof structure, but only the roof skin and the quarter, not the actual structure. It makes me wonder how many people who have replaced quarters have hidden rot under that lead seam
After test fitting the quarter I found that this outer wheelhouse, just like the other was too wide...but just like the other side it was only at the back bottom portion:
But I know just what to do this time...cut like so:
Also had to re-shape the front edge where it drops into the rocker to allow me to clock the outer wheelhousing just the 3/8" I needed
Essentially this reshaping just moves the end radius up 3/8"...anyway, I welded all this up(didnt bother to take a picture of that since the other side is virtually identical to this side.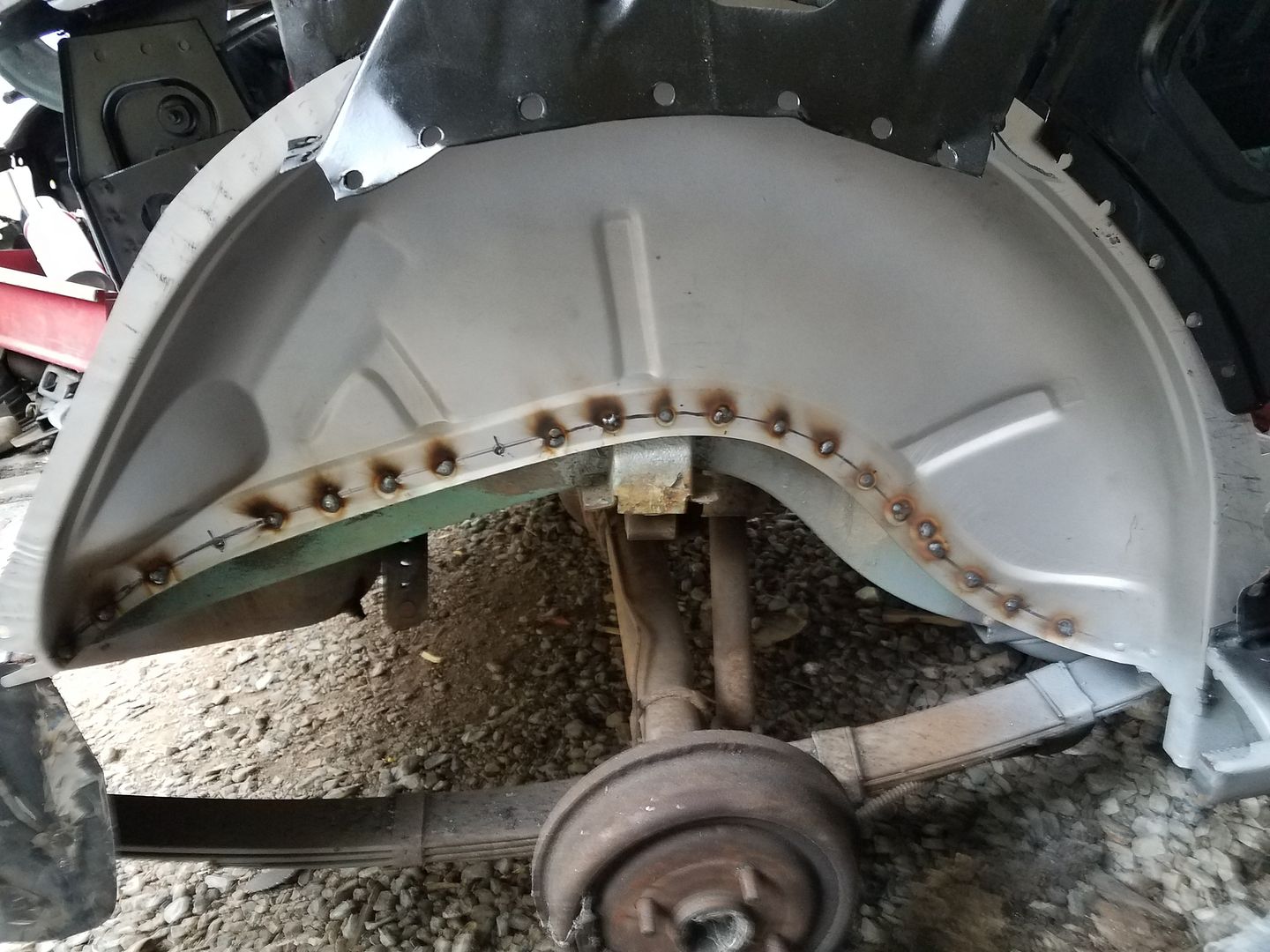 Also installed the inner wheel housing...then realized that the 7 welds at the back were a mistake because I have to take the trunk floor out...oops...oh well, didnt weld them all anyway.
What I didnt take pictures of today were the final test fitting of the outer wheelhouse and the quarter...but everything looks like it will now fit without issue, I should have this quarter finished up within a couple days and be able to move on to the trunk floor and tail light panel.
Quote:
I am contemplating adding some type of extra over-the-hump reinforcement like convertible risers have to add a bit of extra strength, but not sure exactly how best to fabricate that
Based on your fab work so far, sectioning in the hump from a convertible seat riser shouldn't be too difficult for you. And since you're this deep down the rabbit hole I'd suggest adding convertible inner rockers. The combination of the seat riser hump and inner rockers really stiffened my chassis.
---
Bob
There are 2 types of people, those who own pickups and those who borrow them.
69 M code Mach 1, 393w AFR 185, AOD trans, 3.50 traction lok N case, 14" 2015 Brembo 4 piston disc, QA1 4 wheel coil covers, Chromo tube susp arms, Triangulated rear arms, Convertible inner rockers & seat riser, 8 point roll bar.
Build Pics
http://s782.photobucket.com/user/rob...?sort=3&page=2
Build Thread
http://1969stang.com/forum/index.php...bitch-is-back/
---
Last edited by rpm; 10-07-2019 at

12:44 PM

.
Quote:
Based on your fab work so far, sectioning in the hump from a convertible seat riser shouldn't be too difficult for you. And since you're this deep down the rabbit hole I'd suggest adding convertible inner rockers. The combination of the seat riser hump and inner rockers really stiffened my chassis.
Too late for that...floors and torque boxes are long since in...besides...stiffness is doing good so far...front wheel comes off the ground before the rear wheel when jacking up the car at the rear torque box as it is...of course, no engine and tranny in it at the moment so that doesnt tell the whole story, but I still have a few more chassis strengthening mods to go before chassis work is done
Outer wheel house installed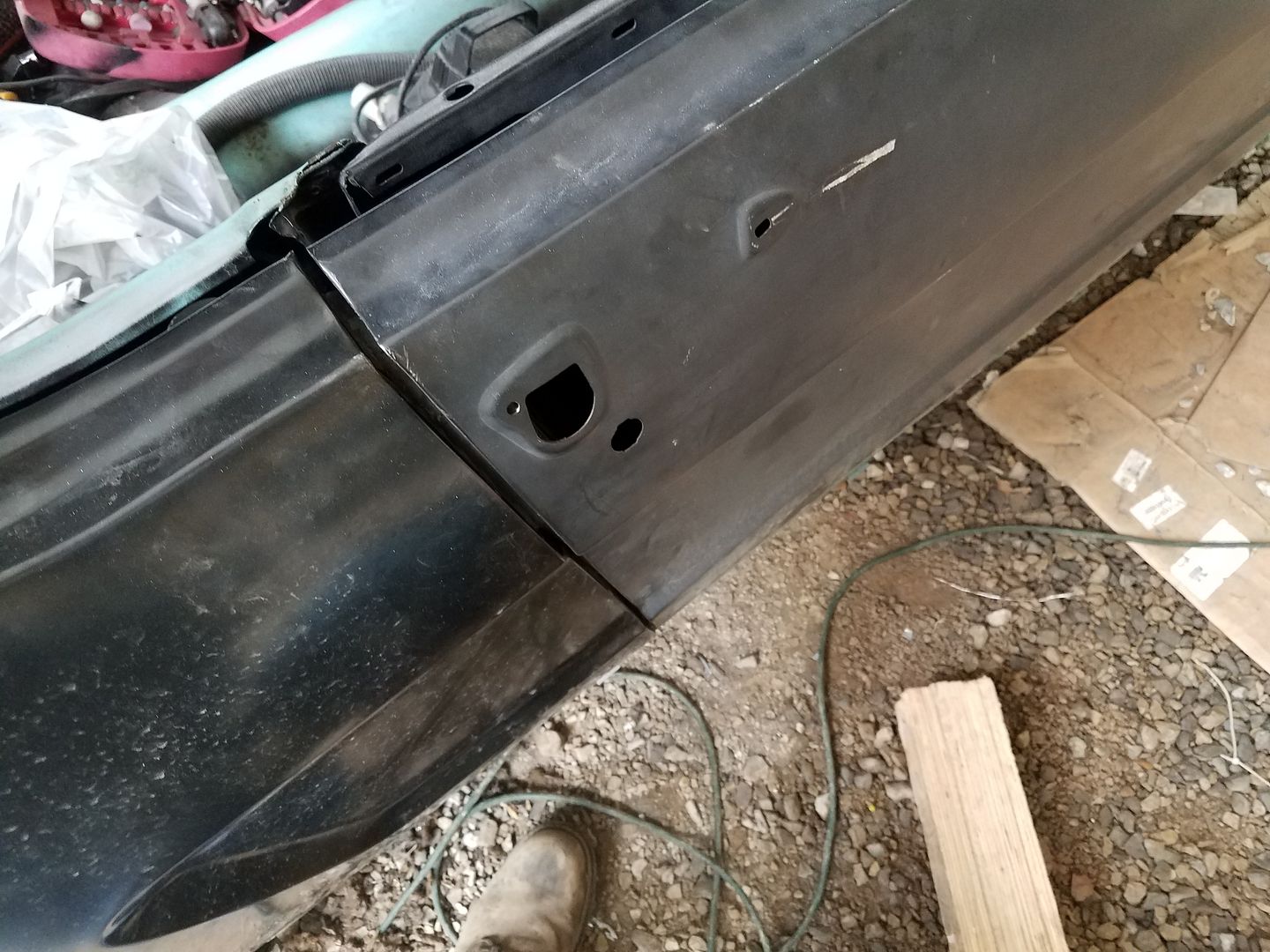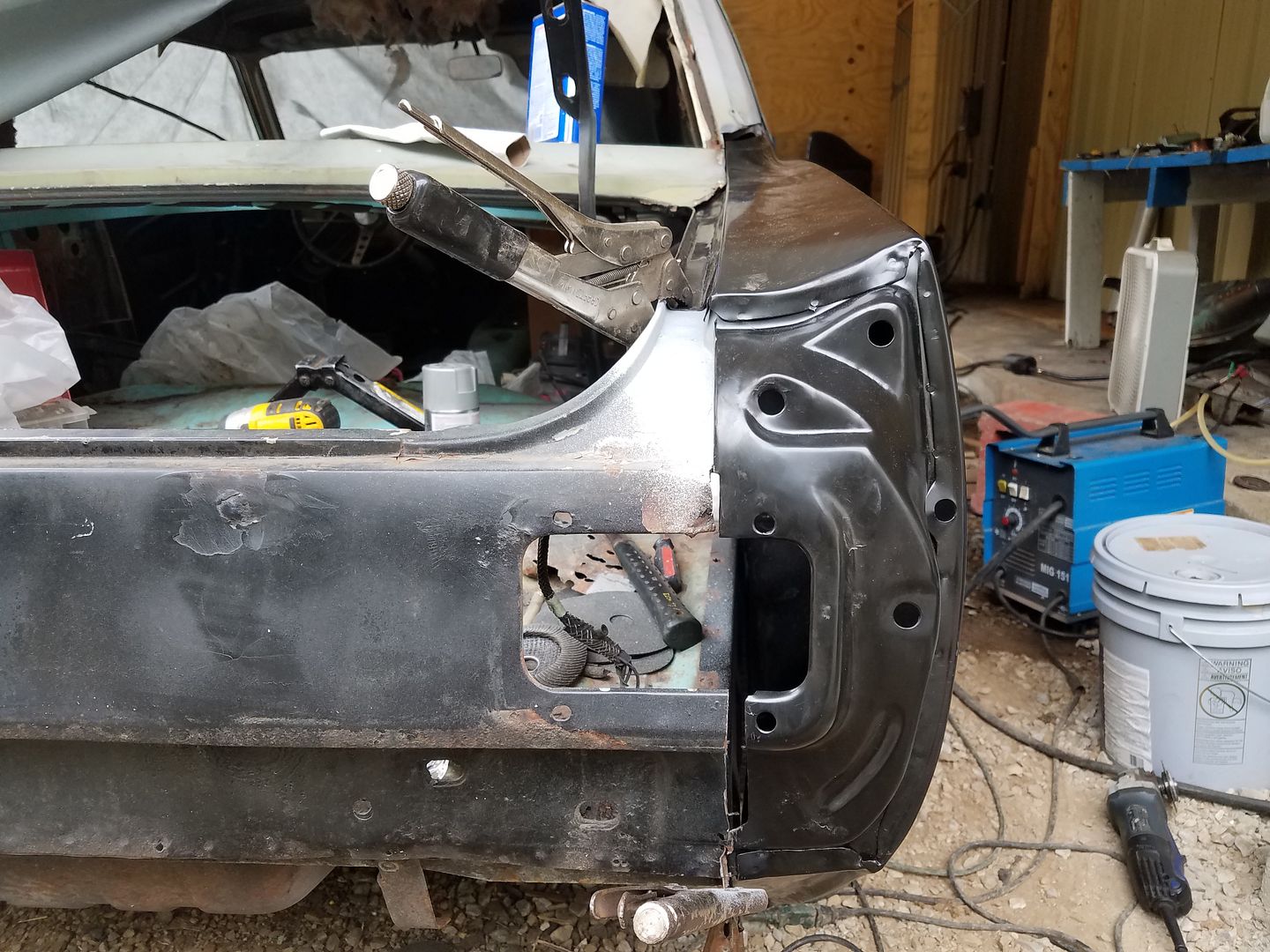 Final quarter panel fitment...and yes, I cut the tail light panel to make fitment easier...its just there as a reference point...it will soon be replaced, the only thing I am keeping in this area is the trunk corners and frame rails
---
Last edited by wicked93gs; 10-08-2019 at

02:22 PM

.
In preparation for engine fitment, I started modifying the oil pan, I cut it down into the basic extreme rear sump shape I need. I will be adding some side sumps to gain back the lost volume...happily I should be able to pull this modification off myself, though it will take me awhile.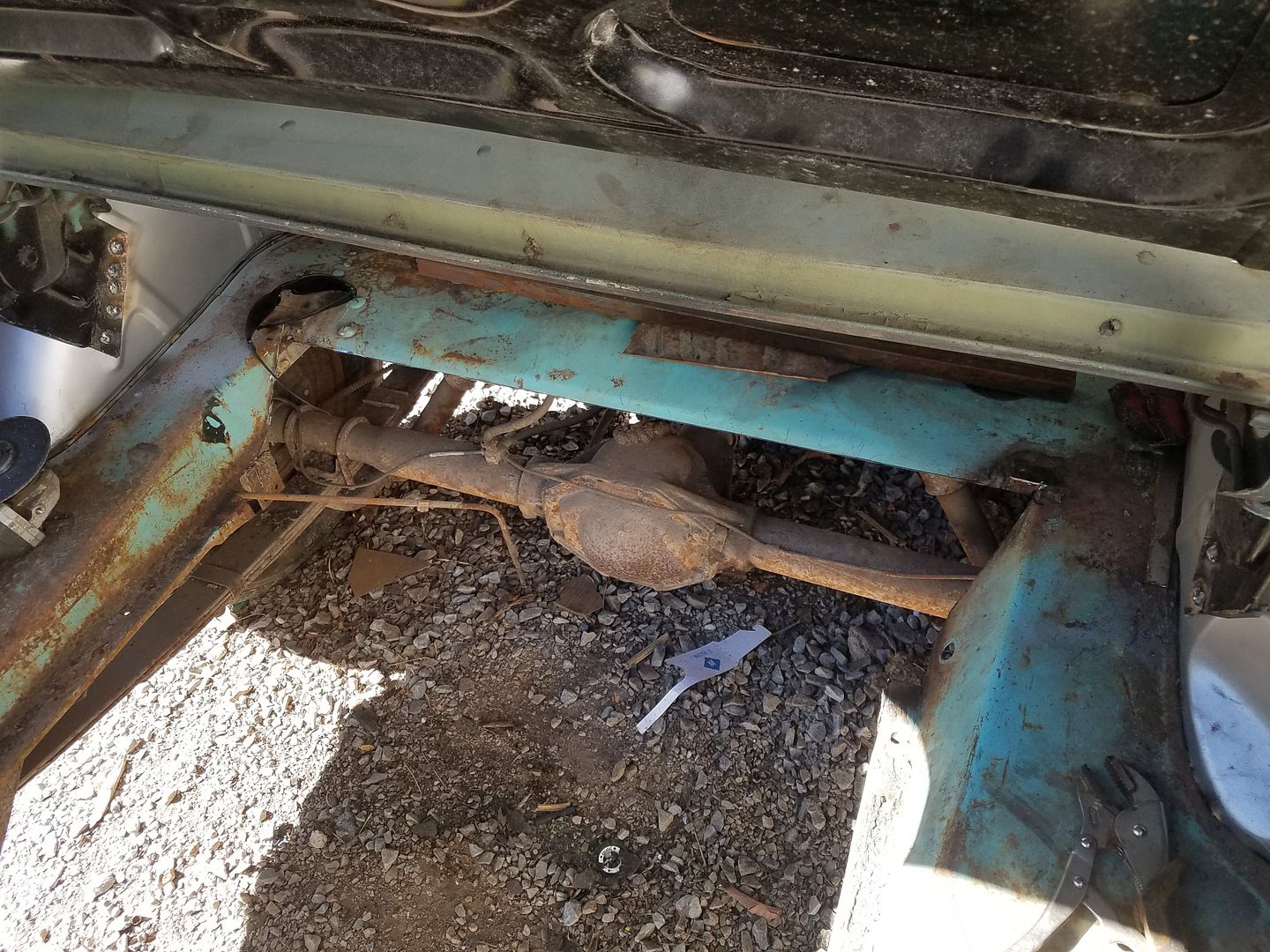 I also started replacing the trunk floor...the trunk floor, along with the tail light panel, and bumper brackets will be the last of the metal work before I move on to driveline fitment
Today I was too busy to do more than just cut away the tail light panel...still need to cut away the rest of the trunk floor tomorrow.
I did test fit the tail light panel though...and it doesn't fit AT ALL...it seems to be a reverse fitment...not sure what they were thinking. I am going to order a new one rather than trying to fix the top lip so it actually fits correctly...a lot less time involved that way.