Hello all,
As promised here are my results from using Peel Away 7 in my engine compartment:
Over all I am very pleased, as you can see in the pictures it took a lot of the paint off, some to bare metal, and what it did not take off was easily scraped off with a putty knife. One thing that you need to remember if you do use this is that you need to lay it on thick and make sure when you put the paper on that you have no air bubbles. Where the paper does not stick to the compound it dried up, which when peeling the paper away, it did not take the paint with it, but it was still quite easy to scape off. You will still need to use a wire brush to take it to bare metal but it was very quick.
Before it was applied:
Brushing on the compound and attaching the paper:
http://memimage.cardomain.net/member_images/4/web/568000-568999/568597_94.jpg[/image]
After 48 hours I started to peel and scrape away:
Notice the original yellow paint:
After just a couple minutes with an air powered wire brush:
One disappointment, I was hoping the VIN was covered with the many layers of paint, but not to be, so the front end must of been damaged in it's previous life:
I would say it was worth the $65.00 a gallon for this stuff, sure saved lots of time, but still have a lot of work to do.
Randy
---
1929 Ford Model A Tudor Sedan
1986 GT Convertible
<><
Join Date: May 2003
Posts: 879
Randy,
Unfortunately all I can see are the little boxes with the red X.
Ken,
I can see the pics, but I know cardomain.com has been acting up lately, can anyone else see the pictures?
Randy
---
1929 Ford Model A Tudor Sedan
1986 GT Convertible
<><
Senior Member
Join Date: Oct 2004
Location: West Chicago, Illinois
Posts: 548
I can not see the pics either
---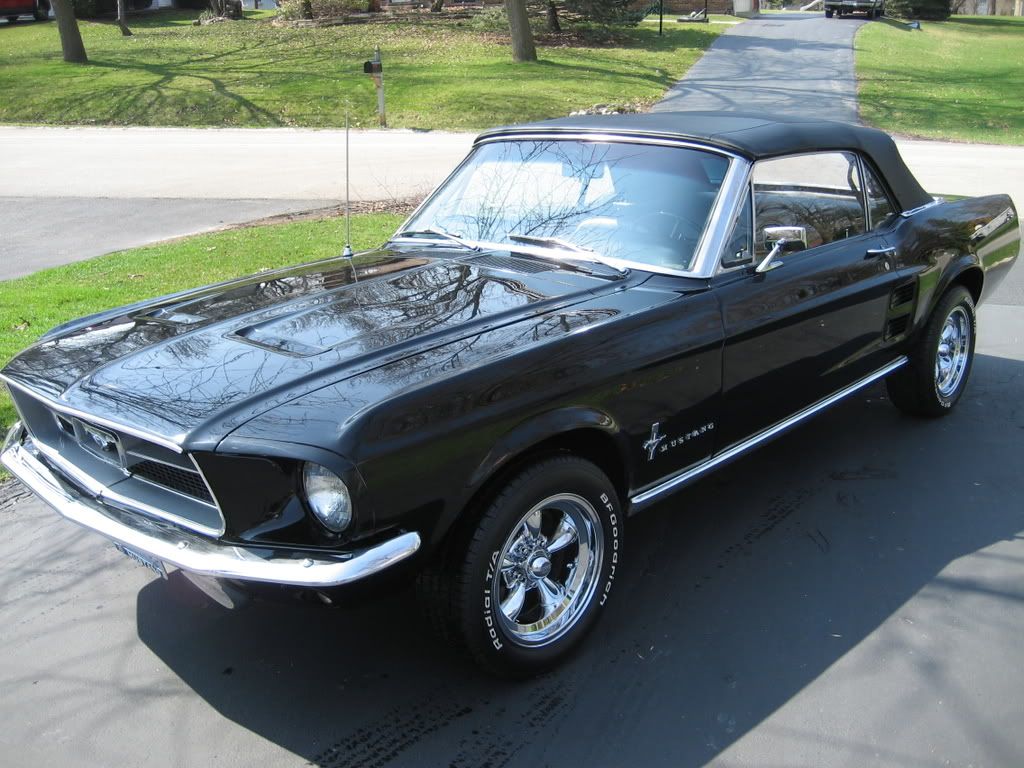 http://www.myspace.com/joesmustangs
Hi guys,depending on what plant the car was built ,in 68 it may not have the Vin stamped in the apron. So the car may not have been in an accident. Also make sure you completely clean and wash the areas stripped especially in the seams as the directions outline. Otherwise in a few months youll start seeing pock marks were the residue is still trying to do its job of taking the paint off. Make sure the bare metal is sealed before priming and painting. And above all Take your time. Some people would rather have their cars done "right now" then have them done "right" and unfortunately doing it right takes time. Give yourself a pat on the back ,what your doing is no small task. Having a painted fender next to what your stripping is not easy to work around. Ive seen the results of your work before and I have confidence youll do a great job. Take care, Chris
Thanks Chris,
Thank you for your confidence, that means a lot coming from you! The Peel Away is saving me a lot of time, but it will take a while to do it right. I am a perfectionist so I will not be happy unless it looks good. That is good news that the car might not of had the vin on the apron. One thing I did not think of is sealing the metal, what would I use to do that, POR 15? I was just going to prime then paint with Eastwood Underhood paint, but I want to do it right. Also I am thinking about painting underneath the hood with the body color, instead of the black as I have now. When I get this done I will start with the wheel wells.
Randy
---
1929 Ford Model A Tudor Sedan
1986 GT Convertible
<><
---
1929 Ford Model A Tudor Sedan
1986 GT Convertible
<><
Join Date: May 2003
Posts: 879
Finaly can see them. Looks great!
Randy,

Looking good. Wish my garage was heated better to work out there in the winter, but will have to wait till spring until I start on stripping out the Vert. Am very interested on how yours turns out and what was needed to do the job right.

Hate the winter as all I get to do is go out to the garage and start up the mustangs once a month.
---
Bill
68 GT 390 Fastback S Code
69 Mach1 A/T A/C
68 Convertable-Project-Straight 6/Auto
Posting Rules

You may post new threads

You may post replies

You may not post attachments

You may not edit your posts

---

HTML code is Off

---