I have been gathering some parts for the 65 over the winter but I have been so busy that I have not felt the urge to work on the car. Maybe its the weather. I had to start it to pull it out of the garage so I could take a deliver into the garage without hitting the car. Starting it got me thinking a little bit but Im not ready yet. I think I need it to be warm enough to open the doors and crank up the radio. The garage is heated but it just doesnt feel the same. Anyone else feelin the same?
---
65 2+2
73 Vert
Senior Member
Join Date: Nov 2003
Location: Algonquin, IL
Posts: 867
I feel that way...I have tons of projects waiting:

1. finish building & installing my center console
2. Install power window motors and switches
3. Get new front (fiberglass shelby R)and rear(GT) fascia's painted and installed
4. Reupholster rear seats (I got new upholstry to match my Procar seats in the front)
5. Take the car to a shop to get it dyno tuned

Hopefully I will get them done before May- but now that I am moving who knows!
---
ET:
[email protected]
mph
ENGINE:
FiTech EFI, DSS 347, AFR 185s, Vic Jr, XE274HR cam, MSD ign, Hooker Headers, Magnaflow exhaust
DRIVELINE:
Tremec 3550, Pro 5.0, Fidanza AL Flywheel, McCleod clutch, 3.55's, 13" GT Front & Cobra Rear brakes
SUSPENSION:
17" TTII's, 235/45 tires, 620 coils, Shelby drop, 1" & 3/4" sway bars, Monte Carlo bar, S&T strut rods, Bilsteins, & roller perches
Senior Member
Join Date: Nov 2004
Location: LaGrangeIL60525
Posts: 110
Feeling the same way. Had to go out yesterday and look at 2 mustangs on craigs list. Still not ready to go work in the garage. Must be those four letter words, snow, rain, salt.
---
MarkJacklin
69 coupe
68 coupe c code
68 coupe s code
2008 BULLIITT
2002 T-BIRD
Member
Join Date: Nov 2006
Location: McHenry, IL
Posts: 99
I have the urge, just don't have the time. hopefully it gets better this summer...
---
'65 Mustang Hardtop
200, C4 - check this space for updates...
Rust repair in progress
Photo History Here
Hey, I thought everyone had winter projects for their car! I guess I'm the only one working on them! I just haven't been making a dent on the honey-do list. Anyway, I put on a new dual exhaust, reupholstered the front and back seats and repainted the set of styled steel wheel I bought last year. Oh well, gotta go work on that "other" list....
---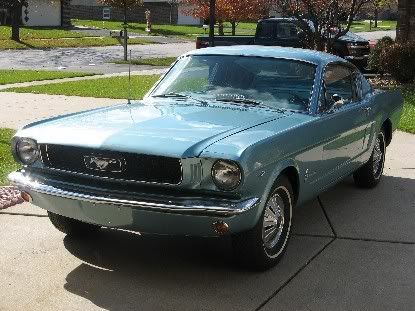 66 Fastback,Tahoe Turquoise,289-C Code,C-4,Pony Int.
I am finally working on mine, kind of late for me! I am replacing my upholstery and the windshield. I am thinking about replacing my exhaust also, have not decided yet. I am getting closer to concours and the exhaust I have has been driving me crazy. It is for one not correct and two it is lower on one side and the only way to fix it is to re-bend some of the pipes. I am thinking about putting a factory GT exhaust on it, but I am going to lose that nice flowmaster sound. Decisions, decisions
---
1929 Ford Model A Tudor Sedan
1986 GT Convertible
<><
Senior Member
Join Date: Nov 2003
Location: Algonquin, IL
Posts: 867
I need to add one more to my project list....

The UPS man just dropped off a new Magnaflow exhaust.

But who knows when I will get around to installing this either!

(I am removing the flowmaster system and will be selling it, if anyone is interested.)
---
ET:
[email protected]
mph
ENGINE:
FiTech EFI, DSS 347, AFR 185s, Vic Jr, XE274HR cam, MSD ign, Hooker Headers, Magnaflow exhaust
DRIVELINE:
Tremec 3550, Pro 5.0, Fidanza AL Flywheel, McCleod clutch, 3.55's, 13" GT Front & Cobra Rear brakes
SUSPENSION:
17" TTII's, 235/45 tires, 620 coils, Shelby drop, 1" & 3/4" sway bars, Monte Carlo bar, S&T strut rods, Bilsteins, & roller perches
Posting Rules

You may post new threads

You may post replies

You may not post attachments

You may not edit your posts

---

HTML code is Off

---