Ford 302 Engine $275
---
Ford 302 engine with 289 heads. Unknown bore size as I've never had the heads off. This engine was in my Mustang when I bought it in 1988. I added some performance goodies and drove it for 7 years before replacing it with my current engine. It was running when pulled, but I would recommend a rebuild.
$275
Features:
-302 early block with Z-bar clutch boss (bore size unknown)
-Stock 289 2v Cylinder Heads w/ Standard Rockers
-Edelbrock Performer Intake
-Mallory Electroinc Unilite Distributor (mech advance)
-Jacobs Coil and 8mm Ignition Wires
-Comp Cams Hydraulic Cam 268H (duration is 218* int and 218* exh at .050" w/ 110* lobe separation)
-Rhoads Lifters and Comp Cams Push Rods
-Erson Double Roller Timing Chain
-Chrome Valve Covers
-Standard Oil Pan and Pump
-Stock '67 Mustang Exhaust Manifolds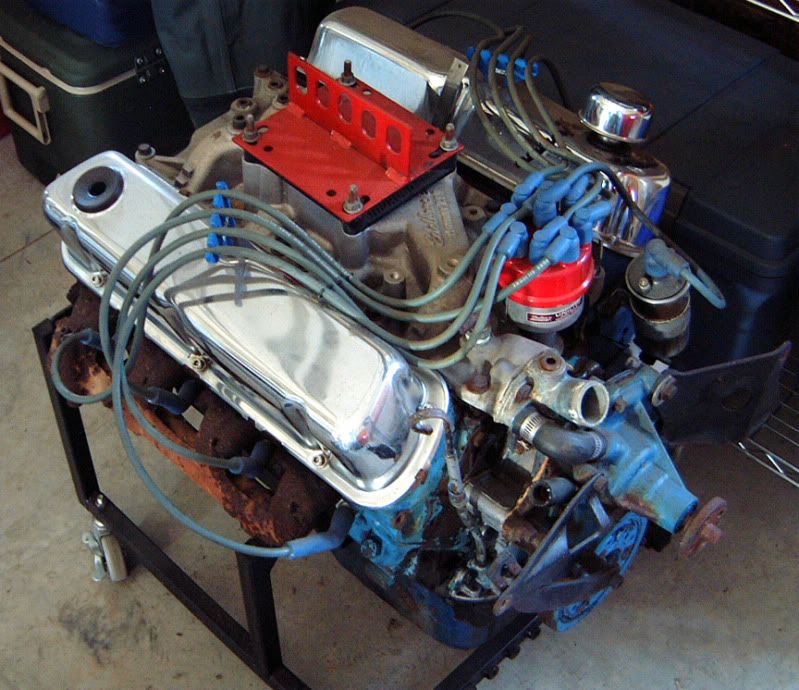 ---
---
Last edited by cold_beer839; 12-04-2010 at

08:52 PM

.
That is a really good deal. Too bad I already have one!!
I'll ask around though...
---
Still available, buyer has been silent for 2 weeks as of 12/20/2010.
---
---
Last edited by cold_beer839; 12-20-2010 at

08:32 PM

.
I wish you lived closer.
---
Ryan
1967 Mustang Coupe. My first car.
302, Early 351W Heads, Windage Tray, Edelbrock 289 Performer intake, Holley 600 Carb w/1" spacer, T5 Transmission, NPD 1" Lowering Springs, 1" Mid-Eye Lowering Leaf Springs, 17" 04 Bullitts, 3.00 8" Rear, Granada Front Brakes. Still a lot of work to go and a lot of things to buy.
Need any graphic design work check out my site:
www.ryandaviddesigns.com
Senior Member
Join Date: Nov 2010
Location: Columbia, SC
Posts: 335
Hi, I'm in Columbia South Carolina, and the price is right for me, if it's still available...?
---
1966 Mustang Coupe. I6 to V8 conversion. 1990 EFI 5.0, T5, and 8.8 rear with disc brakes. Hedman headers dumped through glasspacks. CSRP front disc brakes (Best purchase of the entire swap) and steering components. Shelby/Arning UCA relocation (drop) with 1" lowering coils (620#).
Posting Rules

You may not post new threads

You may not post replies

You may not post attachments

You may not edit your posts

---

HTML code is Off

---