Member
Join Date: Aug 2005
Location: Hawaii
Posts: 60
Tool box organization
---
Aloha. I finally broke down and purchased a new toolbox. Now, to transfer all my tools over. I'm looking for how you folks keep your box organized - i.e. is there a way to keep the screwdriver and pliers drawers from not looking like a game of pick up stix. What do you use to keep your sockets and wrenches organized? Any other helpful hints would be appreciated.

Mahalo,

Harry Z
I recently got a new tool box, too. For tools like pliers and screwdrivers I will eventually cut the shapes into foam so that the tools stay in place.

For sockets, I like the plastic Hansen socket organizers like these:
---
'66 Emberglo Coupe
Modifications:
5.0 EFI conversion
TwEECer EFI tuning
T56 6-speed
Rod & Custom Motorsports IFS
TCP subframe connectors
Vintage Air Heat & AC

'99 Black Cobra - Daily driver
Senior Member
Join Date: Jun 2002
Location: Killingworth, CT
Posts: 8,717
Buy the tool box liner, helps keep the tools in place if you accidentally slam the drawer. I fan my screwdrivers out with all the tips all touching. Between this and the drawer liner, it keeps them from moving around.
I have a bunch of the typical spring slip socket rails, those are good for the stuff I don't use all the time. For the most used items, I like the Mechanics Time Saver magnetic socket holders.
https://mechanicstimesavers.com/pages/magna-caddys
You might look at the wrench and plier racks on Amazon .
---
68 302-4V w/1.84",1.54" ported , Comp XE268H , 2200 rpm Hughes converter, 3.25 9" w/10x2.5" shoes , MSD box/distrib , RPM intake , 670 Holley , cross flow aluminum radiator , Granada discs......
Michael S.
---
John

The Fauxstang. Dynacorn 67 fastback. Dart SHP 363, Close ratio Magnum 6 speed, 3.70 Eaton Truetrac in a fabricated full floater 9", SorT coil over suspension. Still in pieces.
'14 SHO with most all the bells and whistles. Stock for now.
F-150 SCab daily driver
Just some guy
Join Date: Jun 2001
Location: SC foothills, USA
Posts: 18,889
I use the Hansen socket trays for my most used sockets. Some swivels and such don't fit those and are on magnetic or clip type rails.
I like pliers racks.
I like these really basic type wrench racks for bigger and odd wrenches because you can fit them to what you actually have. Some good 3M double-sided tape secures them to the drawer.

For my commonly used wrenches I REALLY like these trays.
I have a big plastic thing that a very complete set of of imitation Craftsman screwdrivers came in from years and years ago. Though it fits nicely in a drawer lately I hang it on pegboard. It is stocked with the "A" screwdrivers. The B and C grade I just have floating in a drawer with picks and other odd screwdriver shaped things.
Some people like to do more but organizing these works for me . The rest of the stuff simply has a location it's supposed to be in. Sawzall, angle grinder, big drill, paint guns, and such I find hang well on pegboard hooks.
I use both the post and twist type socket racks. i haven't got a drawer deep enough available in any of my boxes until I reorganize for the pliers racks but plan to add them. I use the holes in the sides of my roll cart for the screwdrivers. These days I generally use a ratcheting screwdriver handle with an assortment of bits. I use some of the plastic trays that come with the tools from the truck. I use wrench racks as well.
Orange SAE, green metric.
Except for the loc-a-socket rails you can get the the others from Hansen off of Amazon. That's who makes the ones on the truck anyway.
1/2" and 1/4"
3/8" The three posts are for deep, semi deep and shallow. Love the semi deep.
The Loc-a-socket posts, started using them a while back for 1/2" and misc 3/8". They are easier to transport but stupid expensive.
Congested wrench drawer.
Member
Join Date: Aug 2005
Location: Hawaii
Posts: 60
Mahalo for the responses. I haven't had time to look closely at all of these, but I am definitely learning about items I had no idea existed (pliers racks0.

Harry Z
Senior Member
Join Date: Mar 2012
Location: Eastern Iowa
Posts: 5,496
My tip to you as I ran into the same thing..... When you transfer the tools from the old box to the new, move a solid set, but leave all the triples and quadruples of the same tools! I'd accumulated so many over the years that I hadn't even realized my drawers were chock full of the same crap! I had something like 42 screwdrivers, 19 pairs of pliers, 50 some punches and drifts, etc. I think I put together 4 full sets of 5.5mm-26mm and 11/32-1 1/4" wrenches in open, box, short, and angled! I didn't pitch anything- actually ended up making room and putting the new box next to the old one, but at least the new drawers aren't overfilled! lol
---
Working on old cars teaches us patience... and every curse word imaginable!
Senior Member
Join Date: Aug 2016
Location: St Louis
Posts: 506
I like the Torin socket rails. A 1/4 turn and they lock on the rail and the rail has a magnetic strip on the back so it will hold onto the car. They're about $15 a rail.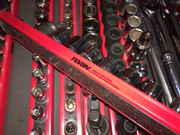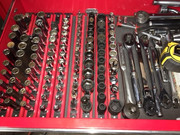 Just like Gypsy I use the same wire rack for my pliers.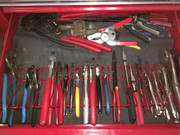 And I made a rack for the crescent wrenches.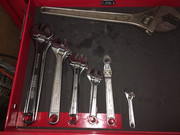 I bought a rack for my combination wrenches from Harbor Freight and had to cut it to fit.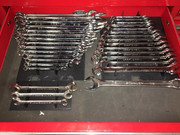 My screwdriver drawer is still a mess.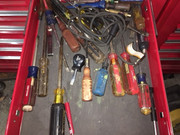 ---
Last edited by Fastback Steve; 06-21-2019 at

07:08 PM

.
Senior Member
Join Date: Feb 2019
Location: South Eastern MA
Posts: 186
I used Eastwood socket organizer and for my other stuff I just lay them down in the drawers.
---
66 Convertible, GT clone. 289 4V, C4. Springtime yellow with black top
Posting Rules

You may post new threads

You may post replies

You may not post attachments

You may not edit your posts

---

HTML code is Off

---