Which exhaust/header combo should I order?
---
Ordering new pipes this week for my '67 289 convertible.

Which header/exhaust combo do you guys recommend and from who? Looking for something throaty but not overkill. Something classy.

I need some help.

Thanks!
Member
Join Date: Jul 2012
Location: Colorado Springs, can't wait to get back to Texas!
Posts: 32
You got lots of options. If you want something classic you can go with shelby Try-ys. Hooker IMO is good source. Different options for different power levels. Not very expensive for the lower power series. hedman is another... Whatever you do I highly recommend longtubes. Flowmaster IMO makes the best sounding mufflers especially for the money. I think their main advertising slogan is "that classic muscle car sound." Flowmaster 40 series However from what I hear they do not flow the best. Headers with a 1 3/4" primary's and 2.5 collector should be all you need. 2.25" piping before or after the x-pipe that you should buy will do the trick.
---
68 cp 351c 4spd. some go fast goodies and tons more in the future! Daily driven son!!
2002 Jeep GC limited. love it
93 GC 4.5" 33" MT's
Senior Member
Join Date: Jun 2012
Location: Aurora Colorado
Posts: 366
I use jba shorty's (14 gauge with ball socket connections that do not leak) and 2.5" exhaust with magnaflows. I get compliments all the time on the exhaust note.... they do not drone at cruise speeds like the flowmasters (dronemasters). I had a set of super 44's and could not get them off the car fast enough. Unless you are running 500 hp 1 5/8 with 2.5 inch pipes is still overkill.... you don't want 1 3/4 primaries. Since it is a vert I am guessing you want a mild tone to enjoy cruising in which the magnaflows will provide.
---
65 coupe restomod 5.0/t5z/4whl disc/pwr windows/ps
62 galaxie 500xl convertible
65 austin h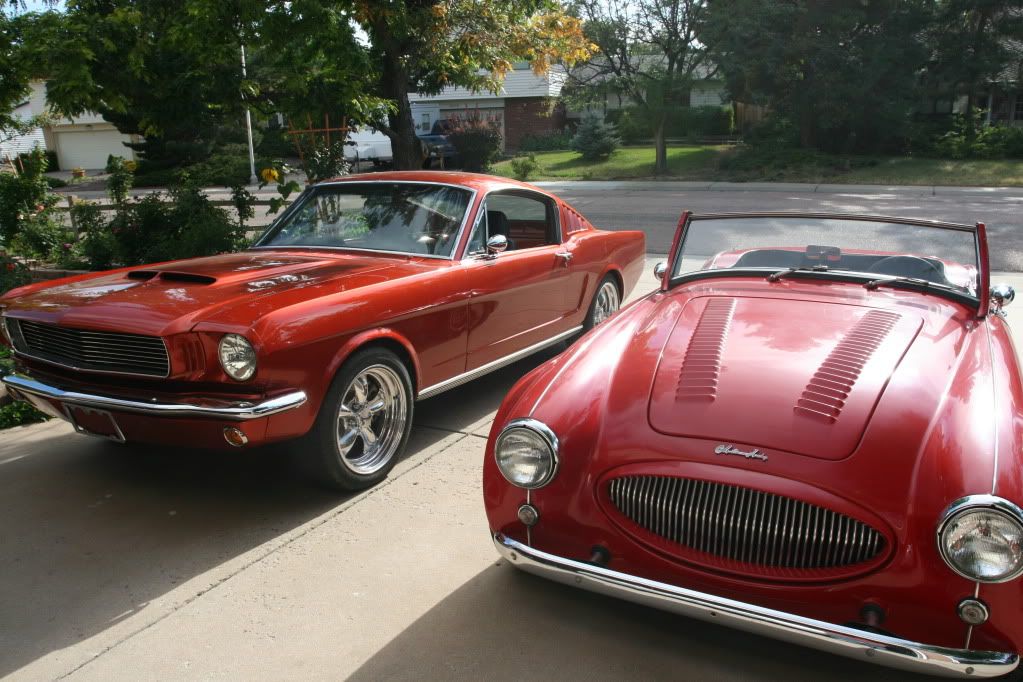 ealey replica 302/4spd
Senior Member
Join Date: Apr 2003
Location: Fort Worth, Texas
Posts: 698
I saw a thread awhile back on this subject and the sound of the car I liked the most was a guy who put on tri-Y's and glass packs. It sounded great and I bet it wasn't very expensive. Do a search on tri-y's and you can probably find it. There was a sound clip from him in that thread. I may be able to find it if you can't.
---
1968 Coupe "Project Trans Am styled Restomod"
I'm also using the JBA mid length headers. I believe the part number is 1650SJS. They are very nice. I also had dronemasters and ditched them for Dynomax Ultraflo which is similar to Magnaflow, but sounds a bit more aggressive. My piping is 2.5, but 2.25 is plenty for stock or mild small blocks. I have an H pipe. It sounds nearly perfect.
---
1965 Mustang
302, T5, 9 Inch
Instagram @a65stang

Senior Member
Join Date: Jun 2013
Location: Ontario, Canada
Posts: 351
Thanks guys!

What do you think of this kit from CJPony? part #EXK2G

It's all 2-1/4 with Petronix Tri-y headers?

Like I said before, not looking for anything crazy, I'm just replacing the stock single system...
HI! for what it's worth I've been driving my 2bbl with single exhaust 289 '68 coupe for over 30 years and recently swapped to repro - HI-PO cast manifolds and 'stock' GT.350 dual system from CJ Pony Parts - The new system DEFINATELY improved the enjoyment of the car - performance, tune etc. Why cast manifolds? Simply because I'm not a fan of headers - for many reasons. Cast was good enough for K-Codes and GT 350's so I'm in good company. You did mention classy without overkill - Good Luck with your selection!
Senior Member
Join Date: Jul 2014
Location: Corpus Christi, Texas
Posts: 753
Hedman shorty's (for my power steering) with a x pipe connected to some walker super turbos 2.25 all the way out on my 68.
Posting Rules

You may post new threads

You may post replies

You may not post attachments

You may not edit your posts

---

HTML code is Off

---