Congratulations to fordguy
---
With fordguy's (John) recent success at the Final NPD Ford and Mustang Roundup at Silver Springs, FL, I felt it worthy to highlight his car for this months Ride. I met John at the show with several other members, and got the chance to peruse his car. Certainly a no frills kind of build (in-progress)...but man does it sound good. I believe John's car won awards to from different vendors at the show. I wouldn't be surprised if his car (of 850+) wasn't the only car to achieve this honor. Congratulations John. Anyway, below is John's story and pics of his car. Enjoy!
I bought my car in Oct 2010 off craigslist for $900 as a completely bare shell with a good title.it was only about 10 minutes from my house. Car was advertised as "rusty" and there were no pictures so I think that kept people from looking at the car. When I pulled up to my house with it on the dolly, my wife came out and asked me where the rest of the car was , then said " you paid $900 for that?!" Lol. Car had solid floors and cowl, has typical lower Ľ rust, and had a small rust hole under the batt tray. As you can see it was missing almost everything. i had the drivetrain that I was going to use in my 86 mustang coupe but everything else I had to buy. Being on a pretty tight budget I bought as many good used parts that I could, and sourced the rest from NPD and CJ's ( both excellent company's to deal with).so after working on it on and off for five years, I got the car officially on the road in 2015 and as of now I've only put 1000 miles on it. I've done everything on the car myself except for the rear gear setup, had a buddy help me with that as I had never done one. The engine is a late model 302 roller block with a set of '70 58cc 302 heads with 1.84 and 1.54 stainless valves and are home ported, lots of bowl work and exhaust port work, with just a cleanup on the intake ports. Has a TFS 1 cam, weiand stealth intake, holley 570 street avenger, and a factory forged bottom end. The ignition is a ford duraspark distributor with a small dia cap off an IH 354 and is fired by a MSD digital 6al box. I used a set of the cheap ebay stainless tri y's and got lucky as they fit my car prefect without and mods. The trans is a T5z with a king cobra clutch, a UPR blue thuder shifter with a hurst handle, and a daze cars hydraulic clutch setup. The 8" rear has a Yukon billet trac lok with 3.80's. the suspension is all new and has 1" lowering springs up front with a 1" dia sway bar, Arning drop, and a set of std eye 1" drop eaton leafs out back with a set of cal tracs. The wheels are 14x6 USA made AR torque thrust d's with 235-60-14 cooper cobras on all four corners. Has stock rebuilt drums out back and a set of maverick discs up front. Has all new brake and fuel lines, fuel tank/ sender/ filler tube, etc. the interior has custom ripped up seats 😊 , a factory "woodgrain" wheel , a fox leather shift boot with a mr gasket trim ring. Even with the way the car looks I get tons of complements on it ( and that's a good feeling), with a lot of people telling me not to paint it 'cause it looks cool like it is lol. If it ever gets painted it will be the factory antique bronze because it's an awesome color. My car was in the march 2014 issue of modified mustangs and fords magazine as a tech feature, that's where the bracing in the engine bay came from. The car runs great and cruises 2000 rpm at 60. At this point I'm happy with it and just enjoy driving it, and that's all that counts to me. If it never gets painted I'm alright with it.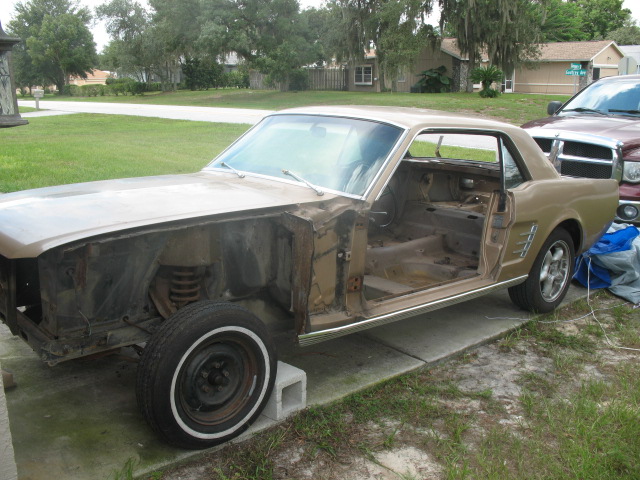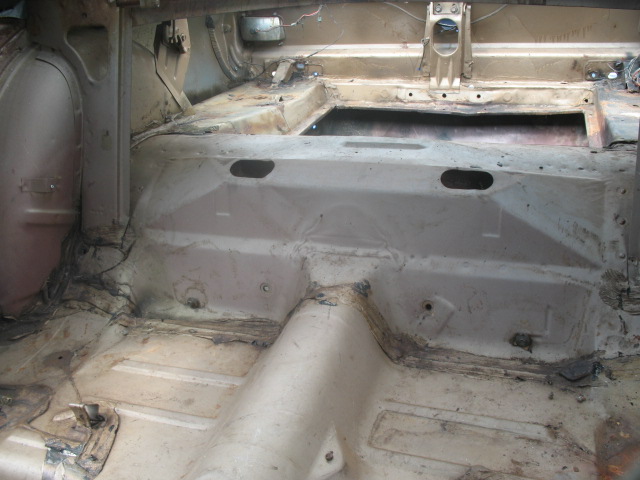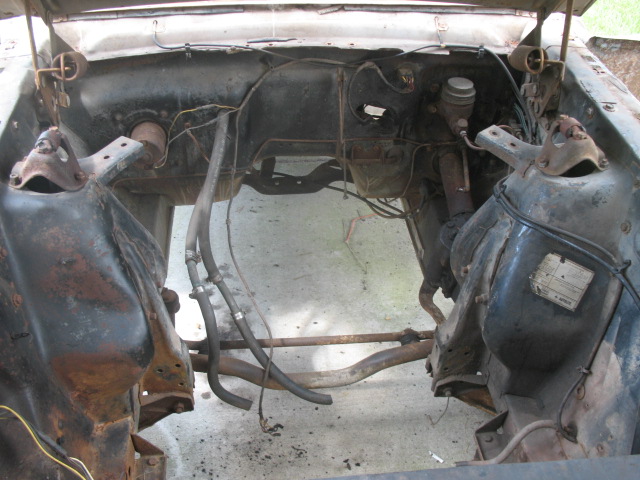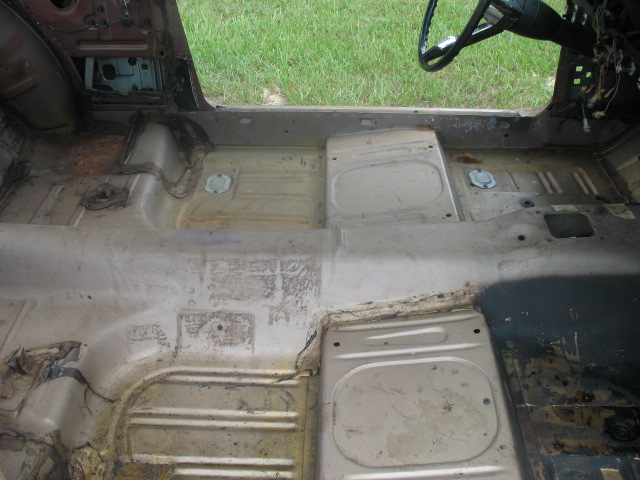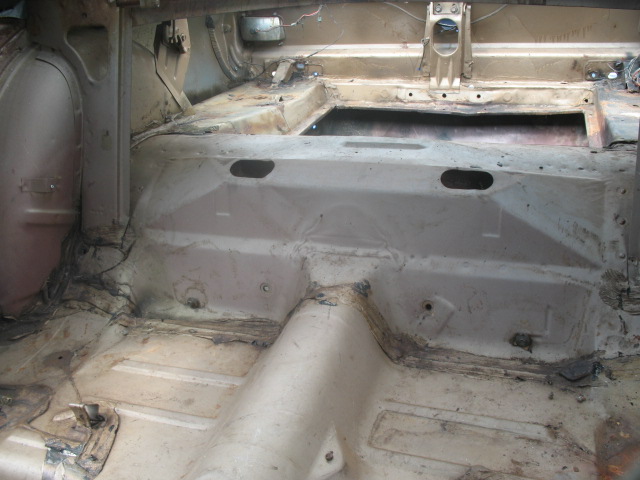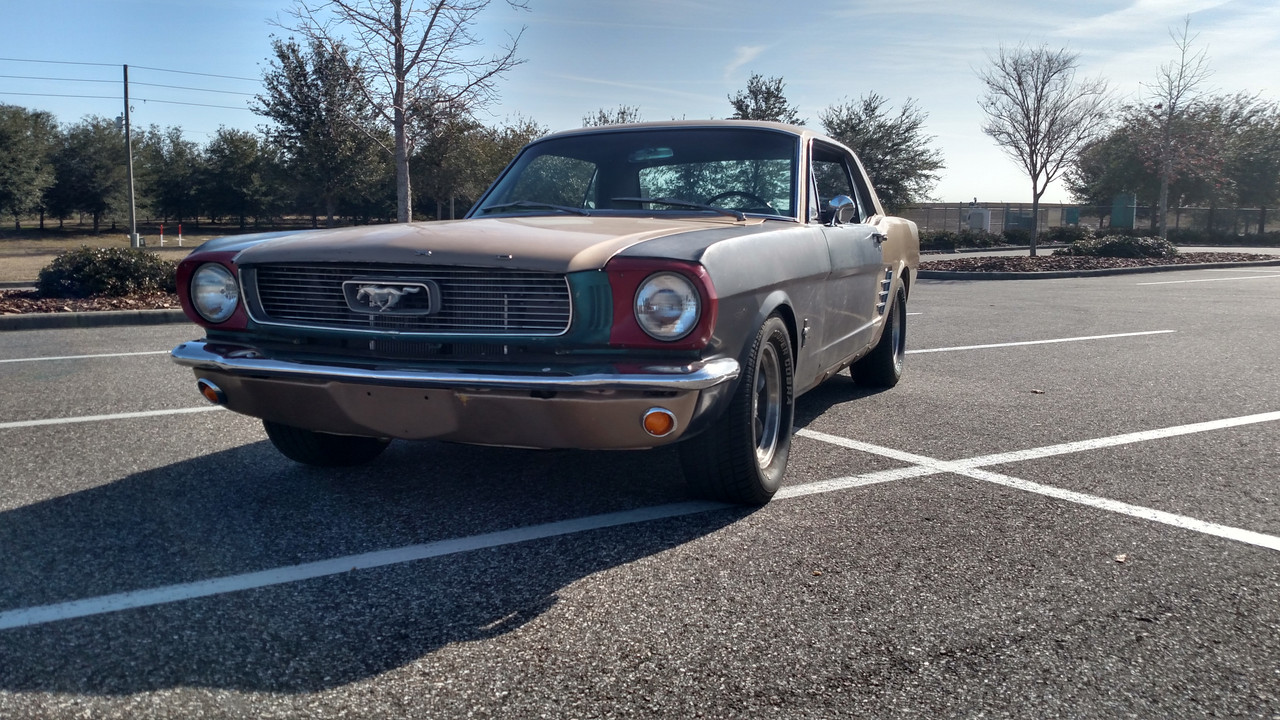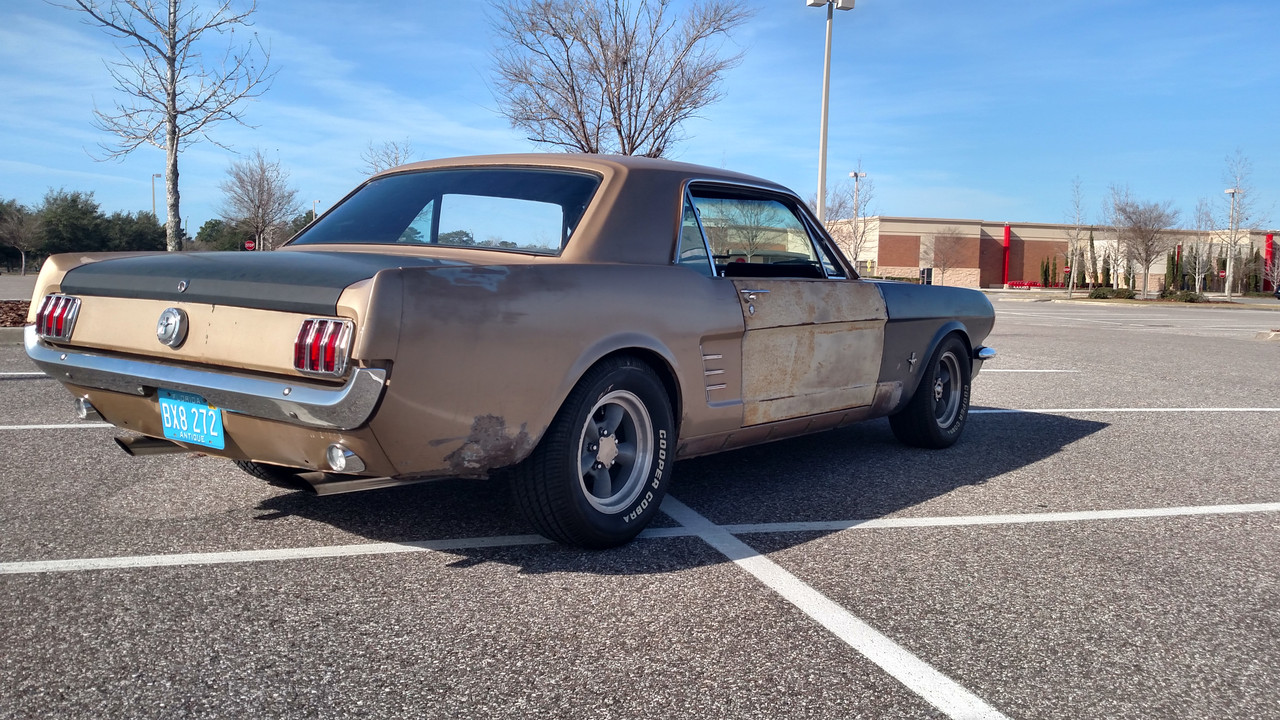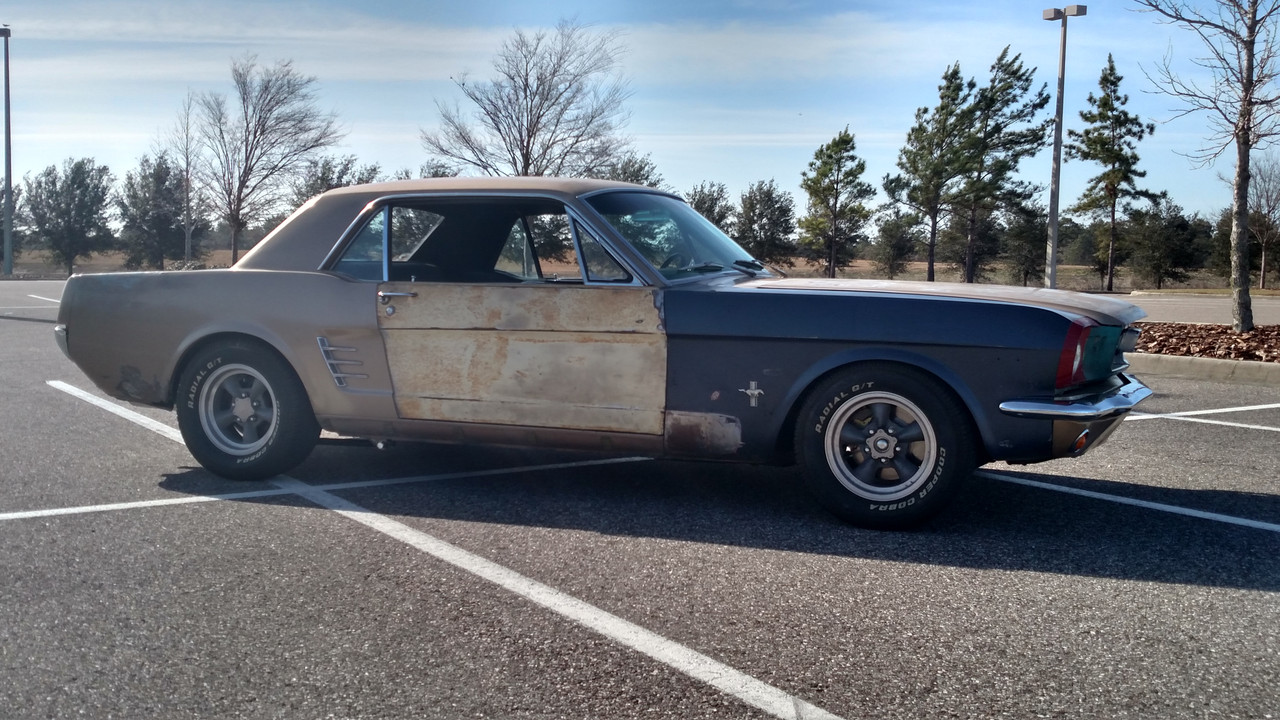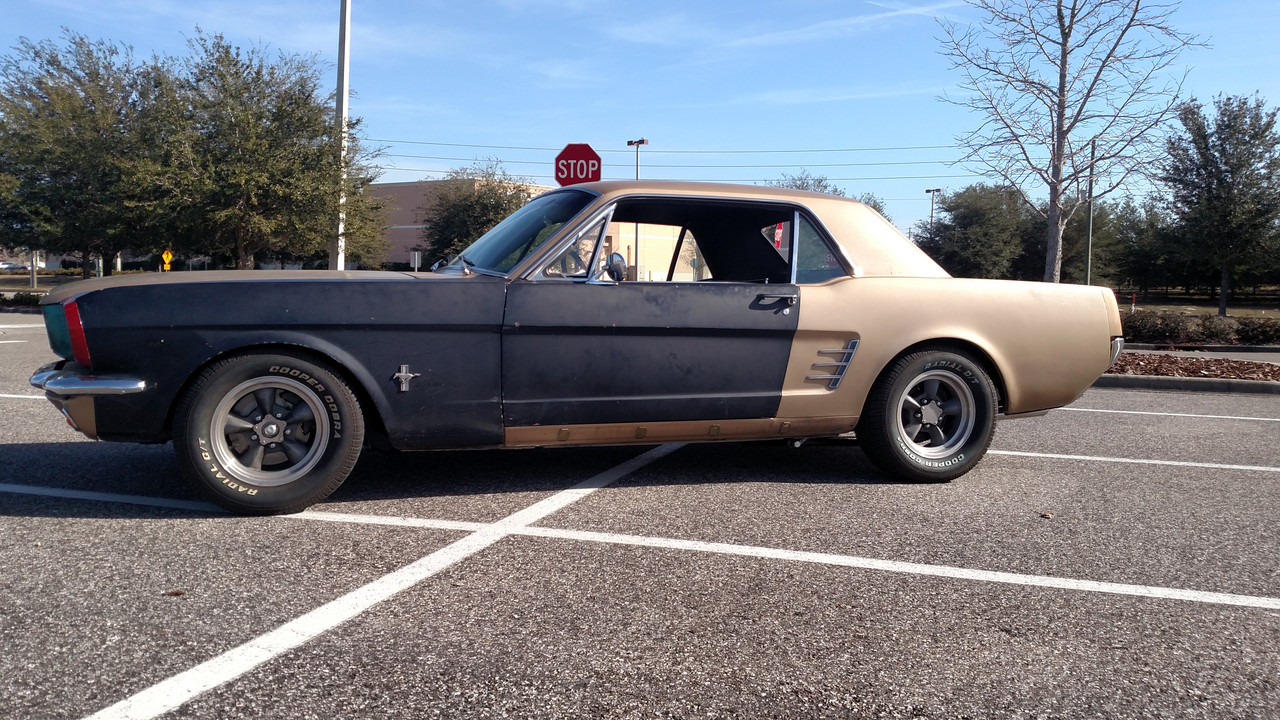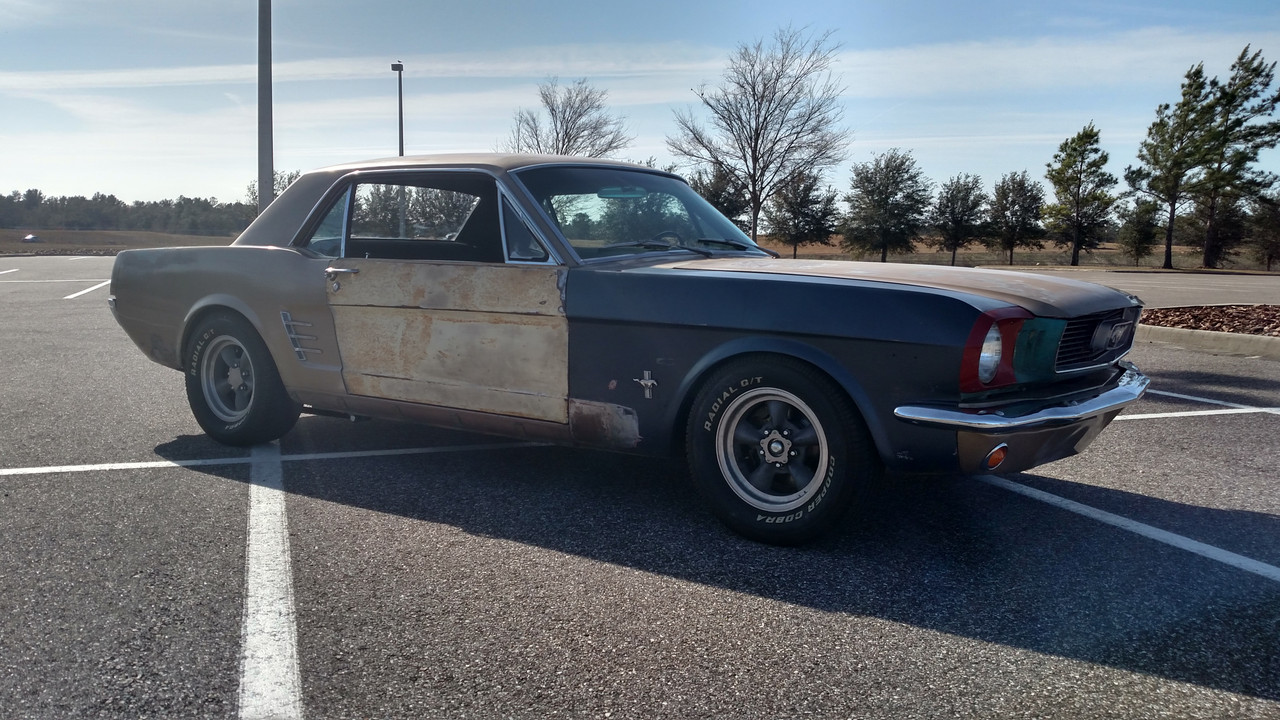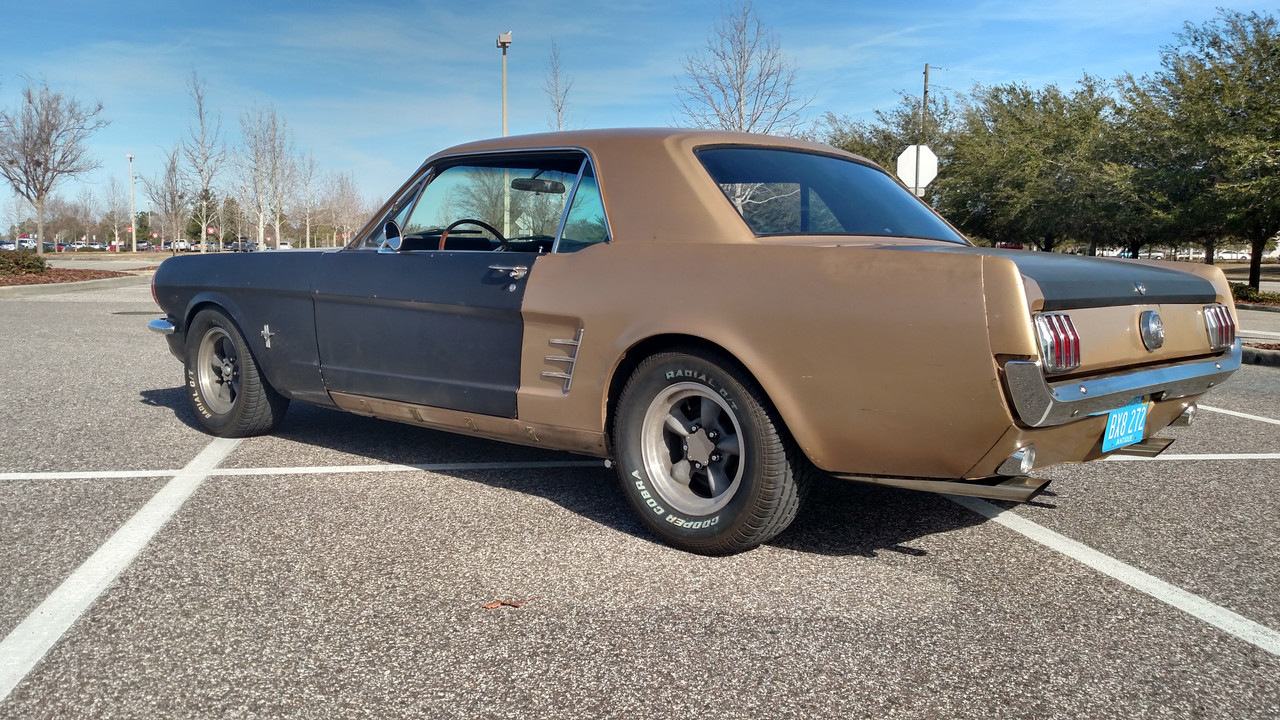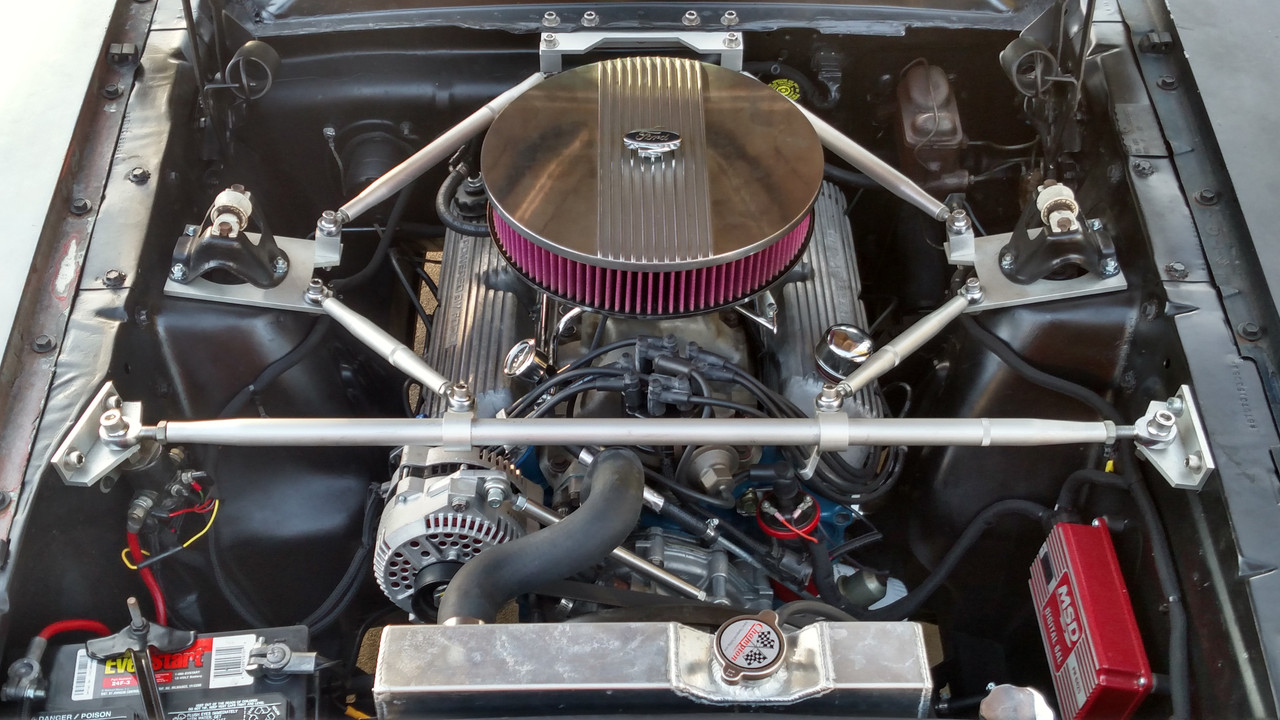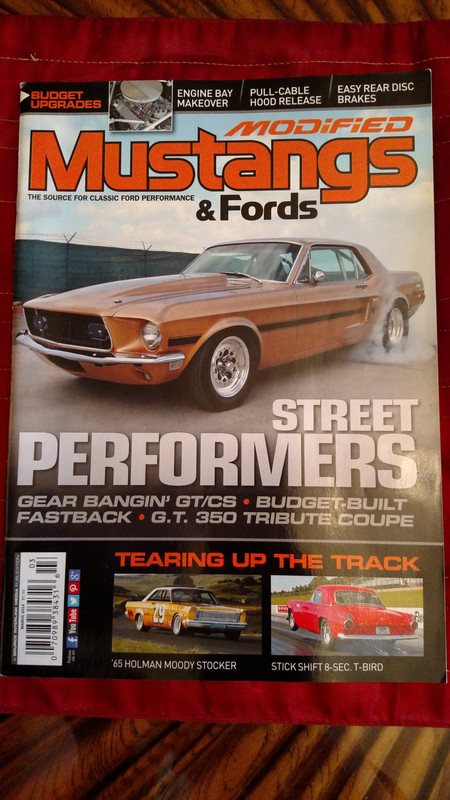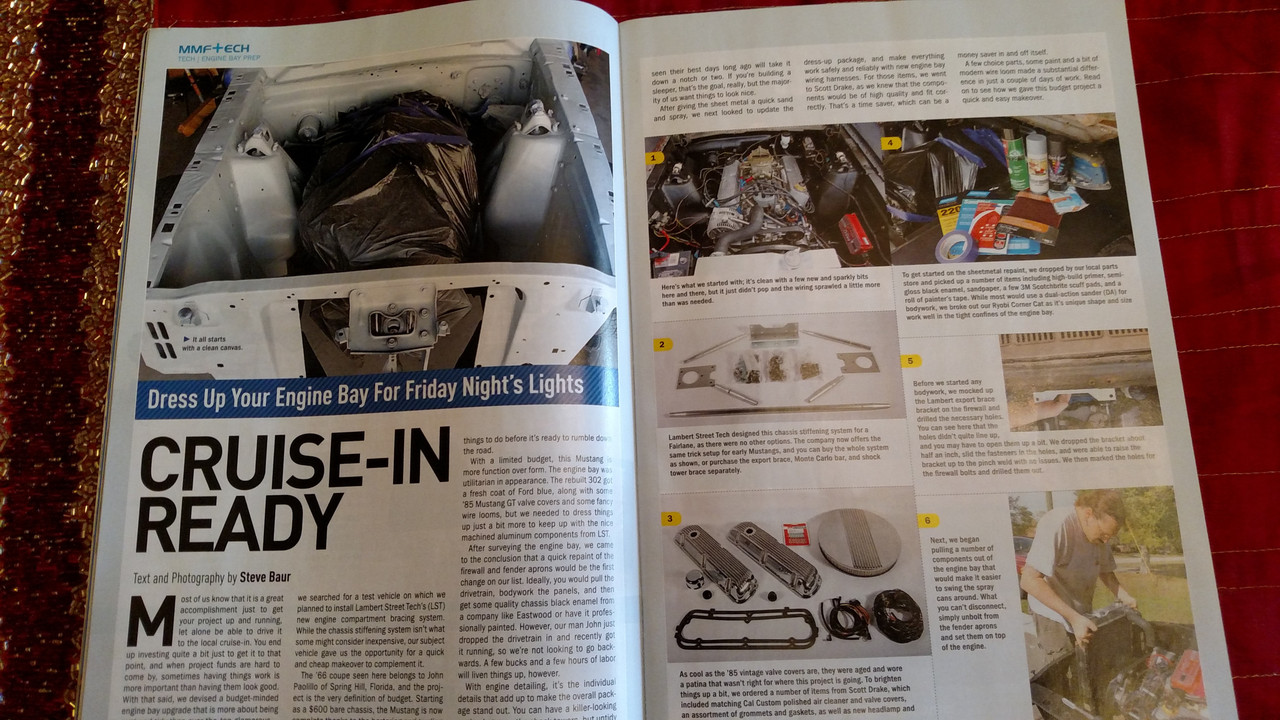 ---
Regards,
Patrick
Congratulations John!
---
Ex-wife,....."You drove how far for that thing?"
Daughter,..."Theres no inside and it stinks."
Friend,......."Dude, that's a rusted pile."
Son,.........."This old car is cool."
USMC Security Forces, Kamiseya Japan, 0311
Build Thread:
http://forums.vintage-mustang.com/vi...sted-pile.html
Congratulations John, your car looks bad to the bone!
Senior Member
Join Date: Mar 2012
Location: Eastern Iowa
Posts: 5,493
Nice job buddy!.... Now hurry up and get it done so you can get your truck in the next issue!
---
Working on old cars teaches us patience... and every curse word imaginable!
Senior Member
Join Date: Oct 2013
Location: Central Florida
Posts: 570
Congrats John! It was great meeting you at the NPD show.
---
Wayne

1967 C code convertible

When I die, I hope she doesn't sell everything for what I told her I paid for it!
Senior Member
Join Date: Jul 2012
Location: Formerly Sioux Falls, South Dakota - Now Silverhill, Alabama USA
Posts: 1,657
Congratulations John !
---
John Goettsch
My First Mustang
Transformed 2017: (Thanks 22GT)
66 FB C Code Upgraded to HiPo+
Autolite 4100 1.12 - 4-Speed Toploader
3.55 True-Trac - Koni Adjustables
Z-Member - Arvinode Exhaust
66 FB C Code C4
Code U Tahoe Turquoise Metallic
White/Aqua Pony Interior
thanks guys, I appreciate it. with all the cool cars on VMF I'm honored to have been chosen.
---
66 mustang coupe, 302 / T5-Z / 3.80 trac-lok
Senior Member
Join Date: Aug 2013
Location: New York
Posts: 9,288
Congrats fordguy and thanks to Patrick for picking one of my favorite cars on the VMF. It's kinda like the Harliquin VW's only way cooler. Of course I'm a sucker for a well patinated 65/66 with just the right amount of shiny bits
---
Brad
I like it. Nicely done John. Dave R.
Quote:
Originally Posted by
patrickstapler
View Post
If it never gets painted I'm alright with it.
I thought that was the intended paint scheme... Congratulations!
---
67 Shelby Clone
410 stroker, RHS heads, FPA headers, Lentech full manual AOD
Global West upper / lower control arms, rear leafs and del-a-lum bushings
Street or Track strut rods, Viking coilovers
Wilwood front disc brakes
-----------------------------------------------------
2008 Shelby Convertible 625 HP
VMP SC 2.5 pulley and tune. Steeda cold air intake
True Forged Sleeper 20x11 and 20x10 wheels
MGW shifter, Tokico D spec shocks and struts
MTF 1 piece headliner, 2008 Shelby seats
Somehow missed this. Congrats John!! Enjoyed meeting you at the show also.

I found this because I am looking for wheels for a build I'm doing and remembered your car. Loved the way it looked so I looked up you name and here we are...

Deserving.

Allen
Well Done.
That's exactly what this hobby is all about.
Kudos!
It looks like you had a nice solid starting point too. I bet that car was a nice original before the previous owner parted it out...
Great Rescue and putting her back on the road again!!
Congrats
)
Tony K.
---
Tony Kovar
Melbourne, FL (Formerly from Long Island, NY!)
1965 Mustang Convertible 200cid I6, 3spd Manual (Soon to be swapped for a '65 Date Coded C4!)
1966 Mustang Sprint 200 Registry Owner/Moderator
1966 Mustang Sprint 200 Convertible 200cid I6, C4 Auto
2007 Mustang V6 Convertible w/ Pony Package
MCA#70001
Getting Ready for the 2020 Melbourne, FL MCA Nationals!
thanks guys, I appreciate all the positive comments.
---
66 mustang coupe, 302 / T5-Z / 3.80 trac-lok
Posting Rules

You may post new threads

You may post replies

You may not post attachments

You may not edit your posts

---

HTML code is Off

---