Congratulations to 65 Pony
---
This is a long one folks...but a good one. Enjoy!
My wife and I purchased our first Ford Thanksgiving weekend in 2010, a brand new 2011 Mustang with the impressive 3.7L V6 loaded with the pony package in Kona Blue. It was my wife's car but I had a lot of fun driving it. It gave me the itch for a vintage Pony car.
I grew up around first gen firebirds. My dad had a ton of them in various states of disrepair. He sold the nicest one he ever had when I was around 5. One of my earliest memories was helping him rebuild a 67 he bought to replace the really nice one he sold. I handed him tools and he showed me how stuff on the car worked. I was hooked, but I never really got into them because by the time I was old enough to own one, a decent car was way out of my price range, which is why I got into the early C10's.
Back to 2011 and being jealous of my wife's car, I was finally at a point in my life where I could maybe afford a muscle car… so I started looking and quickly realized nope… I could not, at least not the cars I wanted. First gen Camaro/Firebird? Nope, 25-30K. I loved mustang fastbacks but they're just as bad as Camaro's. Mopar is apparently "no car" for me because they were all nuts too… but then I noticed some really nice Mustang coupes for sale in the 8-10K range… they looked kinda cool… and I could put that kind of money together. Better than nothing, right?
I learned from my last C10 restore, I wanted nothing to do with paint and body this time. Once I settled on a 65-68 coupe, (with 65/66 preferred) I searched FOR A YEAR for a car that wasn't a bondoed up beauty, which proved incredibly difficult. I looked at almost 30 cars in that time, with at least 5 or 6 being 3-5 hour round trips from home, but kept coming home empty handed. Rusted floor boards, wavy bodies, bondo rust bubbles, rusty rust bubbles… etc. Then finally, through a google search I found a 65 listed an hour away at a Toyota dealership in Asheville, NC for 15K. I went to look at it and it was everything I wanted. The motor/trans looked like they needed work, the suspension was wore out but driveable, and the interior could use a refresh, all stuff I wanted to do… and the best part was it was painted around 2006 and had zero signs of rust bubbles, the body was straight, ALL OEM panels, no patches on the body, with only a +/-12"x12" patch on the passenger side floor where the A/C had leaked. After a test drive I could only get them down to 13.5K, which I know was too much for a coupe in 2012, but at that point I had seen so many garbage cars I had to have this one.
Happy with the paint/body, my goal was to make the car mine. The interior was the first thing I went after. The seats and carpet were pulled out and I stripped the dash for a repaint (it appeared the entire interior was repainted except the dash and it looked a little rough). I used Dynamat to cover the pristine factory floor and reupholstered the seats with TMI's sport seat foams with a custom dark blue/white pony interior. I did a face plant into a dash in my youth riding around in dad's old Jeep 4 wheeling with lap belts… so everything I drive gets converted to 3 points now. This car was no different. While doing all of the work to the car, I tried to keep it driveable and one day while driving the engine started knocking loudly. Crap, right? I'd only had it a few months. Parked it for the day and feeling defeated I would see what was wrong tomorrow. Tomorrow came and no knock? What! Awesome right? Go for a cruise, turn on the A/C and there was the knock again… it was the factory A/C compressor. I looked into restoring the system completely, and I'm not one for originality, so I went with a vintage air kit. It blows some seriously cold air!
About that time I wanted to do a bucket list item and run a Hot Rod Power Tour. In June 2014 I did a 3 day from NC to TN. The last day before I was supposed to go home the C4 started slipping. Not cool. It would only slip when cold, so I decided to roll the dice and drive it 4 hours home through the TN/NC mountains. The car made it home, but the next day had NO gears. NONE. Fluid level was full and smelled horribly of burn clutch material. Great! Time for that T5 Swap I've wanted to do. I searched our pick n pulls for weeks before I finally got to a car that wasn't stripped of it's T5 yet, a 1997 V6. I pulled the trans apart when I got home and realized it needed a full rebuild and a couple of gears. I bought the Hanlon video and rebuilt my first transmission. It was a lot of work to do the swap from a C4, but it was well worth it. I also added a Mustang Steve cable clutch kit and did the roller conversion to the pedals while they were out. The hurst shift handle is topped with an 80's S-10 shift knob with the 5 speed pattern.
About the same time, I wanted to upgrade the factory disc brakes from a single bowl to a dual bowl with power, rebuild the front suspension, and put 17's on the car. I had a goal of having it all done for a redemption Hot Rod Power Tour in 2015 where I wanted to run the whole tour. It was a lot of work but the T5 swap was completed, the brake conversion was completed, the front suspension was fully rebuilt with stock and Street or Track parts like roller perches and solid adjustable strut rods. The rebuild also included GT springs and the Shelby Drop. The 17's were a bit tricky. The first set of tires I put on were a bit too big and scrubbed front and rear. I rolled the front and rear and still had issues with big bumps. I went with a slightly smaller tire front and rear and I haven't heard the car scrub a tire in the past 3 years. With all that work completed days before the Power Tour, my wife and I left for the long drive from SC to WI. The car ran the entire tour with the distributor crapping out about half way through. A new one somewhere in Alabama and we were back on the road. In 2015 the tour wound from WI heading southeast down to Gulfport, MS, then west to end just north of New Orleans. We had a great time and the total mileage for the trip was +/-3,300!
I got the power tour bug and wanted to go again in 2016, but the car was a little lethargic with the T5 and the stock 2.80 rear, so I ordered a 3.25 trac loc. The entire rear was stripped down, the axles got new bearings and seals, new paint, and the new gears. I had to replace the sagging rear springs with nothing but the best, Eaton GT rear springs were installed with new shackles and bushings. I finished the project days before the tour as well, and ran the car from SC to LA to start the tour, west through TX, and north through OK and KS, then back home to SC. Another great trip, but the 105-110* days took a toll on my car. It was so hot I couldn't run my A/C… ever. It would get up to 230 and keep climbing, traffic, interstate, didn't matter.
The next round of upgrades was cutting the core support and turning the batter for a 1969 24" wide radiator with Ford contour fans. The fans fit the factory style brass 4 row like they were made for it. An AutoCoolGuy controller tells the fans what to do and when to do it. I've had no problems with running hot since.
The last, and most recent upgrade was removing the anemic 2 barrel carb and intake for an edelbrock performer with a "summit" 4V carb. As part of the upgrades, I also pulled the timing cover and oil pain to install a new timing set, reseal the motor, and put a new balancer and W/P on the car. She has a tiny leak here and there, but nothing like it previously did. The intake and 4V REALLY woke the car up. For the first time in 5+ years of owning the car, it finally feels like a pony car. My last upgrade was to have the exhaust redone with a set of magnaflow knock offs and does she ever sound good.
Some other "upgrades" to note are a much better stereo system somewhat hidden to keep a stock appearance, GT grille/fog lights, not because I'm trying to fool anyone, but because I absolutely love that look, GTO Navy's KILLER, and I mean KILLER sequential LED taillights AND his just as cool driving light/turn signal kit, and a cool year of manufacture plate I found for the car. Nothing I changed, but a cool feature of the car is that because it was a factory A/C car it still has all of its factory green tinted glass.
Thanks for reading my ramblings. I'm sure I've missed stuff, but it's been a fun ride. Most recently we did the 2018 power tour long haul, although because the start and finish were so close to home, it was only +/,2,300 miles this time!
Ta Ta!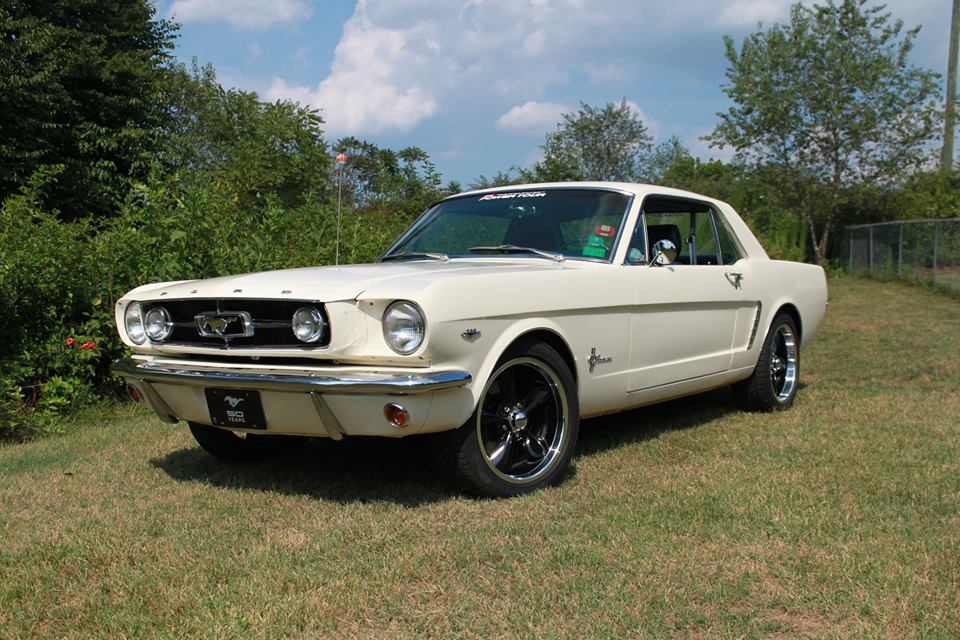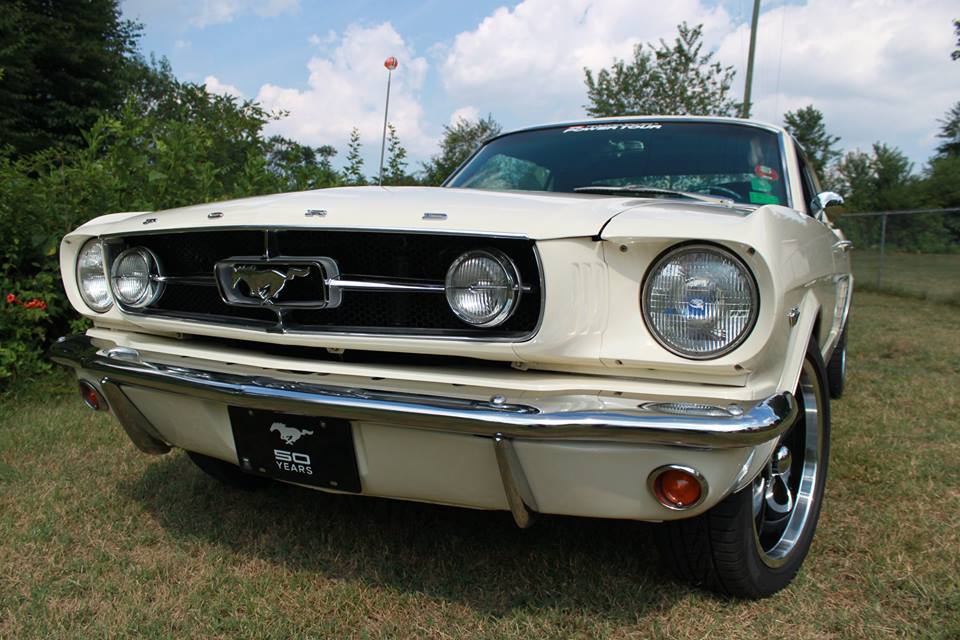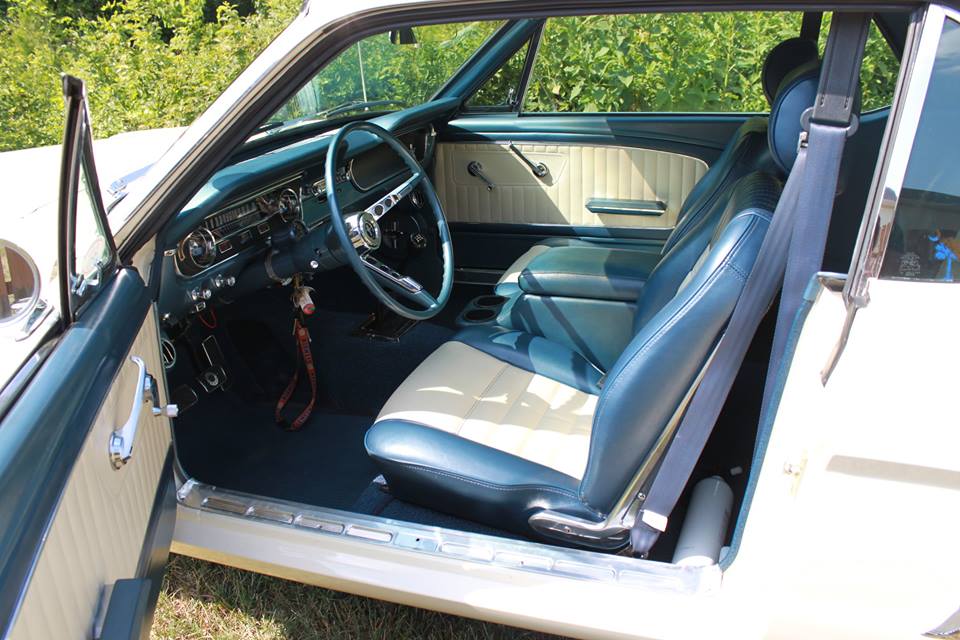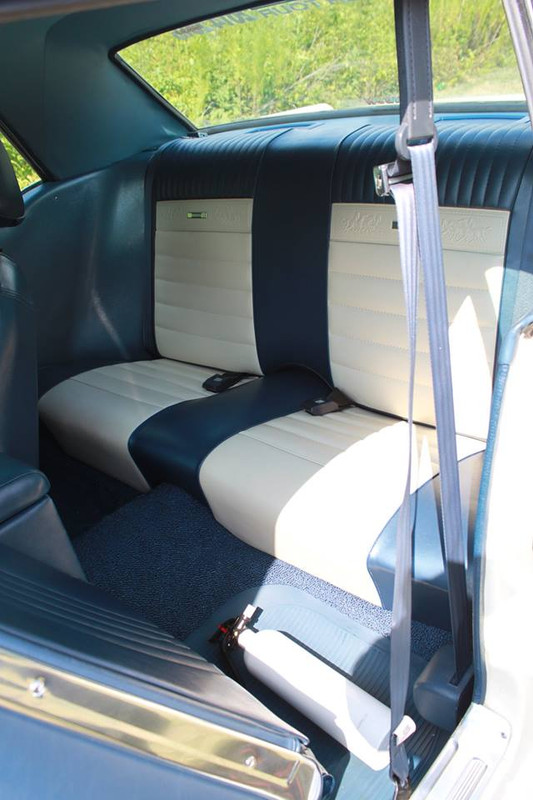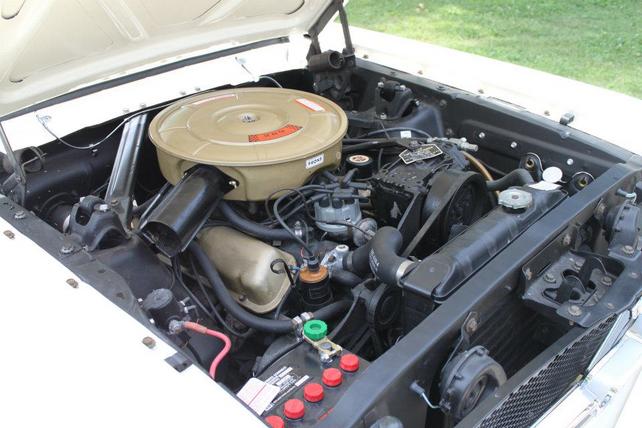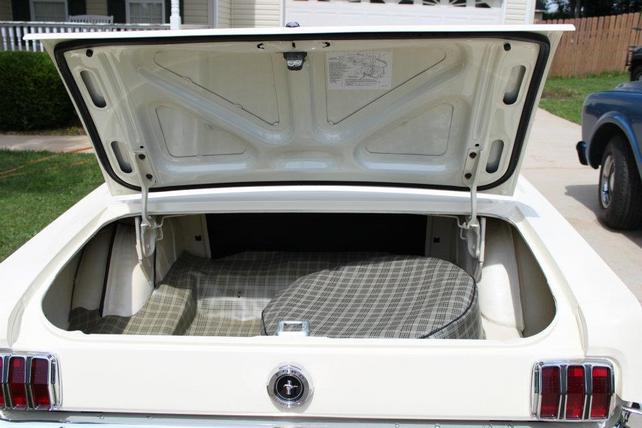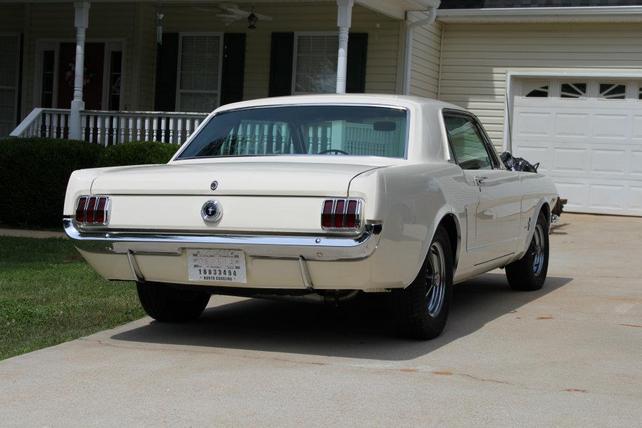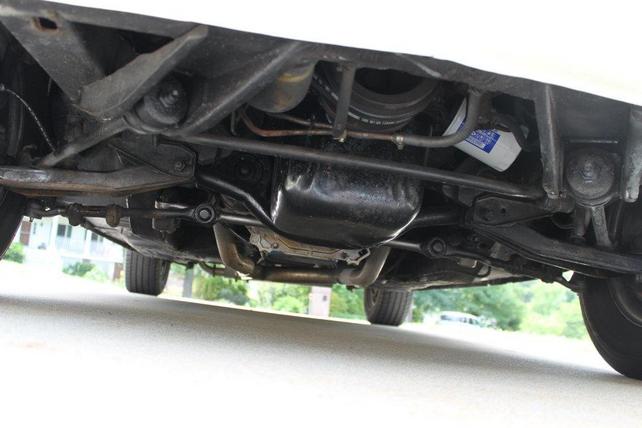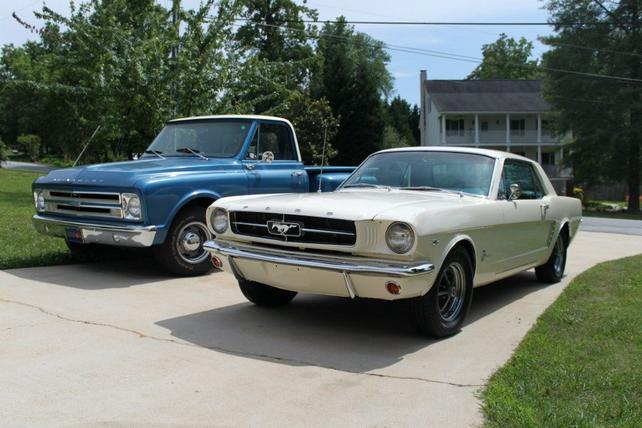 My favorite...awesome pic.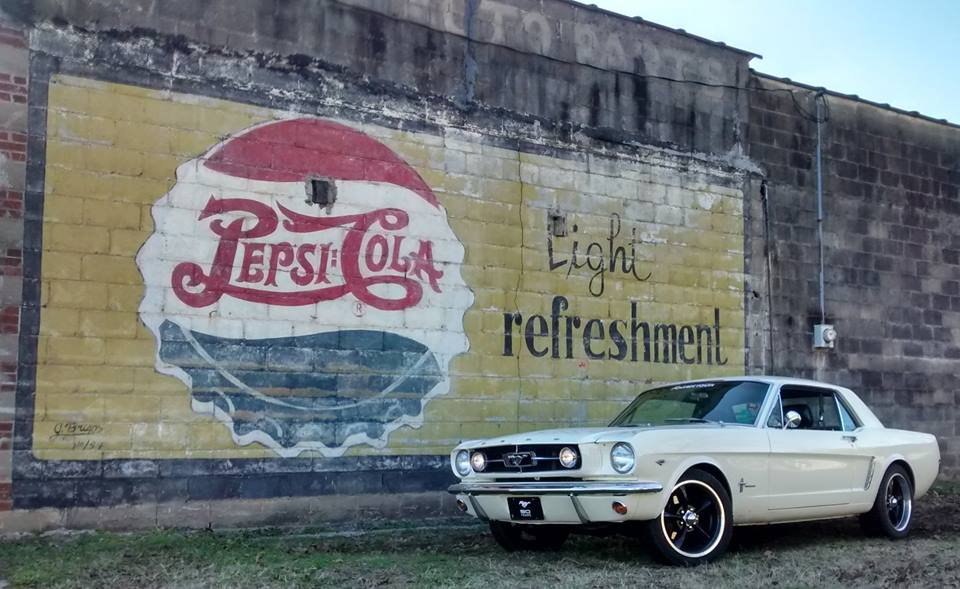 ---
Regards,
Patrick
Senior Member
Join Date: Jul 2012
Location: Formerly Sioux Falls, South Dakota - Now Silverhill, Alabama USA
Posts: 1,658
Congratulations 65!! Welcome to the club!!

Nice story and very good looking ride!

John
---
John Goettsch
My First Mustang
Transformed 2017: (Thanks 22GT)
66 FB C Code Upgraded to HiPo+
Autolite 4100 1.12 - 4-Speed Toploader
3.55 True-Trac - Koni Adjustables
Z-Member - Arvinode Exhaust
66 FB C Code C4
Code U Tahoe Turquoise Metallic
White/Aqua Pony Interior
Nice work,.....Congratulations!
---
Ex-wife,....."You drove how far for that thing?"
Daughter,..."Theres no inside and it stinks."
Friend,......."Dude, that's a rusted pile."
Son,.........."This old car is cool."
USMC Security Forces, Kamiseya Japan, 0311
Build Thread:
http://forums.vintage-mustang.com/vi...sted-pile.html
Senior Member
Join Date: Aug 2013
Location: New York
Posts: 9,321
Just because it's a great pic and I have a soft spot for a white 65/66 coupe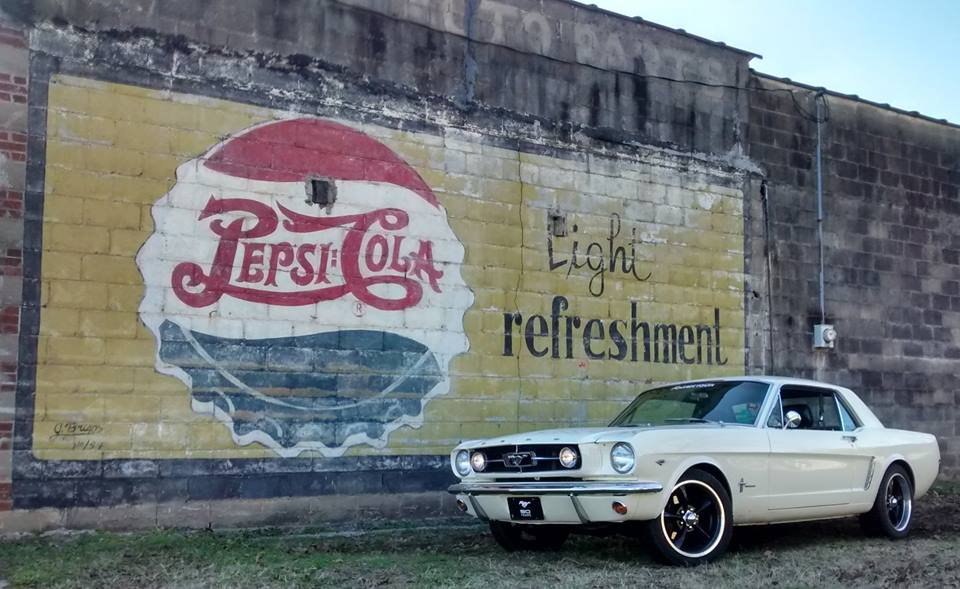 ---
Brad
Love the Pepsi pic, and welcome to the ROTM club!
---
I've started a blog about my car and adventures:
http://65mustangfun.blogspot.com/
1965 Fastback, 289, Toploader 4 Speed, owned by me since June 1980. Originally a C-code with a C-4. 5R09C16****
Enjoyed the read, beautiful looking car. Congrats.
nice car and great write up, congrats!
---
66 mustang coupe, 302 / T5-Z / 3.80 trac-lok
Senior Member
Join Date: Jan 2014
Location: South Jersey
Posts: 934
Nice car! Glad you hung in there during the setbacks. I know that sinking feeling.
Beautiful car, super clean look.
---
Coyote build in 65 GT Fastback in body work
https://forums.vintage-mustang.com/b...e-powered.html
and on Facebook @65gtmustang
F150 SCREW Ecoboost as my daily
66 Emberglow Coupe first car,71 Torino GT, 82 Fastback slooooow 6 banger, 71 Boss 351, 85 GT all long gone
Dimples
Join Date: Sep 2016
Location: Fort Worth, TX
Posts: 3,223
Nice car and greate write up. Sounds like you're living the dream, sir.
---
The anvil of reality.
Thanks everyone. It's been a ride! I have a ton more "artistic-y" pics I might post up later.



I actually enjoyed doing the write-up. I had forgotten a lot of things I had actually done to the car. The only thing(s) on that entire list I didn't do was charge the A/C system and I bought an "assembled" 3.25 center section.


Shelby has become part of the family.
---
2011 Mustang 3.7L Premium Pony Package
2015 Silverado 5.3L 2LT DC Z71
1965 Mustang C Code Coupe 289/T5/3.25
1967 Chevrolet C10 350/700R/3.73
1967 Firebird 400
---
Last edited by 65 Pony; 09-06-2018 at

11:44 AM

.
Congrats 65 pony, great looking car and back story to share with us about it.

_____________________________
Never argue with a Moron. They'll just drag you down to their level and beat you with experience.

If the women don't find you handsome, they should at least find you handy.
Posting Rules

You may post new threads

You may post replies

You may not post attachments

You may not edit your posts

---

HTML code is Off

---