I am offering a complete distributor service for Ford engines '60-'74 only at this time. 40 years as Ford dealer tech and Ford racing/restoring, hobbiest. I have two Rotunda distributor machines that are fully functional and many years of experience rebuilding and testing them. Basic service is a total disassembly and thorough cleaning of every piece.Housing is bead blasted (unless instructed otherwise) and a light coat of a re-builders coating (again,unless instructed otherwise) Check for excessive wear at all areas.Polish cam,properly lubricate advance mechanism,set dwell,check primary/point resistance ( VERY important! ) and advance curve. Point tension/alignment is checked and corrected,if required. ( yes,even new parts can be out of spec)New distributor O-ring supplied. I am not a full time distributor service,just another Ford restorer that has many years of practical experience and Ford shop equipment to offer as a part-time business.Limited to 3-4 units per week as I still work full time as Ford dealer tech. Basic cleaning/disassembly/inspection and curve check w/new points/condenser is $100.00.(Single point)Dual point,slightly more. Additional parts/labor are only provided with your approval and an exact price before work is performed. No surprises. If you want New Old Stock AUTOLITE or Motorcraft parts for that special car,I have some available at slightly higher cost due to rarity. It is amazing how many cars have a poorly,or non-functioning mechanical and/or vacuum advance mechanism! 99% require re-calibration,which is included in my basic service.I can duplicate most any performance curve needed.If you want a 428 CJ curve in your 390....no problem.Boss 302 curve in your 351? no problem. Need a special limit on mechanical advance? 10,13,15,18 distributor degrees? It can be done and all specs are provided on a graph for future reference.When returned to you,after completion,it is a drop-in installation. Only initial timing needs to be set! For more info or requests please e-mail me.
[email protected]
Thanks! All money earned goes towards Mustang restoration
mine!
---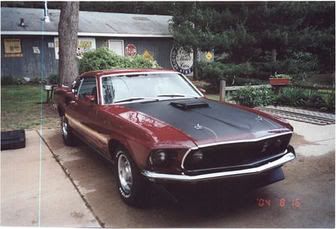 Check out my distributor restoration site!
http://428cobrajetcars.com
[color:red][/color] Ask about forum member discount!
Posting Rules

You may post new threads

You may post replies

You may not post attachments

You may not edit your posts

---

HTML code is Off

---