Quote:

I would see zero incentive to put a black/yellow plate on a newer car. But maybe that's just me...
I don't get it either...that being said, I saw my first "new" black plate this weekend. It was on a white Mini Cooper. Bizarro.
---
1966 A-code coupe...work in progress
Senior Member
Join Date: Jul 2000
Location: SF Bay Area
Posts: 8,431
As a point of clarification for the YOM program in California, one needs to understand that here in the Golden State the last time all vehicles received a new set of plates at the time of registration renewal was in 1963. Thus original 6 character 1963 series plates (the Black and Yellow ones) are still considered valid and current on any car that has had them since 1969 or earlier when DMV ran out of the black and yellow plates. The blue and yellow 6 and 7 character plates that started being issued in late 1969 are also still considered valid even though DMV stopped issuing them near the end of 1986. Consider that DMV has been issuing the 7 character white and blue plates for more than 30 years. The key point being is that no standard plate issued since 1963 has been superseded by the next configuration.

This is contrasted to many other states were new plates are issued more frequently, superseding the prior series of plates. Lastly, with few exceptions (like personalized plates) plates are issued to the car and not the person so they follow the car for as long as they exist and the car remains registered. Thus the requirement of being "clear" in the system requires that a particular plate is not still shown as being assigned to a particular car currently.

The YOM program here was intended to allow hobbyists willing to jump through hoops and pay additional fees to do an end run around the standard plate assignment process and enjoy the appearance, if not the illusion, of California provenance implied by having an "original" plate on their vintage car.

I have seen a few of the new black plates and they have all been on non-vintage cars, the first one being a brand new black VW Jetta.
---
*Principal wrench on this 69 Mach I*
Senior Member
Join Date: Jul 2014
Location: California
Posts: 1,668
There are definitely some cars from the '70s and early 90s that would look great with black plates, but not many new ones. I suppose a 2015 black Challenger or Mustang could pull it off but they do look very out of place.
---
1967 Mustang w/ 302 4bbl -
Build Thread
1967 Galaxie Wagon w/ 289 2bbl
1972 Honda CL350 - Parked since 1978 in a barn.
1976 Triumph Bonneville
Currently an Automotive Restoration Student at McPherson College.
I still have not received my plates. Ugh...
I received a letter several months ago saying they would be available in 6-8 weeks, but than have not heard anything since. Should I just go to the DMV and inquire? I dread having to wait in line only to hear that the plates were there, then returned because I didn't pick them up, even though I never received notice of their arrival. More ugh...
My buddy just put black plates on his late 80's Porsche. Not sure how I feel about that...
---
Over 100,000 miles spiritedly driven since 2006!
Formula for a daily driver street fighter in Los Angeles:
'67 Fastback + Built 351W + T5 + 3.55:1 + LTs + 2.5" + 40s + TT2 17"
+ Arning drop + CSRP + R&P + Bilsteins + SFCs + under riders + 22 Gal.
+ 3pts + 2nd Skin + MTF grille/lights + LEDs + BlueTooth + SiriusXM
MTF Grille/Light Kit Install w/ Pics... & Engine Bay Pics...
As featured in Hot Rod Magazine tech article, May 2014
Yes Sir, I love Racedeck floring. Stuff is amazing!
---
Steve E.
1965 Wimbledon White Vert.
T5, FiTech EFI, Borgeson Power Steering ,Ididit tilt, Street or track 4 wheel disc, coil overs, 3 link rear, 3G alternator, Custom sound system
Quote:
Agreed!
Man, I miss my ol' garage...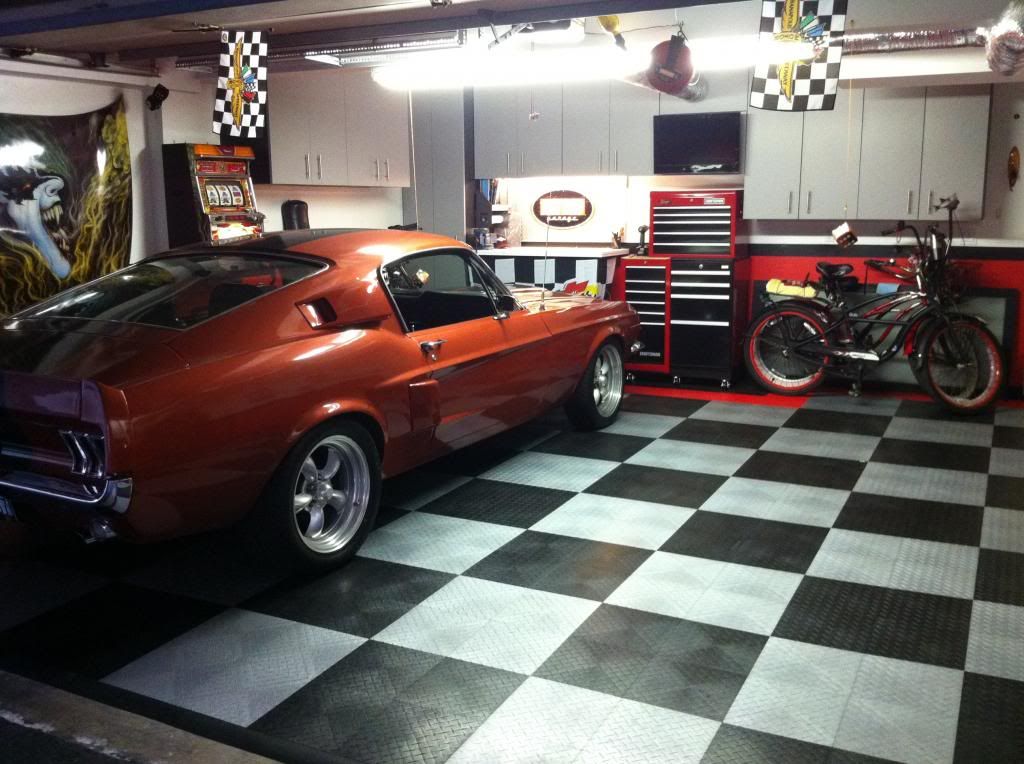 I am pretty sure your garage floor was the inspiration for my garage floor as i saw it some time ago and copied it but with my own color and flair. Love their designer as it really makes the job easy to plan and install.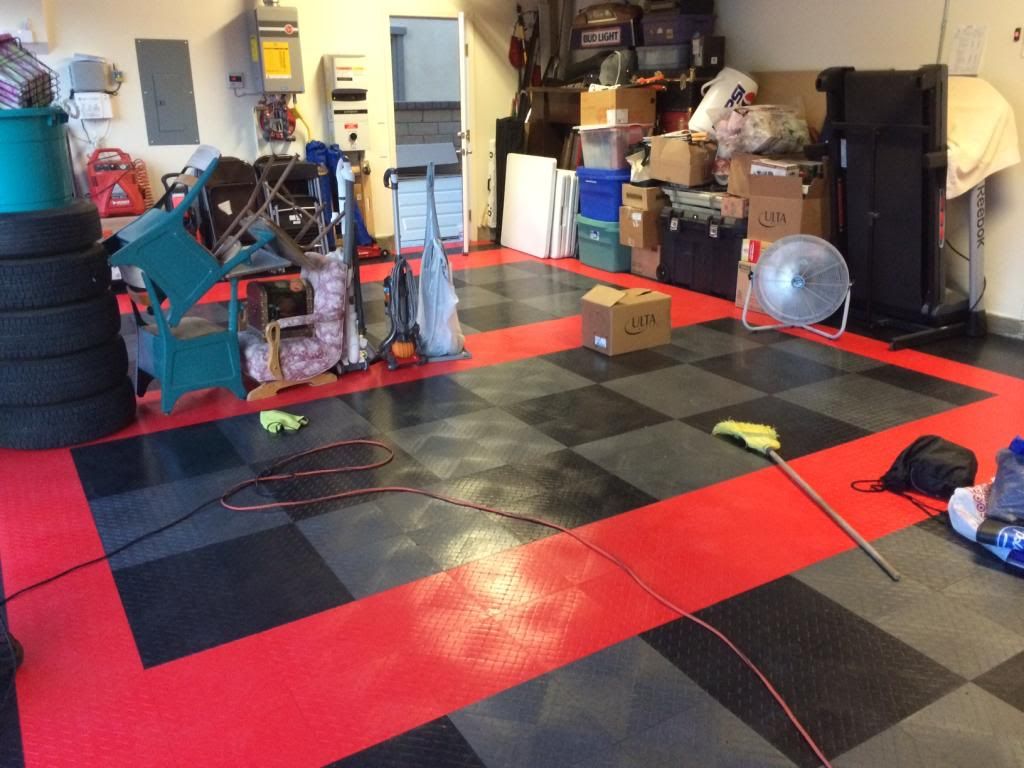 ---
Steve E.
1965 Wimbledon White Vert.
T5, FiTech EFI, Borgeson Power Steering ,Ididit tilt, Street or track 4 wheel disc, coil overs, 3 link rear, 3G alternator, Custom sound system
Posting Rules

You may post new threads

You may post replies

You may not post attachments

You may not edit your posts

---

HTML code is Off

---