Junkyard 428 Cobra Jet?
---
So my buddy called me and asked if I wanted an engine he pulled out of a 67 Fairlane 500.
Is this a 428 CJ?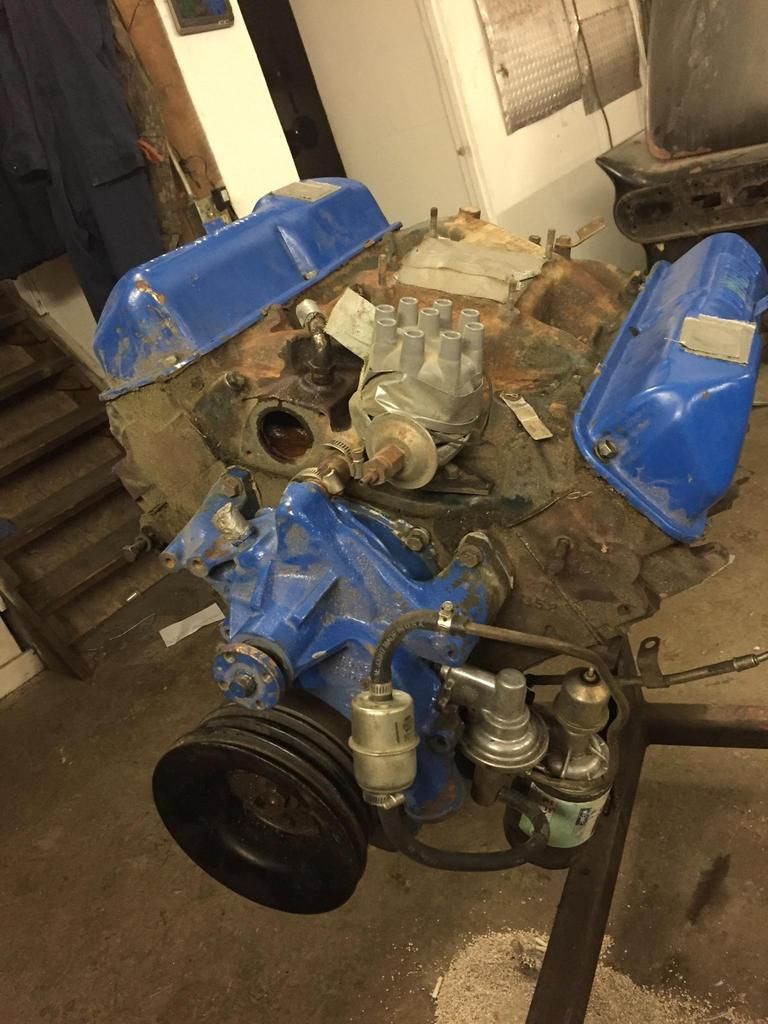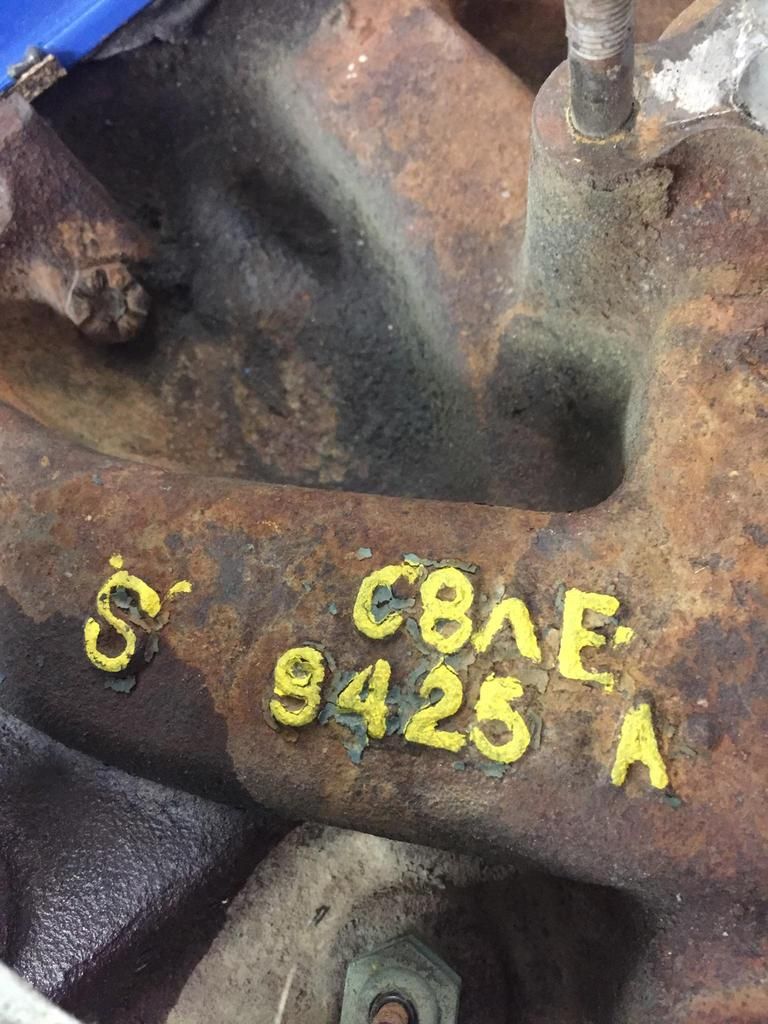 Senior Member
Join Date: Jul 2000
Location: SF Bay Area
Posts: 8,355
From the photos, it appears to be a member of the FE family (390, 410, 428?) and most likely has '68 or newer parts on it. The Cylinder heads do not appear to be 428 CObra Jet heads. Beyond that, the metal tag that appears to be sitting on the intake manifold might shed some light about the engine if the tag is the one installed at the factory. Not much else visible to provide evidence of what it is. If the block is a '68 or newer, it should have a partial VIN stamped into the flat pad at the back of the block just below the cylinder head.

A site such as the 428 Cobra Jet Registry has quite a bit of detail that might help you sort it out visually.
---
*Principal wrench on this 69 Mach I*
Senior Member
Join Date: Apr 2011
Location: Poway, CA
Posts: 2,154
Possibly, More likely a 390.
Mustangtek has some info.
C7ME-A Block could be 390 or 428 Is there raised letter C on the rear face of the block? The letter would be scratched into the sand of the mold.
C8AE-A Intake is a 390
C8AE-J? or I. Is this the cylinder head? Listed as early 68 428 CobraJet. How many exhaust manifold bolt holes are there on each side?
See
https://www.428cobrajet.org/id-block
for figuring out if your block is a CobraJet 428. Surest way is to measure the bore.
---
Everybody has to start some place
Junior Member
Join Date: Feb 2017
Posts: 20
Asm109 is correct the quickest way to determine if it is a 428 block is the check the rear bulkhead for a hand written "A" or "C" scratch prior to casting. If it does not have either then its almost certainly not a 428 block.

That C8AE-A intake was also used on the Q code (428) full size cars in '68.

The C8AE-I heads are pretty rare but nothing special they were used on all versions of the 390 for a short period in the fall of '67 ('68 model year).

The partial VIN stamping on the back of the block did not start until Jan 1st, 1968 which was halfway thru the '68 model year. Check the date code on the block and if it was cast after late November '67 it might have a partial VIN stamped into it. Sometimes these partial VIN's were stamped on the back of the head instead.
Senior Member
Join Date: Nov 2012
Location: Ann Arbor Mi
Posts: 2,469
Ok the A cast may be a cobrajet or may not. Only the c cast will confirm cobrajet. Ford was cruel and made the FE line a bear to ID. Use that cobrajet ID link to ID. If you don't know what the cast C is look there. Or you post picture of the back of block (transmission face) and we could ID.
---
Current piles of rust 1965: New yorker***1968: GTO convert, Lemans convert Porche 911***1969: MustangGT convert, Mach1 S code Mach1, Mach1 CobraJet R code GTO convert, Firbird Convert 1970 Boss 302***1972: Charger***1999:f250 CNG truck***2011:nissan Altima ---> I need to get rid of some of this junk lol
Senior Member
Join Date: Jan 2003
Location: newton, ks
Posts: 416
Its a 390
---
69 Mach 1 428 CJ stock rebuild with Mild roller cam, and Long tube headers, 408hp
Modern Upgrades-TKO600, FiTech, A/C, Rostra Cruise Control

37 Ford Coupe- Boss 351, Massflo EFI, T5Z
Senior Member
Join Date: Jan 2010
Posts: 115
Agree with cj428mach. Intake is a 390 - 4V intake as denoted by the "S". Heads are likely C8AE-H (castings are not always perfect so check the other one) and either 8 or 14 bolt on the exhaust flange. If original to the Fairlane it would be 14 bolt same as Mustangs. CJ's would be C8OE and have 16 bolt flanges. With all that in mind it is likely a 390 block as well, but all of these motors have a story and are likely not as they were first built. As others have mentioned, the C or A scratch on the back bulkhead is a giveaway for a 428 block. Without it you almost certainly have a 390. You would need to pull the freeze plugs and look in the water jacket for a 428 stamping and/or measure the bore and stroke.

Not to say it isn't worth picking up. I would pull the valve covers and get the date codes off of both heads, check the block (below the oil filter adapter) and intake and post back. Look for something with possibly a 7 or 8, letter and number. For example, 7A15 would be January 15, 1967. Hopefully they are all within a couple weeks of each other. Having pieced together a date code correct 390 for my car there are plenty of people like me looking for the same to match up with my car build date.

Good luck and nice score!
---
Last edited by SunnDogg; 03-03-2017 at

06:31 PM

.
Thanks guys - Ill go and take another look.
Junior Member
Join Date: Feb 2017
Posts: 20
Junior Member
Join Date: Feb 2017
Posts: 20
Quote:
Ok the A cast may be a cobrajet or may not. Only the c cast will confirm cobrajet.
Ford phased out the A scratch 428 blocks several months before the introduction of the 428CJ engine. The C scratch 428 blocks first appeared in the summer of 1967. The last documented A scratch block casting was in November of '67. In general (there are some exceptions) the A scratch blocks did not have the extra main reinforcing rib and the C scratch blocks did. I will not argue with anyone who says that a C scratch block is a "Cobrajet" block but the fact is that there were a lot of early Q code '68 full size Fords that were built with this exact same block.
If stock block, cyl for a 390 = 4.05. For a 428 bore = 4.13
---
If you borrow a tool more than twice, you need to own it
You get what you pay for!
George email: <
[email protected]
>