Member
Join Date: Feb 2007
Location: Ross, CA
Posts: 83
302 Oil pressure ports
---
On a 302 are there any other ports to measure oil pressure from besides the port down by the fuel pump?
I'm trying to add a mechanical gauge to the system and would prefer not to place a T down in that area. This gauge is to supplement the idiot light on the factory tach dash. (68). If it matters the block is the Ford Racing Boss 302, vintage 2005.
thanks
Walt
Just some guy
Join Date: Jun 2001
Location: SC foothills, USA
Posts: 18,983
I don't like Tee's either. I just used the OEM sender extension from a 1995 or so F350 with a 5.8 (or 7.5). Hard to find these but they work better than anything else I know of. With the proper tools I imagine you could modify a standard single port sender extension the same way.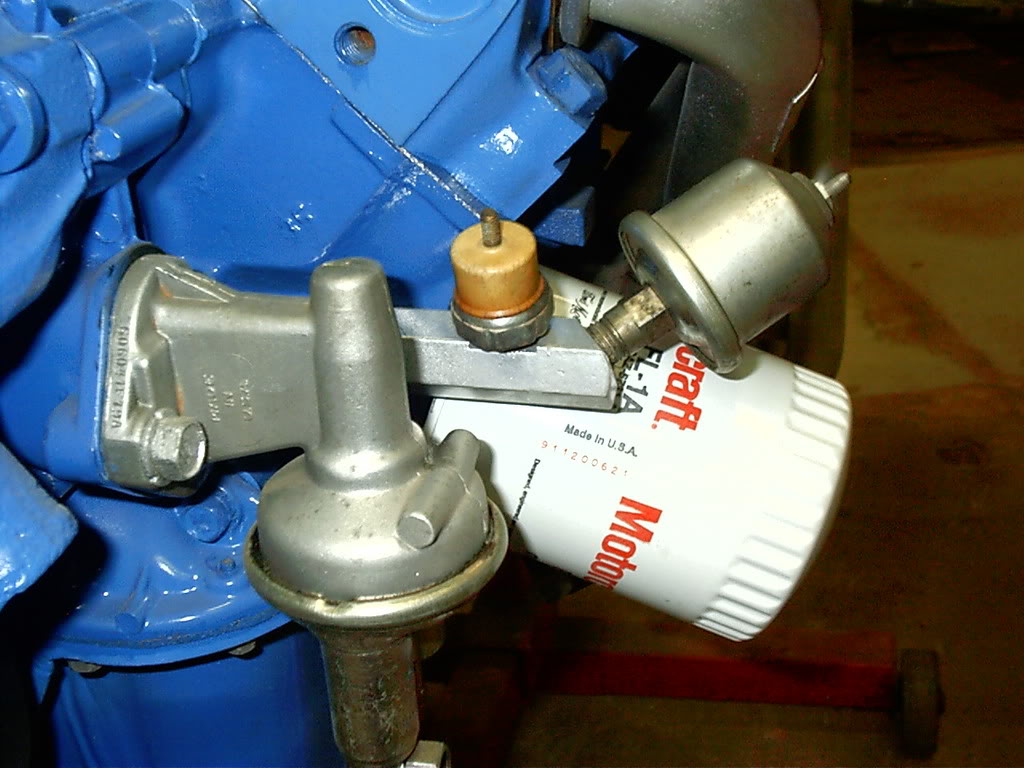 Senior Member
Join Date: Oct 2009
Location: far east north corner of Texas
Posts: 6,584
I did something similar on my new engine. When I took the photo I had just put it together and the gauge and sending unit are reversed to how I ended up installing it. It wouldn't go in by the oil filter the way it looks in the photo. The other thing about my car is I run an electric fuel pump. I'm not sure the gauge will fit at all with a mechanical fuel pump. This aluminium extension is a standard extension for a 65 or 66 with an oil pressure gauge. I think it is technically called an oil sending unit fitting. It was needed due to the larger size of the gauge sending unit. The original Ford part number for this is C2OZ-9B339-A.
I found an adapter fitting for the oil pressure gauge, drilled and tapped the pipe threads and have it screwed directly into the extension. It is just a white face gauge from a mechanical oil pressure gauge kit. Its great for me and all I needed to check on oil pressure concerns. I don't like hanging a lot of gauges inside my car. All I have is the necessary tach and an a/fr gauge mounted up on the speaker cover inside in individual black gauge pods. I use the oil light but anytime I need to take a look under the hood the gauge is right there so I can see it.
---
65 2+2, 331, C4 presently apart for complete a restore

1979 Ford F150 custom, 302, C4, AC, tilt wheel, main transportation

I drilled and tapped my extension with another 1/8" NPT hole. I have a red low pressure warning light sender and a mechanical gauge adapter screwed into the two holes.
Senior Member
Join Date: Aug 2013
Location: New York
Posts: 9,446
---
Brad
---
I've started a blog about my car and adventures:
http://65mustangfun.blogspot.com/
1965 Fastback, 289, Toploader 4 Speed, owned by me since June 1980. Originally a C-code with a C-4. 5R09C16****
Member
Join Date: Feb 2007
Location: Ross, CA
Posts: 83
I got the last one...
---
At least for the time being, I did a search and that link popped up. I'm a little concerned the 1/8" hole will be a little close the back but we'll see.