AC Idler Pulley
---
Im thinking I have the wrong one.

The adjustable idler that was on my 65 289 AC with a 2 groove crank pulley is C5AA-8A619-B.

There is no way to shim that out 1/2in to match the new three grove crank pulley and 2 groove WP pulley required for PS.

SD sells an adjustable idler C5ZZ-8678-B. Is that the one I need and is it correct for a 65 with AC and PS?
---
1965 Mustang Coupe 289/C4
1967 Mustang Coupe 200/C4
2017 Mustang EB Premium
Thinking about this all day.

I think my C5AA bracket is correct and the pulley is not correct.

There just isnt a way to push that bracket and pulley toward the radiator 1/2in.

The pulley presses on the bracket.

Can someone with a factory AC and PS car take the same measurement my pic shows?

Ive got 2.5in on my bracket/pulley.
---
1965 Mustang Coupe 289/C4
1967 Mustang Coupe 200/C4
2017 Mustang EB Premium
I measured just under 3"
---
[email protected]
ed ay +3112
Richardson TX
1968 GT500 Arrest Me Red (The Big Boy Toy)
1966 K Code Vert (The K 'Vert)
Senior Member
Join Date: Jul 2009
Location: Niceville Fl
Posts: 4,663
Can you post pics of what you have? I just added factory style A/C to a 65 Fastback. I looked up all the correct matching parts and tracked them down. Everything lined up fine. It had an early 65 aluminum water pump. After 2 of those failed, I switched to a late 65 iron pump and timing cover. That required some changes to the hardware and spacers to line things back up again.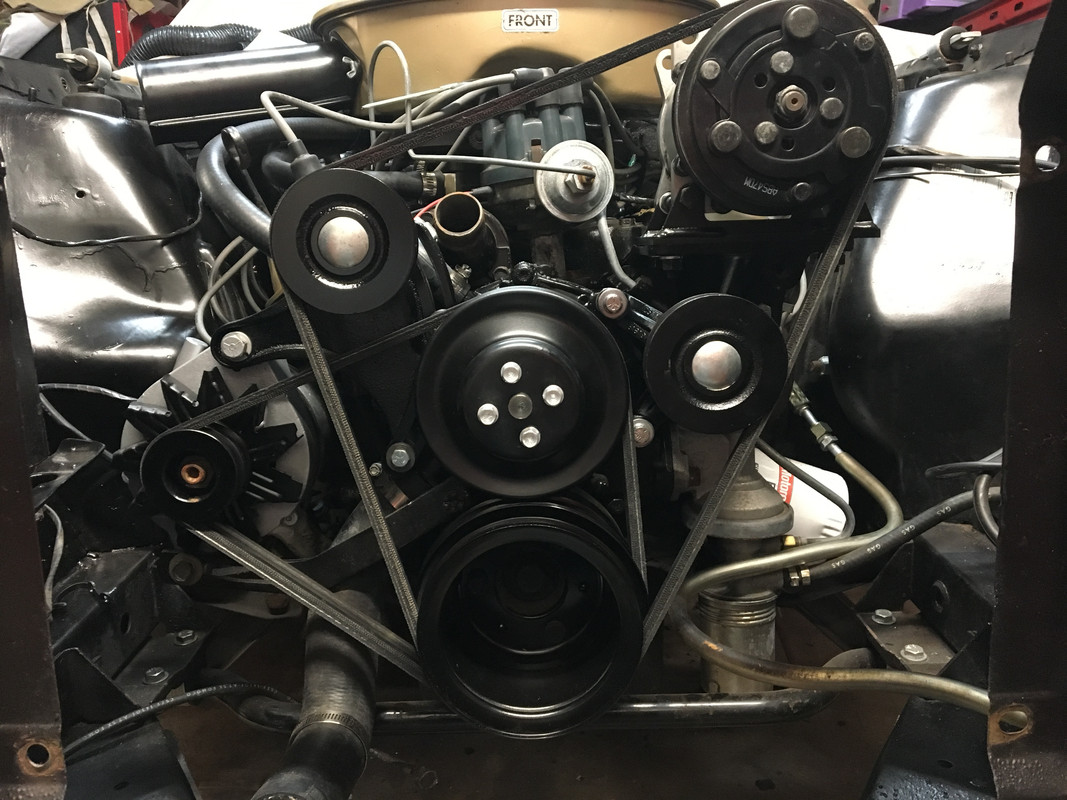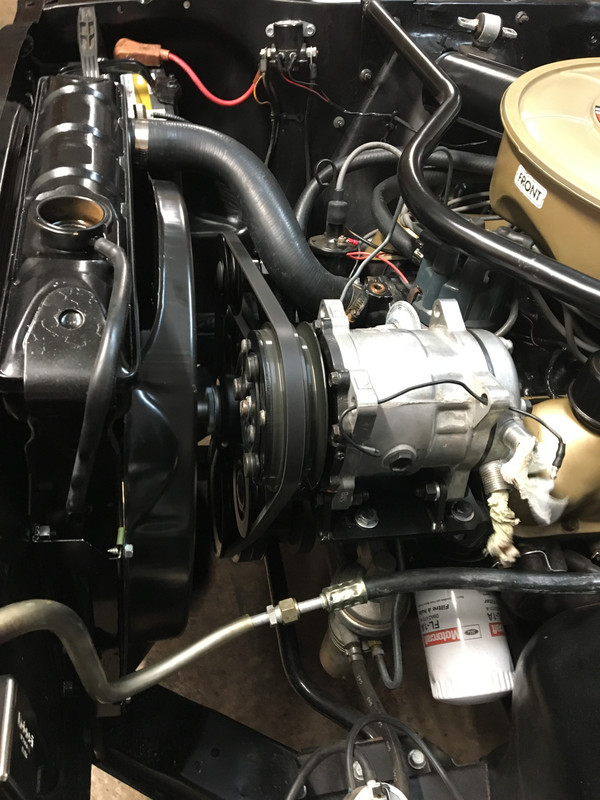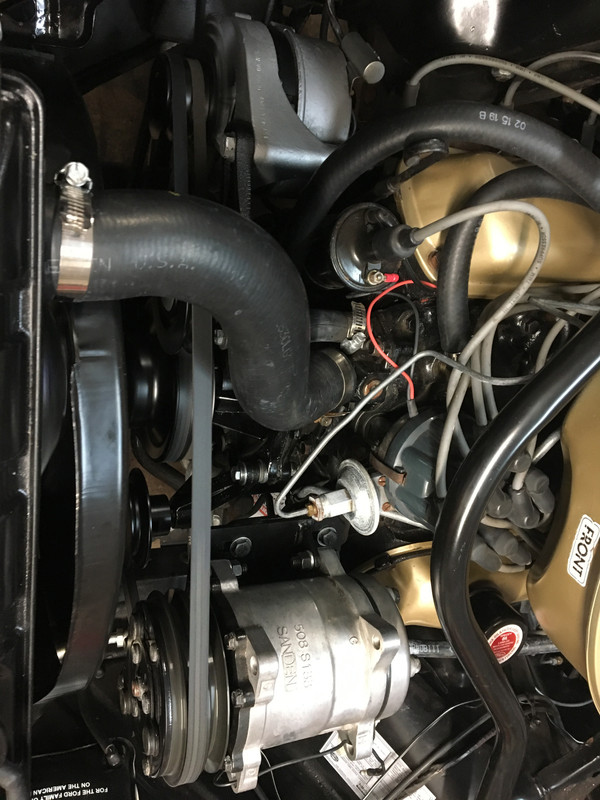 Unfortunately I am on the road or I would be able to give you a list of the correct parts.
---
Flade
68 289 convertible Candy-apple red & white
66 200 coupe Blue
94 GT convertible Red & black
98 GT convertible White & black
98 V6 convertible White & tan
---
Last edited by Flade; 08-17-2019 at

07:51 PM

.
Im pretty sure I have all the correct parts except for the adjustable idler.

I think my car originally didnt have AC and it was a dealer or owner add on. It is the correct Ford unit inside the car with a York Compressor.

Im going to need a adjustable idler like Bob posted.

Im so deep into this now................but its what I want.
---
1965 Mustang Coupe 289/C4
1967 Mustang Coupe 200/C4
2017 Mustang EB Premium
Ever think of trying to find just the pulley with 1/2" more offset? Assuming it has a bearing in the center, eh? Another option, if it has a roller bearing center, is an offset bearing.
---
Bart
What, me worry?
- Alfred E. Neuman
I will just buy the correct idler and save the one I have for a later project.

I will probably add AC to my 67. I have the 2 groove crank pulley, clutch and this idler, so Im well on my way to having the necessary parts.

The 67 will get EAPS, so Im not going through this nightmare again.

Once the 67 is well on its way Im going to give it to my SIL anyway, so its money well spent.
---
1965 Mustang Coupe 289/C4
1967 Mustang Coupe 200/C4
2017 Mustang EB Premium
Flade, the only spacers Im using right now is the one on the lower groove of the idler and the two behind the AC pedestal. Those two come out when I put on the PS pump bracket.

I bought AMK F-492 WP bolt kit, it has a couple more spacers that I may need once I get the correct idler.

I also have the fixed idler and that looks like it will line up with the AC clutch and crank pulleys ok.

My PS pump bracket was bent, I put it on a press and straightened it out today, I should have it on the engine tomorrow along with the WP.

The WP has been on without the gasket while I worked on pulley alignment, but I think Ive got it figured out well enough to get things back together.
---
1965 Mustang Coupe 289/C4
1967 Mustang Coupe 200/C4
2017 Mustang EB Premium